Another way to play: FANG ETF's 10 tech picks for a volatile year
---
In this era of inflation, rates hikes, and across-the-board volatility, ETF Securities' FANG ETF is designed to provide exposure to the top 10 NYSE Fang stocks, in a concentrated fashion. 
Naturally, these include FANG stocks like Facebook (Meta), Amazon, Netflix and Google. And although these have become a core part of many Aussie investors' portfolios, the goal here is to provide an easier and more effective way to gain exposure given the spectre of rates hikes and underperformance.
Our FANG ETF not only provides exposure to the big four but also to the multiple emerging megatrends in the broader market, ranging from surges in technology (semiconducting and cloud computing being honourable mentions) down to e-commerce and modern entertainment.
"It's really important for investors when looking at these types of companies or this type of exposure (or any investment for that matter, and any majority of ETFs), is to take a long-term view. That allows you to ride the volatility that sometimes may occur."
Additonally, the record-breaking fall last week in the value of Meta, owner of Facebook, Instagram and other apps, could present a buying opportunity for investors who believe in the stock.
It's worth observing that Facebook has a history of successfully pivoting when faced with a major competitor and has done this well via acquisitions. The acquisition on Instagram is a prime example, as it now contributes more than a quarter of Facebook's ad revenue.
The recent development of Instagram Reels in a response to Tiktok is one that is yet to be effectively monetised but one that arguably has significant upside potential.
The FANG ETF is unique in the ETF space: it provides an equal weighted approach with a long-term outlook. Most important of all, it's a good way to add a targeted investment in big tech without scouring the NASDAQ 100.

Edited transcript
Hi, my name's Kanish Chugh, I'm head of distribution for ETF Securities. And today I'm here to talk to you about the ETF Securities FANG+, ticker ASX:FANG, or FANG for short.
Now, this ETF is designed to provide investors exposure to the leading companies and mega-cap quality names, such as Facebook, Amazon, Netflix, Google, and Tesla. ETF have become a really core part of Australian investors' portfolios. They are providing exposure in an easy, cost-efficient and effective way to different asset classes. 
So whether an investor, for example, wants to get exposure to a broad market or an individual country or a region, or even a commodity such as physical gold, ETF are now forming a true foundation of Australia's investors' portfolios.
And ETF Securities, we're one of the oldest in Australia in providing exchange-traded funds. We launched back in 2003 with the world's first physical gold product: G-O-L-D. And we now have over 20 funds and close to five billion dollars under management.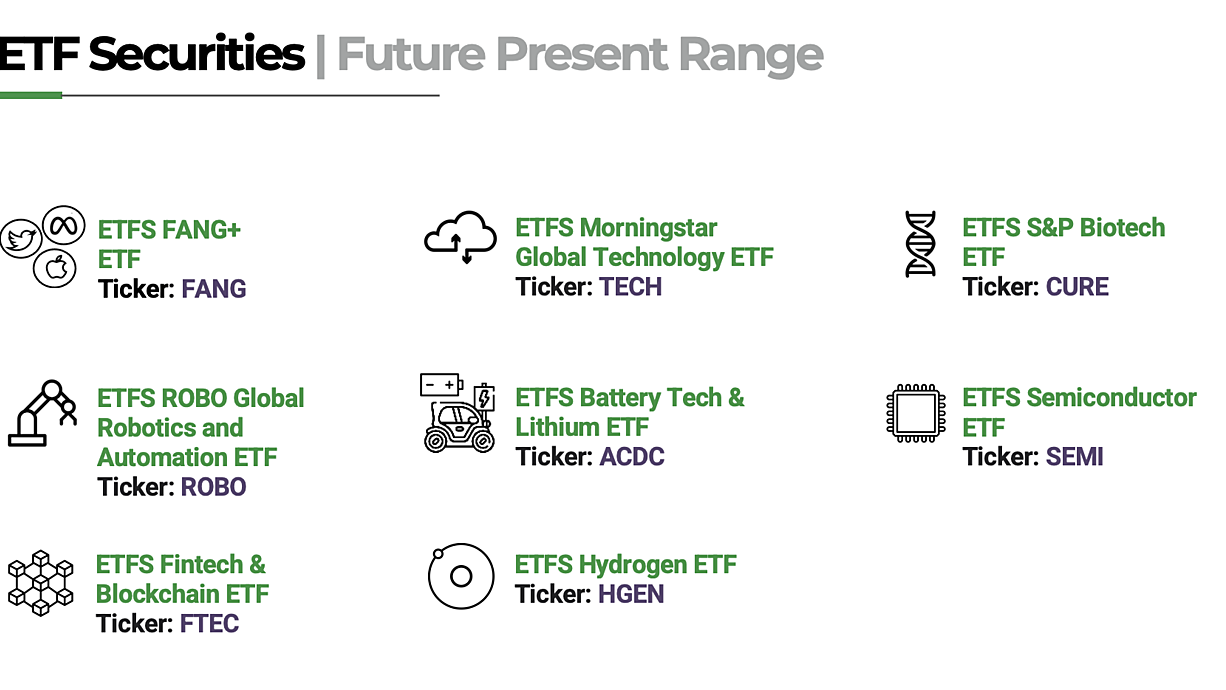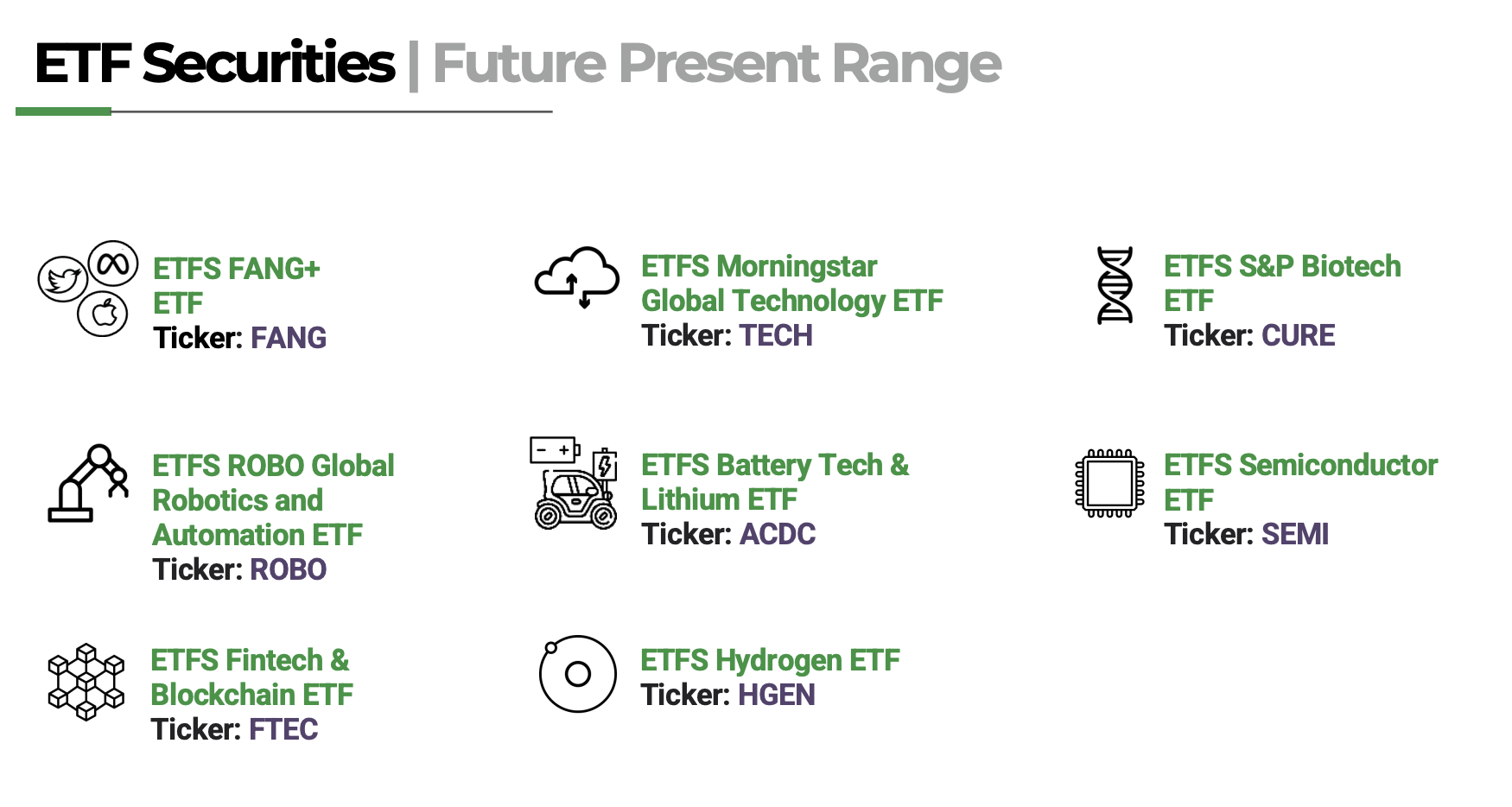 Here you can see that we've got our future present range, and this is where our FANG ETF sits. It sits as part of our future present range because the future present range is designed to provide investment exposure to the emerging megatrends. 
So whether it's battery technology in our ACDC ETF, or one of our newer ETFs in the semiconductor industry, investors can get exposure to some of the leading companies within the semiconductor space. The FANG ETF is there to provide exposure to multiple megatrends, and that is why it's unique within the ETF space with the idea of talking about growth. 
With the idea of talking about the FANG ETF and the idea of talking about getting investment exposure to companies like Facebook, Amazon, Netflix, and Google, it'd be remiss of me to not talk about the recent volatility and the recent correction that we've had in some of these names. 
A lot of investors are questioning how long will this volatility last? What is going to be on the horizon for inflation? And also questions around where will rates go? And generally in a rising rate environment, we tend to see that growth stocks underperform.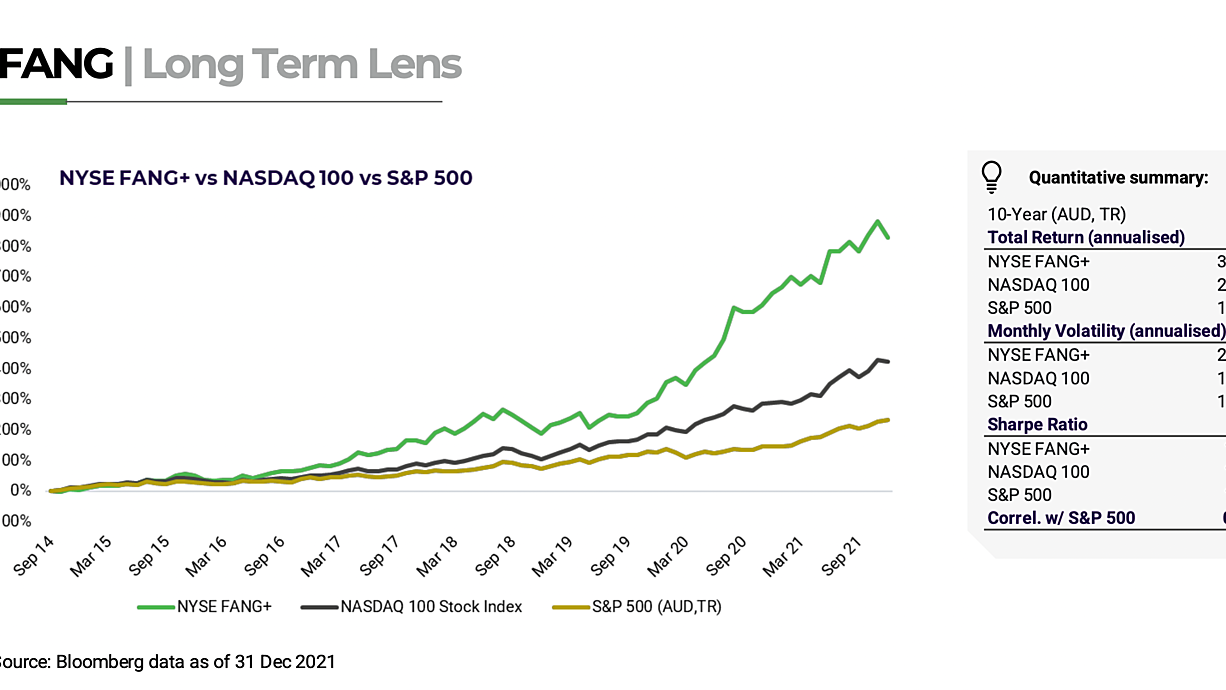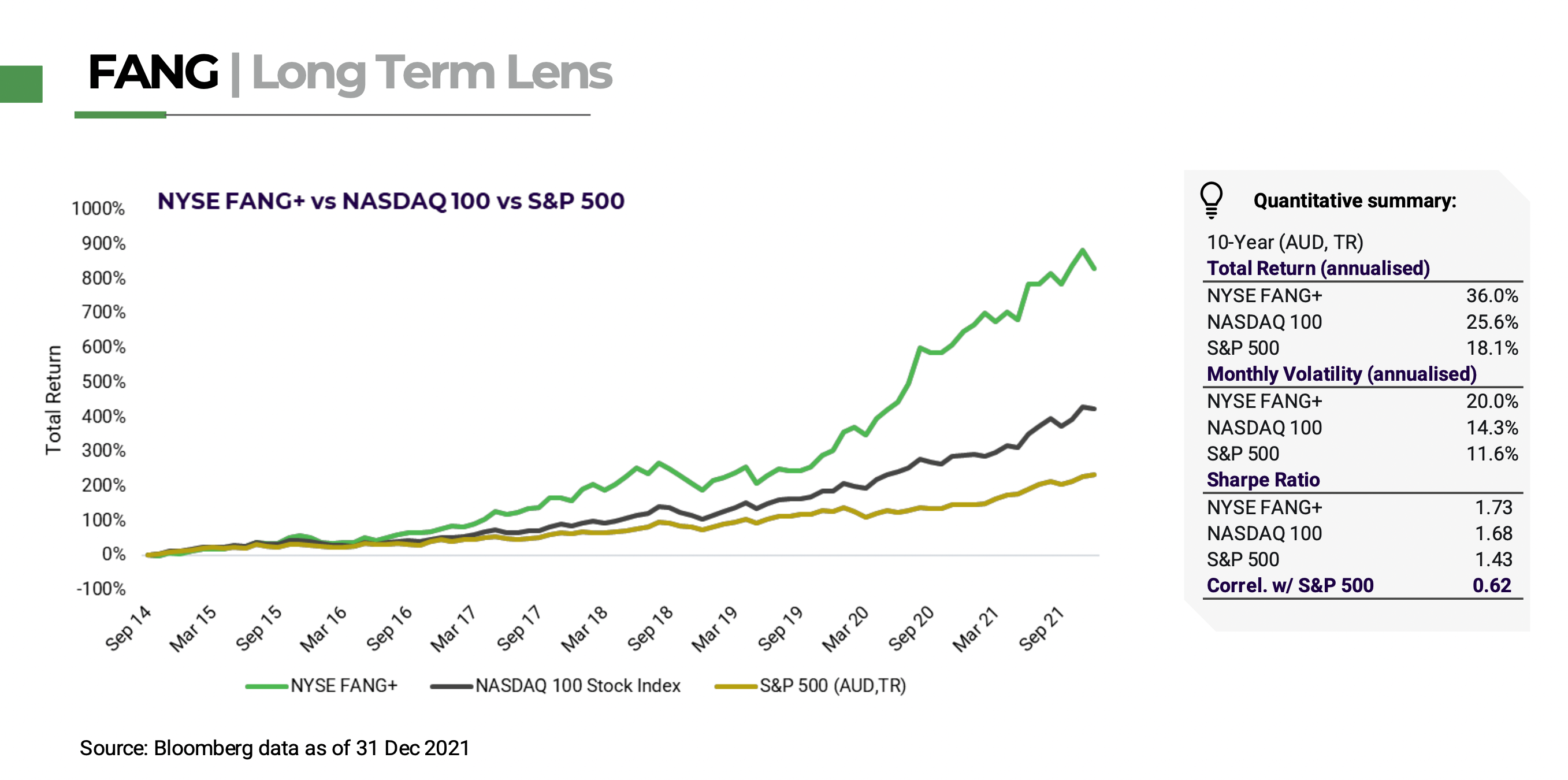 But is this the case to think that will occur with the FANG names? Yes, there's always this perception from investors that these are heavily tied to growth, but what people need to realise, and maybe take a layer off that onion, is actually look at it and say, are some of these FANG stocks fundamentally robust? Are they strong? How is their revenues? How are they innovating and what markets do they lead in? 
It's funny, because when you look at some of these names such as Apple, they're sitting on very strong cash balances. Tesla's starting to turn profitable. Amazon's earnings in 2022 are expected to grow by 22%. 
You can actually see some very strong fundamentals in these companies. And even though you've had some strong correction in the early part of 2022, what does the horizon look like? What does the next five, 10 years look like? And you can see here on the chart that over the past 10 years, the NYSE FANG+ index, which by the way, is the index that the FANG ETF tracks, has returned 36% annualised. Now that's more than 18% of what the S&P 500 index has returned, and nearly more than 10% of what the NASDAQ 100 index has returned. 
You can see it's always good for an investor to sometimes take a step back and look at the long term and also invest for the long term because you will have some headwinds in the short and the medium term, and they are expected to happen in 2022. The FANG+ ETF was launched in 2020 as I mentioned earlier. It was launched to provide investors an easy way, and cost-efficient way more importantly, to access some of those mega-cap quality names.
From an Australian investor's perspective, how would they normally access these names? Well, obviously they can invest directly through one of the many online brokerage platforms and they can invest in US shares, but you have to then choose which of these companies to back. 
And there's a lot of single stock risk involved there. You could go down the path and go, well, I'm going to buy a broad based index, such as the S&P 500 Index or the NASDAQ 100 Index, which does give you exposure to these companies. Now the weight of those, but you also get exposure to a lot of other names. 
You could in theory also buy a concentrated global active manager. And looking at some of those global growth funds, we have actually seen a lot of underperformance to market and generally their fees are more than four times that of the FANG ETF. 
And that was one of the reasons we launched this ETF. It was designed to provide a really effective, cost-efficient, simple way for an investor to say, why do I want to take the performance of an active manager charging very high fees? Could I not look at a very easy solution at 0.35% per annum, getting exposure to the companies that have been driving the performance of some of those broad markets?
Now this ETF, it really does provide exposure to multiple megatrends. We look at it in this perspective, in the sense of I'm not getting exposure to one theme. I'm getting exposure to many themes. And that's one of the reasons why the underlying companies that are sitting within this ETF are truly diversified in the revenue streams that they operate in.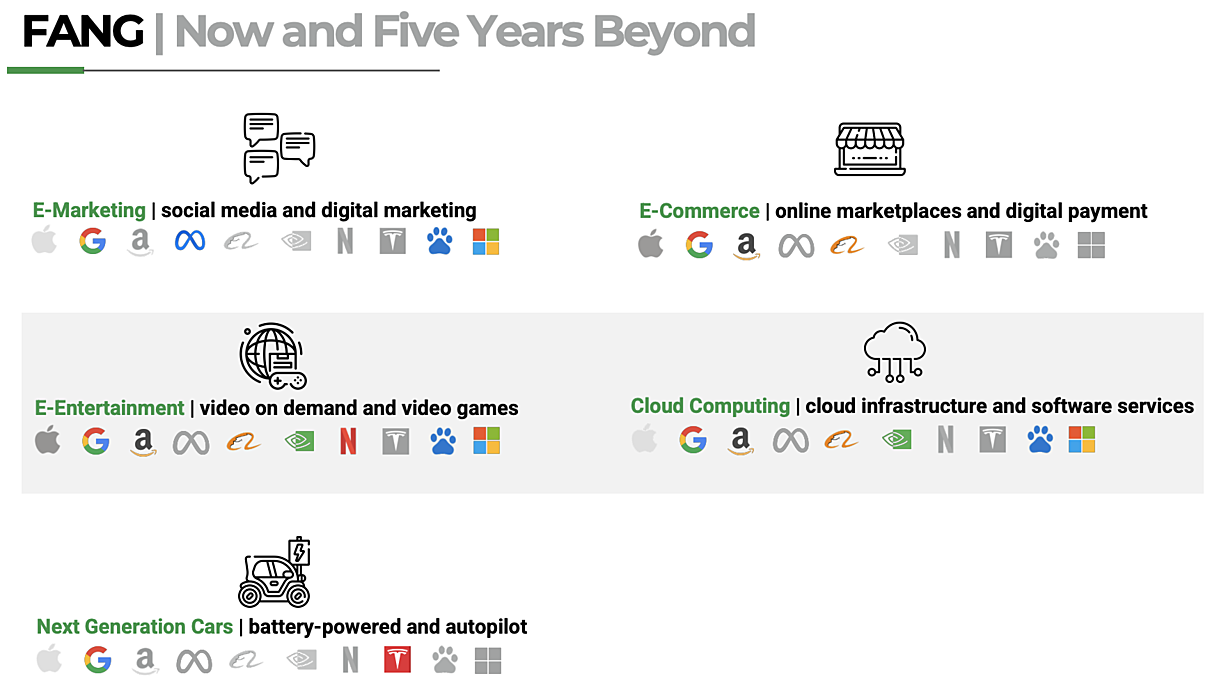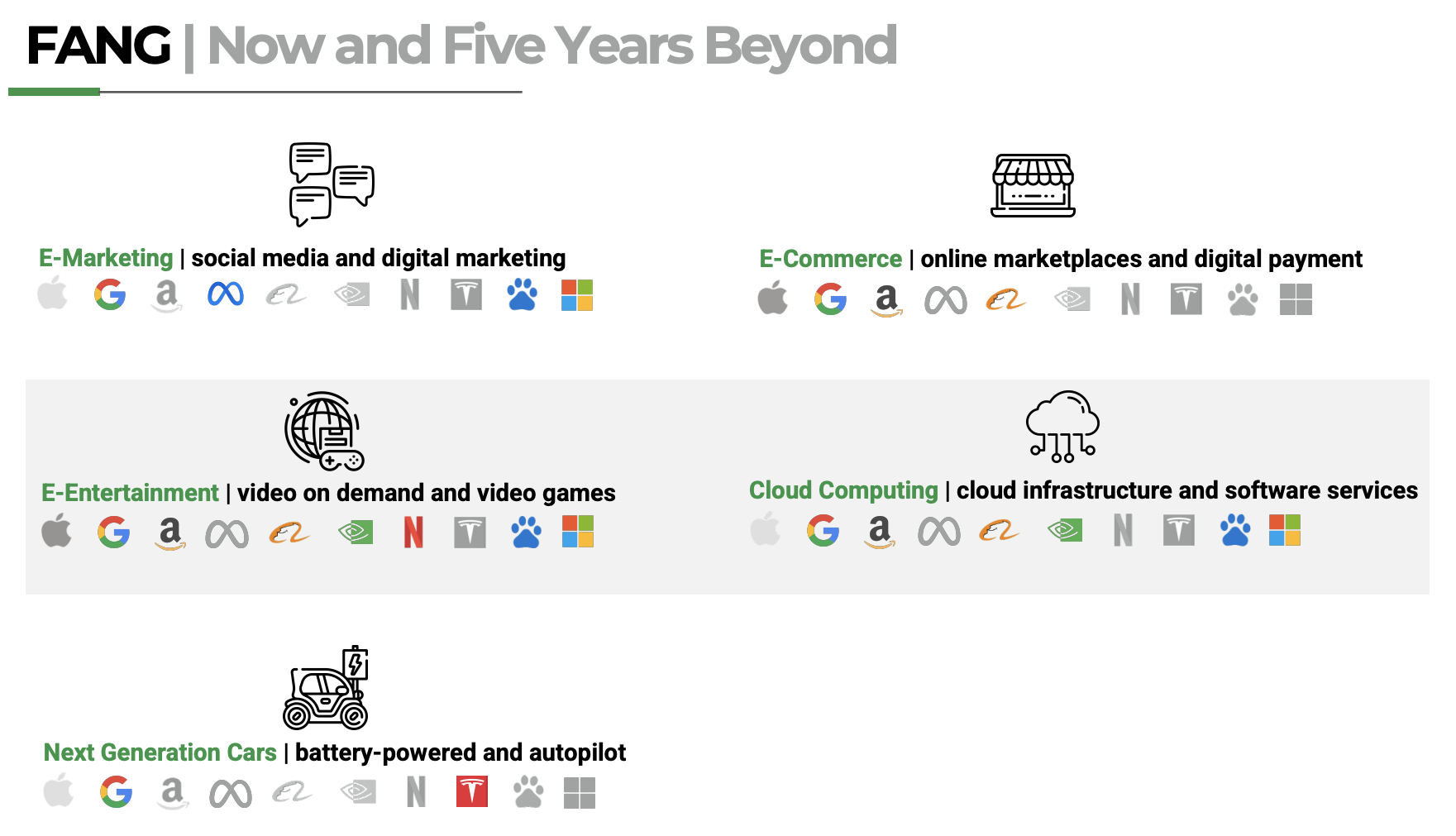 If I look at e-marketing, social media and digital marketing, or ad revenues, you can see companies like Google, who will continue in 2022 to do very well from their digital advertising revenues. We can see Facebook and yes, Facebook, for example, or Meta as they're now called, they've had some recent underperformance, partly from Apple's privacy changes, but also just in this recent correction with rising rates, but Facebook's very strongly positioned to continue to grow their ad revenues.
And they're also looking to broaden and diversify into the Metaverse. We can see companies like Microsoft, again, looking to enter that social media and digital marketing space with some of their platforms like LinkedIn. And then you look at eCommerce. And from COVID and the pandemic, we've seen lockdowns have resulted in a boom in eCommerce platforms. 
It's an interesting stat to note that in 2020, when you had the travel industry and airlines struggling and Boeing and Airbus struggling to sell airlines, Amazon came out of the woodwork and actually was buying airlines to help facilitate deliveries of their goods. 
You look at E-entertainment, so video on demand, so companies like Netflix. Yes, subscriber demand and subscriber growth did drop in 2021, but it had very strong growth in 2020. It came from an all-time high. It's expected in 2022 to come back again and have that moderate growth to really pick up again, but it's also seen an increase in content creation.
We're going to see a lot more new content coming out from Netflix. As we saw in 2021, they were able to actually come back into filming. We'll see new releases coming out into Netflix, which will help, again, in increasing subscriber growth. Or you look at video games and E-entertainment, and you only have to look in the past few weeks and see Microsoft, for example, purchasing Activision, the third largest gaming company for US$96 billion. 
You can see Microsoft already operates in cloud computing, which they've seen revenues in their Azure cloud service go up by 40% in 2021, start to diversify again into gaming, and also look that the Metaverse and that's another area of E-entertainment. And then the idea of cloud computing. And you think about cloud infrastructure, you think about software service. We may not realise it, but literally every day we are using some form of cloud products or services.
Amazon and Microsoft are the leaders in this space. Not on here is things like semiconductors and Nvidia. And we talk about the global supply shortage. The fact that people can't go out there and buy a new car because you don't have semiconductor chips. Well, Nvidia is one of the leaders in chip design. And then future mobility and companies like Tesla, looking at electric vehicles or Google looking at autonomous vehicles. 
These are all megatrends. And these are all companies you cannot purely define one particular theme on. These are companies in the FANG ETF that are all operating across multiple themes and multiple industries. 
Now, the FANG ETF tracks the NYSE FANG+ index. This index is looking to provide exposure to 10 stocks in a concentrated fashion. Those 10 stocks are up on the screen, and I've mentioned quite a few of them already. It provides exposure to these 10 names in an equal weighting setting.
The reason why an equal weighting approach works here is that it provides an ability for each stock to contribute to performance. And that's really important because when you look at some of these names and you would say, well, why don't we look at it, approach it with a market cap weight, which essentially means that the largest company would have the largest allocation in the portfolio. And the reason is that Apple would dominate, and you want to provide an equal opportunity to each of the funds to provide a truly diversified portfolio. 
The index is rebalanced every quarter. What that means is that every quarter, the weights of each of these stocks fall back to 10%. Whenever you look up the portfolio and you do see between the rebalances, you may see differences. It may not be 10% because obviously the stocks and the index are allowed to run in between the rebalances, but at every quarter, every rebalance, each stock comes back to 10%.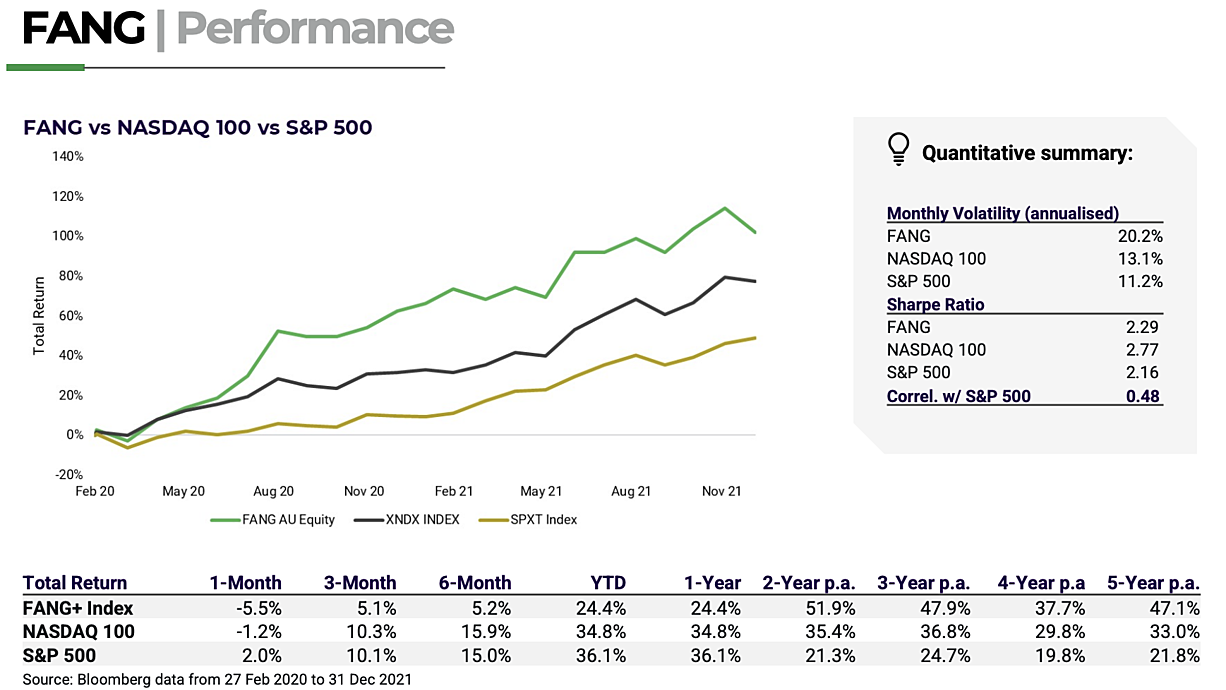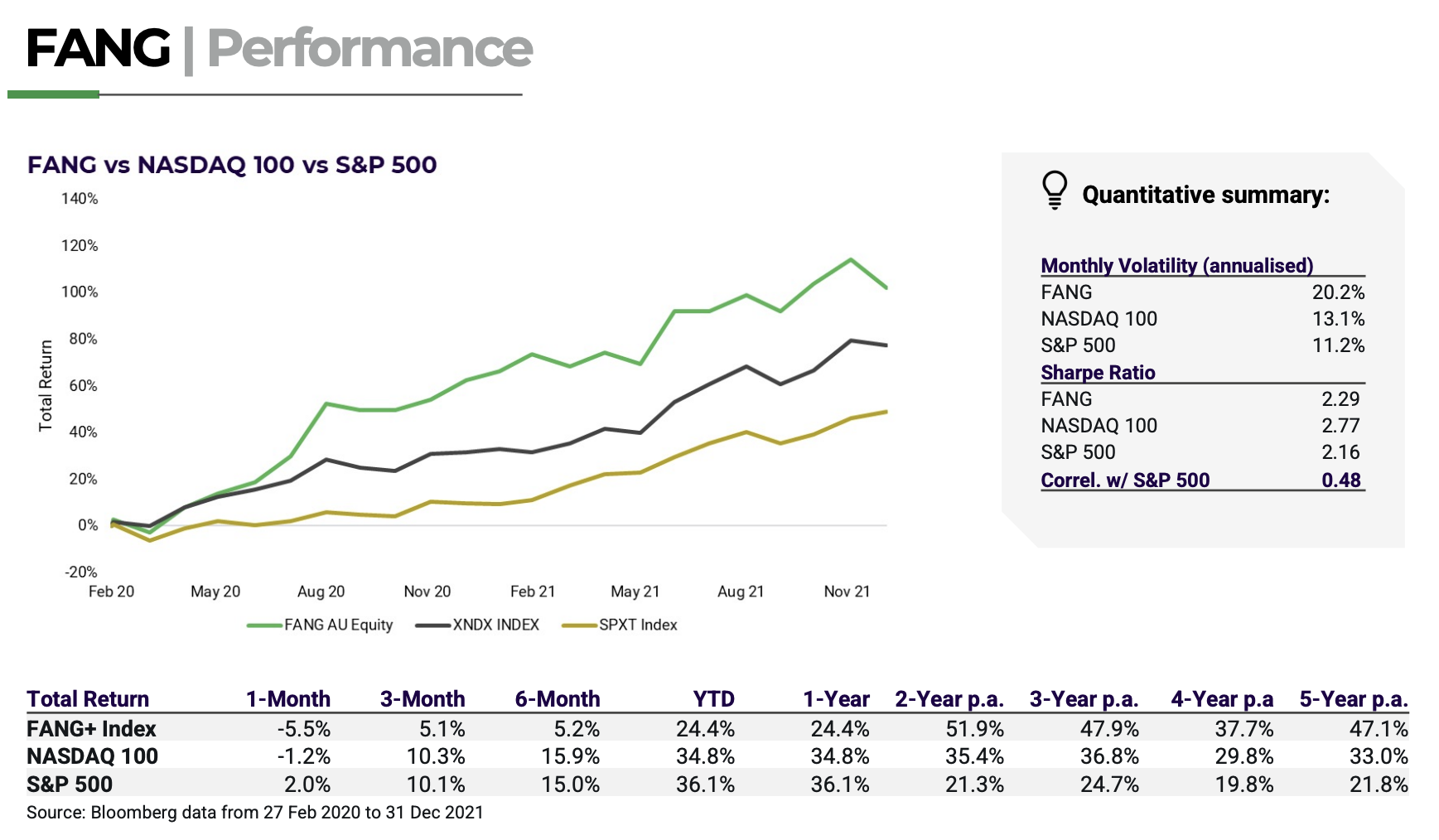 Now, we talked about performance in the long term, over 10 years, and you can see here, the performance on the index over five years. What I would say is historical performance is not an indicator of future performance. 
But as I mentioned earlier, it's really important for investors when looking at these types of companies or this type of exposure (or any investment for that matter, and any majority of ETFs), is to take a long-term view. This is why, when we talk about where does it sit in the portfolio, is it really sits in that core allocation. It's a minimum three, five-year lens that investors should look at. That allows you to ride the volatility that sometimes may occur. 
And we are seeing that now. But for a lot of investors, they're allocating to the FANG ETF, either as a complement to go overweight to some of these names and complement to say a global growth manager or a broader index, such as the S&P 500 index, or they're looking to take a pure allocation to just get exposure to those mega-cap quality names, and then complementing that with some other satellites in other asset classes, such as commodities or other thematics like ROBO, ACDC, et cetera.
It's very important though for any investor looking at any investment to speak to a financial professional, and also to make sure that you read the PDSs, read the TMDs. Now, all of that can be available on our website, etfsecurities.com.au. 
You can also reach out to the ETF Securities team. We're happy to help if you have any questions, whether it's about the FANG ETF or even if it's about just general ETFs and how to invest in ETFs and some of the structures, et cetera. And make sure you also jump on the Livewire website and go to the find funds page where you can see all the funds from ETF Securities. 
You can also follow my profile to see any new content that I publish, and also the contact us form, which will direct you to the ETF Securities team, where we'll be happy to help with any  questions you may have.
ETF
ETFS FANG+ ETF
Global Shares
Would you like to invest in the FANG ETF?
ETFS FANG+ ETF (ASX Code: FANG) offers investors exposure to highly traded next-generation technology and tech-enabled companies. FANG provides concentrated exposure to global innovation leaders. Find out how to invest here. 
---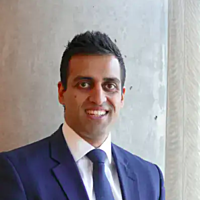 ETF Specialist & Head of Distribution
ETF Securities
Kanish Chugh is responsible for distribution covering sales and marketing strategy for institutional, intermediary and retail clients. He joined ETF Securities in 2015 and has previous experience with Fidelity International, BlackRock and...
Expertise