ANZ to embark on radical revolution...
---
Excerpt from my column in the AFR today in which I speculate ANZ will halve its workforce, move to a mostly branchless business model, and introduce a revolution in the form of risk-based product pricing that will offer every customer unique interest rates (click on that link to read free via Twitter or AFR subs can click here):

"ANZ's brilliant chief executive Shayne Elliott and his chairman David Gonski have sketched out the boldest restructuring plan ever seen in Australian banking history. In an exclusive interview with this columnist over lunch in Melbourne, Elliott explains that he wants to streamline his workforce, reduce the distribution dependency on mortgage brokers and branches, and rebuild ANZ into a highly productive data and technology-centric company that uses predictive modelling to disrupt larger incumbents via radical, "risk-based pricing". Elliott says ANZ has no choice but to start with a blank sheet of paper and reinvent itself to prepare for a digital world in which banks face the spectre of disintermediation. This is because unlike CBA and Westpac, ANZ is just not big enough to defend old markets through maximising scale economies. Elliott aspires to transform this competitive disadvantage – lack of size and market share – into an edge by turning his sluggish "super-tanker" into a fleet of nimble and relatively autonomous fast boats manned by small teams with a licence to ignore old methods in the search for superior solutions. He is ruthlessly honest about the looming technology-induced threats and does not think the major banks' bloated cost structures are appropriate to respond to them. While Elliott will not officially comment on what this means for staff numbers, I can see ANZ more than halving its workforce to around 25,000 people. Within a year or so, the rangy New Zealander hopes to introduce what could be the most profound change in modern Australian banking – a move away from conventional fixed pricing of deposits and loans (in which most people pay or receive the same interest rate) towards granular "risk-based pricing" in which everyone can in theory capture a unique interest rate depending on their propensities. It might be that they are more likely to use other ANZ products and/or have demonstrated lower default probabilities. The end game is one in which customers end up servicing or earning a more equitable rate of interest that is calibrated to their value proposition, which could in turn bequeath ANZ with a tremendous advantage over peers that do not follow suit. Risk-based pricing requires massive amounts of historical data coupled with outstanding predictive modelling capabilities, which are a key priority for Elliott. If he pulls it off ANZ will become the must-see destination for consumers shopping around for better deals." Read for free via Twitter here.

Also, if you missed last week's AFR column on bank capital, you can read it here. 
---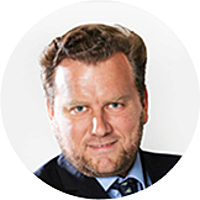 Portfolio Manager & Chief Investment Officer
Coolabah Capital
Chris co-founded Coolabah in 2011, which today runs $7 billion with a team of 33 executives focussed on generating credit alpha from mispricings across fixed-income markets. In 2019, Chris was selected as one of FE fundinfo's Top 10 "Alpha...