Are markets about to roar?
---
Some people have labelled this decade the new "roaring twenties". But 2020 seems to have come in with more of a squeak than a bellow. Some stock markets are down, while others have made only limited progress.
Investors, prompted by a mix of downward changes to global growth forecasts, Middle East tensions and fears about the impact of the coronavirus in China, are taking profits. Given last year's strong returns and stretched valuations in a number of markets, this is understandable.
While it's unlikely that 2020's returns will match those of 2019, neither, in my view, are we at the start of a prolonged market downturn. Yes, the International Monetary Fund has trimmed its forecasts for global growth – from 3.4% to 3.3% this year and from 3.6% to 3.4% in 2021. But these are still above the 2.9% growth rates achieved in 2019, which was the worst year for economic activity since the financial crisis.
Last year, 49 central banks between them made 71 interest cuts. Nevertheless, central banks around the world remain primed to provide even more accommodative monetary policy to fuel their economies. There are, though, big differences in terms of the available firepower which individual bank governors can draw upon.
For instance, the European Central Bank's official interest rate is already in negative territory. In India, on the other hand, official rates are above 5%, which means the Reserve Bank of India has much more scope to ease its policy. And our economists think that the weakness in US economic activity this year might eventually force the Federal Reserve (Fed) to reduce rates. Again, however, the Fed has some room for manoeuvre.
Governments are also feeling pressure to provide support in the form of fiscal stimulus. 
In the UK, there has been much talk of infrastructure projects and spending more money in the regions. Given where interest rates are, it seems sensible to borrow in order to fund long-term capital projects. The UK Budget on 11 March is certainly worth watching! Similarly, Japan might come out with another fiscal package to offset any slowdown in its economy after the Olympics.
Elsewhere, ahead of the US Presidential Election, Donald Trump will do all he can to maintain US economic momentum – hence the recent trade truce with China. For their part, China's authorities remain vigilant. They are willing to act and stimulate parts of the Chinese economy if or when required. The full impact of the coronavirus is still to be seen, but a fiscal and monetary boost of some sort would be quite understandable after a period of slower-than-usual consumer spending this spring.
From an investment perspective the environment will be tough.
Many businesses face an unpleasant combination of rising costs. Among them are those related to tightening labour markets, growing regulatory burdens and concerns about climate change. Some are also facing strong pressures on list prices, perhaps from new digital competitors. The bad news from the High Street is an obvious example. In my view, an emphasis on quality and strong corporate fundamentals will be crucial.
The roaring twenties of one hundred years ago ended with the Wall Street Crash in 1929. It would be complacent, indeed rather naïve, to rule out a major stock market correction at some point within the next 10 years. This is why diversification across asset classes, geographies and strategies remains vital. This year has already seen worries about war in the Middle East and epidemics in Asia. However, markets can continue to make progress as long as businesses sustain activity and companies are allowed to make even moderate profits growth. For this to happen, policy makers need to make sensible decisions. 
Never miss an update
Stay up to date with the latest Livewire content by hitting the 'follow' button below and you'll be notified every time I post a wire.
Want to learn more about Aberdeen Standard Investments? Hit the 'contact' button to get in touch with us or visit our website for more information.
---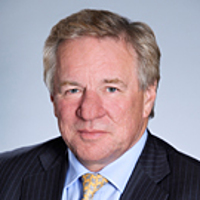 Martin has over 36 years industry experience, having co-founded Aberdeen Asset Management in 1983. Under his leadership, Aberdeen became one of the world's leading independent asset managers through organic growth and strategic acquisitions.
Expertise