Artificial intelligence: it's not the future, it's now
---
AI is on the verge of transforming the lives of millions of people in their workplace and at home. From driverless cars to machines that converse with humans, advances previously considererd science fiction are now becoming commonplace. Companies looking to adopt these changes have the potential to reap new profits and provide investors with opportunities few could have imagined a decade ago. 
Artificial Intelligence
Artificial intelligence (AI) may be the most transformative and disruptive advancement since the Industrial Revolution. After decades of hype and disappointment, AI is poised to fuel the next wave of innovation, and potentially provide unprecedented opportunities for companies and investors.
Can machines think? That's the question Alan Turing posed in 1950. Turing, an English scientist, is considered by many to be the father of computer science and a key figure in AI.
Today, the answer to his question is getting closer to yes, depending on how you define thinking. But during the past few years huge strides have been made toward machines that can figure things out without being told what to do. Machines are using reason, logic and experience — and tons of data — in ways that are remarkably human and, for some, alarming.
These machines are already transforming manufacturing, transportation, health care and hundreds of other elements of daily life on both personal and industrial levels. They are in use in schools, homes, hospitals and cars, and they are changing the way the world works.
For some, machines are a threat, especially to jobs. But AI also has the potential to improve the standard of living around the globe, provide companies with new profit opportunities and reward investors.
"There are periods of fundamental change that can transform the way we live and work," says portfolio manager Rob Lovelace. "Today it seems as if we are in the middle of another revolution, and clearly these changes pose significant challenges and opportunities for long-term investors."
AI has been around as a scientific concept since the 1950s, going through several periods of boom and bust. The term refers to a collection of technologies that enables computers to simulate elements of human thinking. But for years, computers have had to be programmed in painstaking detail.
Things have changed. Through "machine learning," a subset of AI, computers can learn from data without being explicitly programmed. They can teach themselves by analysing massive amounts of data from the web, smartphones and other internet-connected devices. Also, processing power has soared. Nearly everything online involves machine learning. Netflix, for example, uses it to recommend movies.
Recently, deep learning has taken AI to the next level. Deep learning is a type of machine learning that uses artificial neural networks that loosely mimic how brains work. A machine can now train itself to perform tasks, such as speech or image recognition, without being programmed to do so. Rather than having to be spoon-fed information for every eventuality, machines can analyse vast amounts of data using layers of artificial neural networks.
Whether that's thinking or not, machines can now figure many things out for themselves. 
Artificial intelligence makes the next great leap
AI may be the most disruptive change since the industrial revolution
"Technological disruption is afoot. We are in the early innings, but artificial intelligence will be a disruptive economic, social and political force in the years ahead." Jared Franz, Investment Analyst
Mention AI and the first thing that comes to mind is probably a movie — Terminator, Westworld, 2001: A Space Odyssey. In almost each story, the computer or the robot ends up going haywire. So it's not surprising that many people are ambivalent about AI. But that's fiction. The fact is most people already have a working relationship with a machine that does some thinking and talks to them — their smartphone. Going forward, AI is going to be a bigger part of the way people work, play and learn.
Instead of the dystopian future that's often depicted in movies, the age of AI is more likely to feature advances that were once considered futuristic becoming commonplace, such as driverless cars and machines that can converse with humans. Indeed, there seems to be little cause for concern that AI is an imminent threat to humankind. In many ways, the technology is already part of daily life, and it's reshaping life in schools, homes and hospitals. Actually, AI has been shaping society for years.
Many AI applications are likely to increase productivity, improve transportation and enhance the quality of life for millions. But this technology will also create profound challenges. While it may increase productivity, it will replace some jobs and impact income. But, in many cases, AI will be critical to people's futures, and employees will be working with AI, not replaced by it. In fact, Hollywood now uses AI technologies to help bring its man-versus-machine movies to the screen.
© 2018 Capital Group. All rights reserved.
---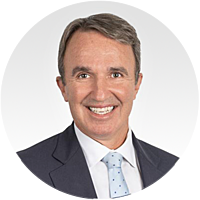 Managing Director, Capital Group - Australia
Capital Group
Paul Hennessy is managing director, Australia & New Zealand, at Capital Group. As a relationship manager, he is responsible for covering the institutional client base in Australia and New Zealand. He has 33 years of investment industry experience...
Expertise