Asian equities: not the place to be underweight
---
Global equity markets continue to grind higher in July, with the S&P 500 index up more than 3% and European markets up 1-2%. As markets re-approach their post-COVID-19 highs of early June, we still view equities as likely to continue to churn in an elevated trading range that could still weather a 10% correction from here and not see us shift fundamentally bearish equities (though overt optimism is much more difficult to justify).
Despite calls of overvaluation from leading fund managers and well known global investors, markets continue to be buoyed by optimism surrounding an eventual containment of the virus (including its second wave in the US), positive progress around a vaccine, the likelihood of ongoing fiscal support and the expectation that bond yields will remain uber-supportive for valuations for at least the next 18 months. In the background, absolute equity valuations are very challenging, the risks around a stop-start economic recovery are growing, geo-political tensions are rising, as is US election uncertainty.
From a more relative and regional perspective, Credit Suisse has compared the short and medium-term valuations for Asian ex-Japan (AxJ) equity markets. Not surprisingly, for the short term it highlights that "P/Es are extremely high. APAC's forward P/E based on consensus EPS is 3.4 standard deviations above its 10-year average, and the street's forecasts look far too optimistic, especially for AxJ. Consensus now expects only a 2% contraction in AxJ EPS this year with 25% expansion next year". Credit Suisse also notes the dividend yield is a bit below average and price-to-book is unappealing.
Longer term, however, it notes that "the picture improves dramatically. Implied Equity Risk Premia (ERP) looks attractive. The AxJ ERP is 0.4 standard deviation above the decade average. Shiller cyclically adjusted P/Es (CAPEs) are even more clearly cheap. AxJ's is 0.7 standard deviation below the 10-year average." The latter is shown in the chart below from Credit Suisse. Relative to the world, it also notes that its price-to-book is at a 36% discount, the dividend yield is 2.3 standard deviations above the mean and CAPE measures are at an 8% discount (again, relative to the world).
All in all, even in a world of challenging absolute equity valuations, this suggests Asia is not a place to be tactically underweight, and there should be a renewed focus on ensuring appropriate strategic long-term allocations to the region. More broadly, an uncertain outlook, combined with arguably full valuations across both equities and fixed income, caution against making aggressive tactical risk calls. Instead, focus should shift to elevating quality in portfolios and ensuring investments are directed to best-in-class managers and strong secular themes post COVID-19. Asia has both of these in spades.
MSCI Asia-ex Japan Shiller cyclically-adjusted P/E 0.7 standard deviations below 10-year average
Source: Credit Suisse, CEIC, Refinitiv.
Follow our updates
We share Crestone Wealth Management views on a range of macro topics that we're watching. Click the 'FOLLOW' button below to be the first to hear from us.
........
General advice notice: Unless otherwise indicated, any financial product advice in this email is general advice and does not take into account your objectives, financial situation or needs. You should consider the appropriateness of the advice in light of these matters, and read the Product Disclosure Statement for each financial product to which the advice relates, before taking any action. © Crestone Wealth Management Limited ABN 50 005 311 937 AFS Licence No. 231127. This email (including attachments) is for the named person's use only and may contain information which is confidential, proprietary or subject to legal or other professional privilege. If you have received this email in error, confidentiality and privilege are not waived and you must not use, disclose, distribute, print or copy any of the information in it. Please immediately delete this email (including attachments) and all copies from your system and notify the sender. We may intercept and monitor all email communications through our networks, where legally permitted
---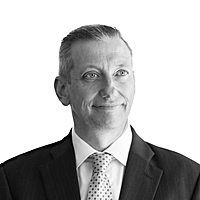 Chief Investment Officer
Crestone
Scott has more than 20 years' experience in global financial markets and investment banking, providing extensive economics research and investment strategy across equity and fixed income markets.
Expertise