Aussie riding the Blue Wave
---
While the US stock market has fallen slightly this week, it is still up substantially over the past few months and volatility measures suggest reduced concern over the US election. As opinion polls show a sustained rise in support for Joe Biden, there seems to be increasing optimism about a so-called 'blue wave' Democratic win.
The blue wave would mean Democrats in charge of the White House, Senate and House, removing roadblocks to the passage of legislation. In particular, investors expect substantial fiscal support for the US economy in this scenario.
But while the US opinion polls present reason for optimism, in the background there is cause for concern as economic activity recovery outside Asia is faltering.
A broad mix of US data including personal income, the labour market and business surveys have underwhelmed in October, consistent with a slowing in the population's mobility. Q3 GDP is likely to show a steep headline rise, but that is driven mainly by one-time reopening effects after the incredibly weak Q2.
US Q4 GDP is likely to be far more subdued, with reduced fiscal support and an ongoing high baseline virus spread taking a toll.
Rebounds in Europe, the UK and Canada are faltering too, possibly even more rapidly judging by Apple's mobility data. Eurozone's second wave is nearly double their first and now rivals the US, with 40,000 new daily Covid-19 cases reported routinely, accompanied by rising positivity rates.
Europe's service sector is probably contracting again, notwithstanding the more targeted approach to containment this time around. New Covid-19 cases in the UK are running close to 4 times the April peak and new social restrictions are being reimposed.
The Aussie dollar has had a lively week, rallying into last weekend on 'blue wave' optimism to hit multi-week highs around 0.7240. But it has since tumbled under 71 cents, hit from several angles.
One was a sudden slide in the Chinese yuan, which on Monday posted its sharpest fall in several months after China's central bank loosened regulations introduced in 2015 to shore up the currency. Jitters subsided in following days but then the Aussie faced reports that China was turning away cargoes of Australian coal, both thermal coal for energy production and coking coal for steelmaking.
The Australian government is still awaiting clarification from China on whether Australia is being singled out, but it is worth noting that in recent years, China's coal import quotas have been a regular issue in the fourth quarter.
The Aussie showed little reaction to the September employment report which showed a 30,000 fall in jobs and a small rise in the unemployment rate to 6.9%. But the Aussie did slide as RBA Governor Lowe discussed a range of fresh steps they could take as soon as Melbourne Cup Day next month.
Westpac was already expecting the cash rate to be cut to just 0.1% but other steps are possible and Governor Lowe hinted that these might help weaken the currency.
In the week ahead we will see Australia's September retail sales report and RBA minutes, but otherwise the Aussie will be watching the latest headlines on US politics and China's trade policy. 
---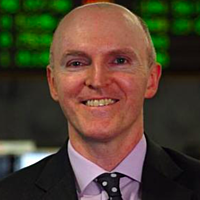 Senior Currency Strategist
Westpac Bank
Sean Callow is Westpac Bank's Senior Currency Strategist, based in Sydney. Sean focuses on the Australian dollar and other G10 and Asian currencies. He has worked in strategy and economics roles in New York, London, Singapore and Melbourne.
Expertise