Australia is more than miners and banks
---
While some may think the Australian share market consists of oligopolies in the mining, banking, insurance and retail sectors, investors have an abundant menu to choose from in Australia. In fact, the majority of our geared share portfolio is not particularly exposed to the Australian economy!
From highly profitable mining companies through to the newer businesses emerging in the information technology and health care industries, we look across every sector of the share market for companies that can reinvest strong cash flows back into their business to fuel further growth. We do invest in names like BHP Billiton and Rio Tinto as we are attracted to their low cost, long life assets, but there are a number of very successful stocks outside of 'traditional' sectors that can also help diversify a portfolio.
People often think of stocks in the technology sector when they think of diversification. While Australia doesn't have the likes of Facebook, Google and Amazon listed here, it does have companies such as Seek, REA and Carsales, which have well established track records, as well as the now emerging Altium, Wisetech and Afterpay.
There are also a number of Australian companies growing successfully overseas with low sensitivity to the Australian economy, such as James Hardie, Brambles and CSL. CSL's success in the health care space is well understood, but there are also other thriving names in health care like Cochlear and Resmed, who now supply half of the world's CPAP products for the treatment of sleep apnea.
Charter Hall, in another example, is a property owner and fund manager, with around $40 billion in funds under management, They have been very effective at generating a diversified asset base. They earns fees on the $40 billion in funds under management as well as benefitting on from investing directly in these funds. They benefit from diversified sources of funding. Two thirds of their funding comes from institutional channels. Another 20% comes from the listed market, where they are able to raise capital through placements and rights issues for appropriate opportunities. Another 15% of funds are sourced via financial platforms. Their assets are diversified across office, industrial and logistics with only a small exposure to shopping centres.
With almost $50 billion in funds under management, Goodman Group is the 'Westfield of industrials and logistics property' and another great example of a company with a strong balance sheets focused on providing shareholders attractive return on invested capital. They are a global business with just a 37% exposure to Australia. They sit in gateway cities across the world whether it be London, Los Angeles, Tokyo, Hong Kong or Shanghai. Their major tenants include the likes of Deutsche Post, Japan Post and Amazon.
In addition to diversifying a portfolio across the various sectors of the Australian share market, investing in companies with strong balance sheets will help a portfolio weather volatile periods.
Never miss an update
In volatile times, diversification is more important than ever. Be the first to read our latest insights by clicking the follow button below.

---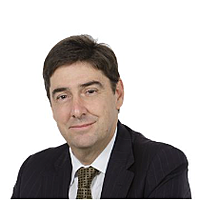 Deputy Head of Australian Equities, Growth
First Sentier Investors
David is responsible for managing the research team that analyses 130 Australian stocks. He has over 30 years industry experience, including previous roles at UBS and JPMorgan/Ord Minnett.
Expertise