SiteMinder: Australia's latest tech platform valued over $1bn
---
SiteMinder is the global market leader in hotel guest acquisition software. The business has over 36,000 subscription customers in more than 100 countries, and a year ago announced publicly that annual recurring revenue had gone past $100m. SiteMinder operates a Software-as-a-Service (SaaS) business model, producing predictable recurring revenue at high margins. With more than 80% of its revenue already from international markets, SiteMinder has the proven ability to scale efficiently to take advantage of its massive global addressable market.
Strong founder-led management team: Mike Ford and Mike Rogers focused on exceptional product, excellence of customer experience, and were regarded as people with great ability and integrity by the many referees we spoke with. Mike and Mike remain leaders of the business today, with Mike Ford as Executive Chairman and Mike Rogers as CTO. One year ago, the team was strengthened by the addition of Sankar Narayan as CEO. Sankar had previously been COO/CFO of Xero, and brings experience in scaling a SaaS business globally. Sankar also served as a BTI non-executive director for four years, which had given him valuable insight into the SiteMinder business.
Product led business: The business had very high customer satisfaction levels with the product, as evidenced by low churn and the high level of 'word of mouth' customer leads. In the dozens of customer discussions which Bailador undertook in diligence, the feedback of their satisfaction levels was strikingly high.
Proven business model: With 3,000 subscribing customers and $5m annual revenue at the time of the initial investment by Bailador, SiteMinder had proven its technology and its product market fit. It was achieving outstanding unit economics both in Australia and on a meaningful level of international revenue.
Huge Target Addressable Market (TAM): SiteMinder is the clear market leader with over 36,000 subscribing hotels, triple its nearest competitor. Over US$38 billion in reservations were processed through the SiteMinder platform last year. There are about 1 million hotels in the world, with about half of those using some form of online booking. There is an enormous amount of greenfield opportunity for SiteMinder to grow into. SiteMinder has recently introduced a payments product, and opened its platform to selected third party applications, providing further growth opportunities.
Highly scalable business with attractive unit economics: SiteMinder's business model is to have one platform with multiple features, selling access to that platform to tens of thousands of customers around the world. There is a cost to acquire new customers but after that the addition of these new customers does not significantly add to the cost base of the business. The subscription revenue produces very high gross margins, so most of this new revenue drops to the bottom line. A satisfied customer will stay on the platform for a long period, perhaps indefinitely, and in many cases will subscribe for additional features over time. With the success of a number of Australian based SaaS businesses addressing global markets, Australian investors are becoming more familiar with 'SaaS metrics'. SiteMinder produces very attractive SaaS metrics including Lifetime Value/Customer Acquisition Cost and Net Revenue Retention.
Bailador value add: Bailador has been very pleased to be involved with the SiteMinder business for over seven years. Paul Wilson served as Chairman of SiteMinder for six years and remains a non-executive director. I served as a non-executive director for five years. We have learned a lot on our journey so far with SiteMinder. When evaluating new investment opportunities for Bailador, we often put the founders in touch with Mike Ford for a 'warts and all' view of what it is like to work with Bailador. We think this is the best way to demonstrate our confidence in our capacity to add value to the business.
Outlook
We view the prospects for the SiteMinder business as being as strong as they have ever been. The business has an 'A' grade management team that is highly motivated, a world leading platform, and a huge market to grow into. We believe that the business would be extremely well received as a public company. As we expressed to a recent SiteMinder staff gathering: "This capital raise at over $1 billion valuation is a milestone for SiteMinder worthy of recognition, but the business has much bigger milestones that it can achieve in the coming years, and we look forward to being part of that journey."
Disclaimer: SiteMinder is the largest holding in the Bailador's portfolio.
---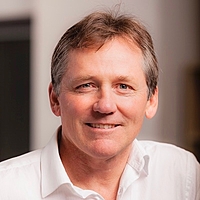 Co-Founder & Partner
Bailador Technology Investments
David Kirk is the Co-Founder of Bailador Technology Investments [ASX:BTI], a listed venture capital fund targeting expansion-stage investments.
Expertise