Australian growth in the spotlight
---
This week sees the release of Australia's Q1 GDP data (Wednesday). We have already seen sharp falls for major economies and regions in Q1, with the relative extent of the weakness largely depending on how early an economy went into shutdown to contain the pandemic. The biggest falls were in China (-9.8%) then Europe (-3.8%), reflecting their February then March timings for lockdowns. In contrast, the US and Japan, where the start of lockdowns were concentrated later in April, had smaller Q1 corrections (-1.2% and -0.9% respectively).
Australia's Q1 growth will likely only catch the start of our late-March lockdowns, and then is likely to be supported by March's retail panic-buying of staples and China's March post-COVID-19 (and post-China New Year) rebound in export demand. Even with the dampening impact of the January bushfires, this week's Australian Q1 GDP is expected to come in close to zero, so more like the US and Japan than China and Europe. UBS forecasts a 0.8% decline, while CBA forecasts a range of 0 to -0.5%.
While the Aussie Q1 GDP will be in the spotlight, the main game is still very much ahead both in Australia and offshore, with Q2 growth the epicentre of weakness for all but the Chinese economy. Expectations for growth are around -10% for many economies for Q2. US unemployment this Friday night likely sees another rise from 14.7% to 17-19%. The Reserve Bank of Australia (see our chart today) is expecting Australia's growth to fall about 10% as well in H1 2020, mostly in Q2. However, as Governor Phil Lowe commented last Thursday to the Senate Select Committee on Australia's response to COVID-19, "with the national health outcomes better than earlier feared, it's entirely possible that the economic downturn will not be as severe as earlier though". Maybe we are on track for the upside scenario, where growth 'only' falls 6-7% in Q2. Interestingly, none of the scenarios in the chart show growth re-captured by mid-2022.
And as we start this fresh week, while optimism grows about COVID-19 outcomes, other developments, mostly geo-political, continue to brew in the not-so-back background. Tensions in Hong Kong continue to escalate, as does US's response to the new laws from China. The (unsurprising and understandable) failure of China to meet its trade obligations of its US-China phase one trade deal is a potential flashpoint for a US president confronting a rising risk of defeat in November and internal social unrest and escalating racial tension and anarchy. At some point, geo-politics may become more than an idle distraction for risk markets globally.
Reserve Bank of Australia scenarios for Australia's growth—still below pre-COVID-19 by mid-2022
Source: Australian Bureau of Statistics, Reserve Bank of Australia.
Be the first to know
We share Crestone Wealth Management views on a range of macro topics that we're watching. Click the 'FOLLOW' button below to be the first to hear from us.
........
General advice notice: Unless otherwise indicated, any financial product advice in this email is general advice and does not take into account your objectives, financial situation or needs. You should consider the appropriateness of the advice in light of these matters, and read the Product Disclosure Statement for each financial product to which the advice relates, before taking any action. © Crestone Wealth Management Limited ABN 50 005 311 937 AFS Licence No. 231127. This email (including attachments) is for the named person's use only and may contain information which is confidential, proprietary or subject to legal or other professional privilege. If you have received this email in error, confidentiality and privilege are not waived and you must not use, disclose, distribute, print or copy any of the information in it. Please immediately delete this email (including attachments) and all copies from your system and notify the sender. We may intercept and monitor all email communications through our networks, where legally permitted
---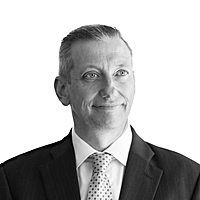 Chief Investment Officer
Crestone
Scott has more than 20 years' experience in global financial markets and investment banking, providing extensive economics research and investment strategy across equity and fixed income markets.
Expertise