Banks or insurance for the rest of 2016?
---
Insurance Sector - MPL +39%, NIB +34%, SUN +8%, IAG +8% and QBE -18%.
Banking Sector -  ANZ -4%, CBA -13%, NAB - 6% and WBC -10%.
ASX200 Insurance Sector Monthly Chart
Firstly, we will look at two stocks within the insurance sector, the best performer Medibank Private (MPL) and Suncorp (SUN) which has just traded ex-dividend – and of course we own it.
MPL is trading on an estimated PE for 2017 of 20x while SUN is only on 14x. Clearly, SUN's valuation is being dragged lower by its banking component, but also competitive pressures in their general insurance business, and falling commercial premium rates as shown in QBE's result yesterday. Despite these forces, we remain bullish SUN targeting ~18% further gains but only see a potential ~10% further gain from MPL. 
SUN is our preferred stock within the Insurance Sector and importantly we see less downside risk after its recent earnings report and reasonable valuation.
Medibank Private (MPL) Weekly Chart
Suncorp (SUN) Monthly Chart
Now let's move onto the banking sector where the PE's are much lower as the market has lost some confidence in the sector. Valuations are around par relative to history but cheap compared to the overall market e.g. CBA is trading on an estimated PE of 13x for 2017 while yielding 5.7% fully franked.
Yesterday a technical buy signal was generated by Westpac (WBC) targeting at least ~ 5% further gains.
Westpac (WBC) Daily Chart
The potentially most exciting chart comes from the US Banking Sector which is very close to breaking higher technically with a target of ~20% further gains. This sounds a large rally but just consider the gains which the local resources sector has enjoyed this year when it played catch up.
S&P500 Banking Sector Monthly Chart
Summary
Two clear take outs from today's report:
SUN is preferred stock in the insurance sector.
We prefer banks to insurance companies at current levels.
Livewire readers can receive 14 days' free access to our Platinum level membership by registering here: (VIEW LINK)
---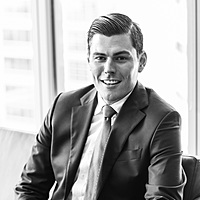 Market Matters is an online investment and share trading advisory service designed for those that want to take their wealth further. We specialise in advice for active share market investors, including those new to the markets or those with a Self...
Expertise
No areas of expertise