Be on the right side of innovation in 2020
---
I founded ARK Invest to focus solely on disruptive innovation, primarily in the public equity markets because I believe that innovative public companies with forward-looking growth are the most inefficiently priced part of the market.

Innovation typically offers long-term growth opportunities but, with an accelerating shift of funds toward passive and index-based investing, as well as outsized flows into private markets, I believe a void in research and portfolio management has opened up in the public markets. 
With our focus on public equities, ARK aims to fill this void by investing in the most innovative companies that we believe will deliver long-term growth during the next five to ten years.
What kind of growth do we anticipate? According to our estimates, the companies we invest in are leading, enabling and benefitting from five technology platforms that should generate more than $50 trillion in business value and wealth creation over the next 10-15 years. The five platforms we have identified are
Artificial intelligence,

DNA sequencing,

Robotics,

Energy storage, and
We believe they are approaching tipping points as costs drop, unleashing exponential growth across sectors and geographies and spawning more innovation.
Today, however, they account for less than $6 trillion in global equity market capitalization, giving investors an opportunity to capitalize by almost 10-fold if they extend their time horizons and position their portfolios on the right side of innovation. 
Stay informed in 2020
Stay up to date with my latest views. Hit the FOLLOW button below to be notified by email as soon as I publish my next wire.
This wire is part of the 'One thing investors can't ignore in 2020' series. To download the full ebook please click here.
---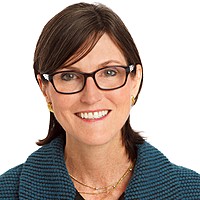 Chief Executive Officer/Chief Investment Officer, ARK Invest
Nikko AM
Cathie aims to identify large-scale investment opportunities in the public markets resulting from disruptive innovations centered around genome sequencing, robotics, artificial intelligence, energy storage, and blockchain technology.
Expertise