Berkshire Hathaway 2022 AGM - 7 topics you may not have already read about
---
"Occasionally Berkshire gets a chance to do something. It's not because we're smarter. … we're sane. That's the main requirement in this business"
- Warren Buffett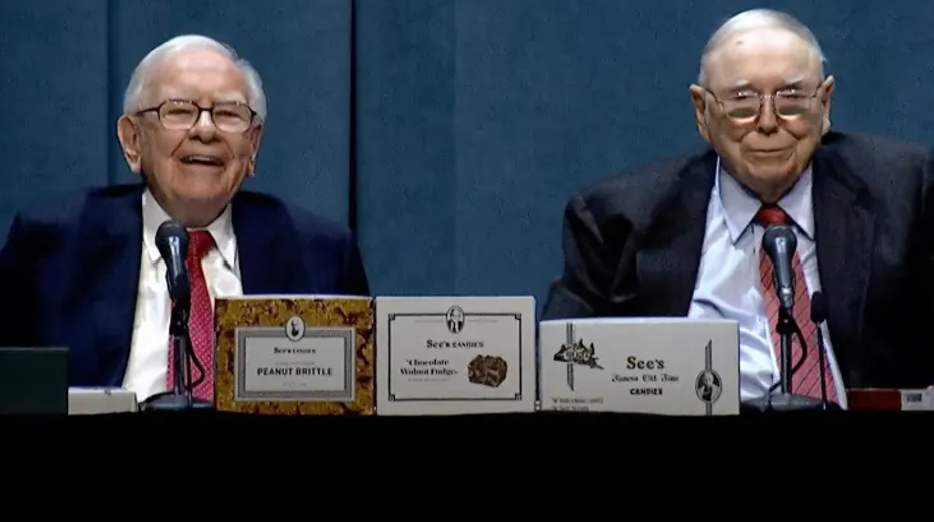 NAOS Asset Management attended the 2022 Annual General Meeting of Berkshire Hathaway (BRK-A/B, Berkshire) on Saturday April 30 in Omaha, Nebraska. The meeting is timed alongside the release of their first-quarter results, deliberately put out on a Saturday when the market is shut to give all shareholders the highest chance at not being advantaged/disadvantaged by reading its fillings before anyone else while trading is occurring. In a marathon session, joined initially by Ajit Jain (Vice Chairman, Insurance) and Greg Abel (Vice Chairman, Non-Insurance), Warren Buffett and Charlie Munger fielded questions for approximately six hours, remarkably with only one break! Some interesting points of note from the meeting are set out below.
 The rise in trading activity (versus long term shareholders)
While it has been well publicised that Berkshire has placed a large bet on oil prices through a stake in Occidental Petroleum (OXY) (now 15.2%), the speed at which Berkshire was able to build this position was less commented on. Buffett drew upon a slide depicting the total daily volume in OXY shares versus purchases Berkshire made, with 40% of the total OXY issuance tied up in non-trading index funds…
"leaving 60% of the stock outstanding. In two weeks he [Berkshire VP, Mark Millard] bought 14% out of 60%! That's not investment, you are not buying from investors. I find it just incredible. You wouldn't be able to do that in Berkshire, you literally can't. You can say you want to buy 14% of the company but it's going to take you a long long time. Large companies in America have become poker chips". 
This became a central theme of the meeting, with both Munger and Buffett deriding the fact that the U.S. stock market had "descended into a casino".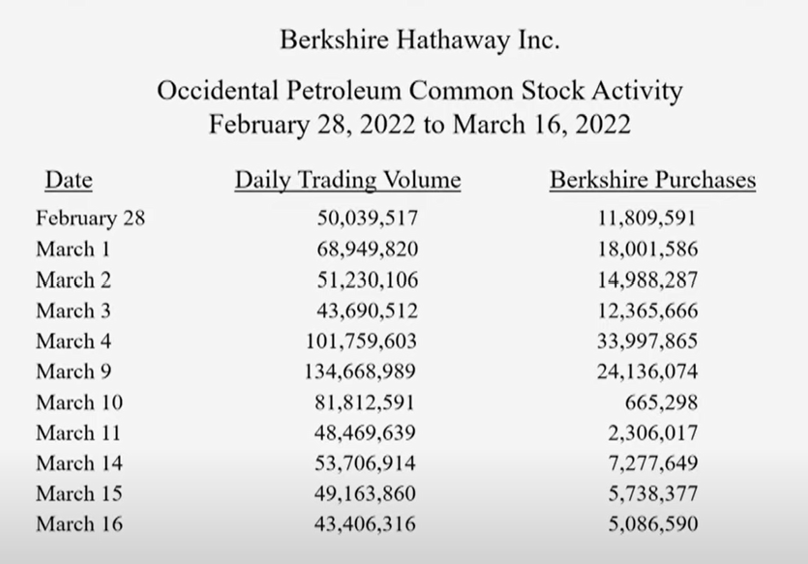 "Imagine trying to 14% of the farms in this country. 14% of the apartment houses. 14% of the auto dealerships, or just anything, when already 40% were locked up some other place. It defies anything Charlie and I have seen, and we've seen a lot."
 

Treasury cash > any alternative 
"We will always have a lot of cash. It's like oxygen, it's there all the time but if it disappears for a few minutes, it's all over."
Buffett left a slide up for the crowd that simply displayed a U.S. $20 note (seen below) and emphasised both the power of the U.S. Federal Reserve and the simple (but universal) acceptance of its issued cash as a means of exchange. This was a fairly clear dismissal of cryptocurrencies, to which Buffett gave the following analogy:
"If you offer me 1% of all the apartment houses in the country and you want another $25 billion, I'll write you a check. It's very simple. Now if you told me you own all of the bitcoin in the world and you offered it to me for $25, I wouldn't take it because what would I do with it? I'd have to sell it back to you one way or another. It isn't going to do anything. The apartments are going to produce rent and the farms are going to produce food."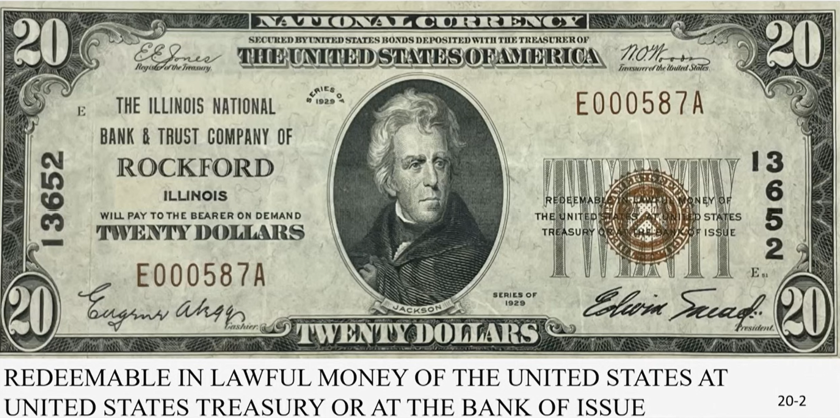 The old ways and railways
"BNSF will be around here 100 years from now, we will be a vital asset and a very important part of Berkshire. We will take this incredible assemble of 300 railroads, from 150 years ago, despite the world changing – because you don't put an order out to change this much railway."
- Warren Buffett, Berkshire AGM 2022
Amongst Berkshire's numerous subsidiaries, its wholly-owned railway BNSF whose roots began in 1850, was discussed during the meeting. Today BNSF runs across 52,300 kilometres in 28 US States and 3 Canadian provinces. Despite being an 'old-world technology', the AGM underlined the fact the BNSF rail services removes 4.4 million vehicles from the transport process and thereby removing 21 million metric tons of carbon emissions.
The BNSF discussions at the AGM underpinned the concept and power of a true business moat, wherein there is:
An extremely high certainty inherent to such a large railway business from a replacement cost, physical infrastructure perspective; and
Years of capital expenditure on geography-specific bridges which simply can't be superseded overnight.
Driving home these natural advantages is the basic economies of scale it now enjoys, with 7,500 locomotives and 35,000 employees. It is simply not possible to replicate the size and volume of BNSF across the Mid and West of the United States.
The results of this BNSF acquisition (made in 2010) have spoken for themselves, paying Berkshire $41.8 billion in dividends, with these payments made after fulfilling the "needs of its business and maintaining a cash balance of about $2 billion. This conservative policy allows BNSF to borrow at low rates, independent of any guarantee of its debt by Berkshire" (Berkshire Annual Report 2021).
When asked about operational and margin comparisons to competitors, the response was…

"We focus on the customer" - Greg Abel, Vice-Chairman, Berkshire AGM 2022.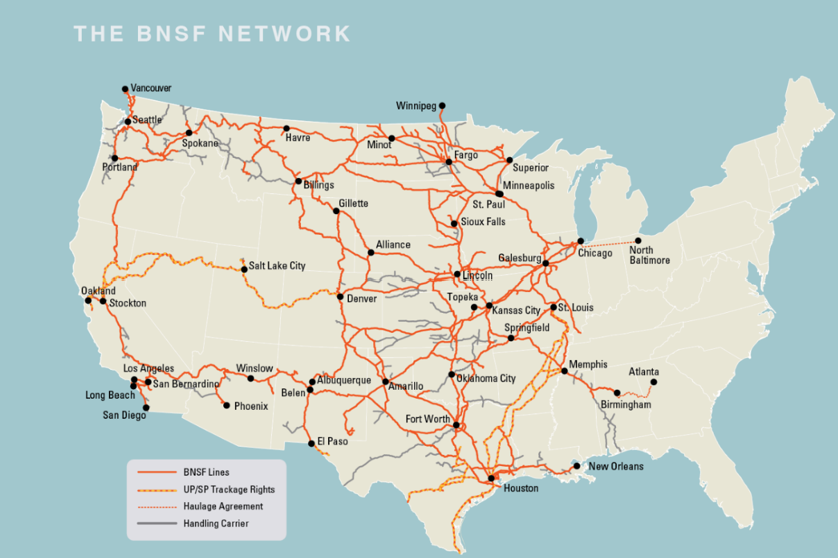 China
Charlie Munger made a concession on Chinese investing. We found this an interesting point given his personal exposure to the geography through the equity portfolio of Daily Journal Corporation (NAS:DJCO) for which he is a shareholder/director and his allocation to Asian equity-focused fund manager Himalaya Capital (but not through Berkshire's portfolio outside of the Chinese Conglomerate BYD). On investing in China, Munger conceded that:
"There's no question that China has worried investors in the United States … and yes there are more difficulties dealing with the regime in China than there are in the United States. They are a long way away, have a unique culture and different loyalties".
However, giving a further explanation as to why he has allocated to China in the past, Munger argued:
"The reason that I invested in China is I get so much better companies at so much lower prices. And I'm willing to take a little bit more risk to get into the better companies with the lower prices"
Inflation protection
When asked on individual concerns about rampant inflation, Buffett reiterated his central thesis first relayed in his 1977 Fortune Magazine article titled "How Inflation Swindles the Equity Investor", by stating:
"Inflation swindles the bond investor, too. It swindles the person who keeps their cash under their mattress. It swindles almost everybody"
Rather than suggesting shifting one's assets, Buffett's advice is to focus on your abilities and earnings power:
"If you're the one they pick out to do any particular activity -- sing or play baseball or be their lawyer, whatever it may be -- whatever abilities you have can't be taken away from you. They can't actually be inflated away from you."
Power of compounding: the Berkshire snowball
The meeting emphasised that time in the market beats timing the market. While extraordinarily simple, a basic compound interest table can surprise even those across the 'Rule of 72' and the power of long investment runways.
As seen below, $1,000 at a compounded 10% return for 30 years generates a 15x return on your original investment ($15,863). Albeit a rudimentary concept, it is still worth revisiting the "longevity of compound" given its surprising results.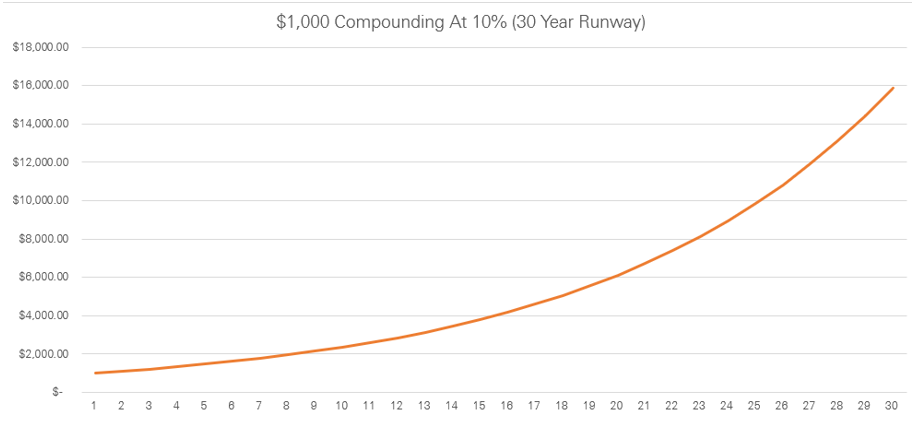 Honesty and self-criticism
A common theme of the meeting was honesty in appraising how Berkshire has performed in the disparate industries it operates in, with not all divisions performing as well as management wishes. Berkshire's Head of Insurance, Ajit Jain spoke to how Geico (Berkshire's wholly-owned insurance company) has fallen behind rival Progressive in the auto insurance industry:
"Each one have their plusses and minuses, but having said that, there's no question that recently Progressive has done a much better job than Geico … both in terms of margins and in terms of growth"
The reason behind this market share lapse? Telematics is a device placed inside a car to track driving patterns in exchange for a lower insurance rate.
"Progressive has been on the telematics bandwagon for more than 10 years. Geico, until recently, wasn't involved in telematics. It's a long journey, but the journey has started, and the initial results are promising. It will take a while, but my hope is that in the next year or two, Geico will be positioned to catch up with Progressive."
The meeting reiterated the importance of staying the course when it comes to investing as well as ignoring issues that are only short-term in nature. At NAOS we believe this is central to our investment philosophy, seeking to focus instead on the long-term earnings power of the businesses we are invested in. Of equal importance is the focus we place on assessing a business's economic moat, its competitive advantage in the relevant industry, the durability of earnings, and the quality of the management team. These factors in investment decision-making were driven home throughout the Berkshire meeting, underscoring their timeless importance.
Never miss an update
Enjoy this wire? Hit the 'like' button to let us know. Stay up to date with my current content by
following me
below and you'll be notified every time I post a wire
Welcome to Livewire, Australia's most trusted source of investment insights and analysis.
---
To continue reading this wire and get unlimited access to Livewire, join for free now and become a more informed and confident investor.
Sebastian Evans is the Managing Director and Chief Investment Officer of NAOS Asset Management Limited. Sebastian is the major shareholder of Naos and has worked in the firm for over 13 years. Sebastian has a Bachelors Degree in Commerce Majoring in Finance and International Business, a Masters of Applied Finance and a Graduate Diploma in Business Management.
........
Important Information: This material has been prepared by NAOS Asset Management Limited (ABN 23 107 624 126, AFSL 273529 and is provided for general information purposes only and must not be construed as investment advice. It does not take into account the investment objectives, financial situation or needs of any particular investor. Before making an investment decision, investors should consider obtaining professional investment advice that is tailored to their specific circumstances.
---

Never miss an update
Get the latest insights from me in your inbox when they're published.
---
---
Sebastian Evans is the Managing Director and Chief Investment Officer of NAOS Asset Management Limited. Sebastian is the major shareholder of Naos and has worked in the firm for over 13 years. Sebastian has a Bachelors Degree in Commerce Majoring...
Expertise
Sebastian Evans is the Managing Director and Chief Investment Officer of NAOS Asset Management Limited. Sebastian is the major shareholder of Naos and has worked in the firm for over 13 years. Sebastian has a Bachelors Degree in Commerce Majoring...
Expertise