Best and Worst Calls of 2017
---
In the AFR today I review our best and worst calls of 2017 in what has been a fast-paced and intense 12 months (click on that link to read for free or AFR subs can use the direct link here). I also gave an interview to Livewire in the video link enclosed. Excerpt below:

"It's that time of the year again when we reflect on what we got right and wrong. At the start of 2017 we figured the US Federal Reserve would hike rates three or four times, which was more aggressive than the consensus. The market is placing a near-100 per cent probability of a third hike this month. We also thought there was a slightly better than 50 per cent chance the RBA would be forced by a booming housing market into at least one 'financial stability' hike. APRA and the banks instead obliged. APRA significantly tightened restrictions on investor and interest-only lending, which banks responded to with out-of-cycle rate hikes. According to the RBA, interest rates on investment loans lifted by exactly 25 basis points over 2017. Interest-only rates climbed further. That was enough to break the back of the five-year-long housing boom first triggered by the RBA slashing interest rates in 2012 and 2013. We declared in late April 2017 that the great Aussie housing boom was over, and were a few months early. Sydney prices started rolling over in August and have recorded cumulative losses of 1.5 per cent since the end of July based on the CoreLogic indices. Across the  five largest cities, prices  started slowly deflating in October and have shaved a modest 0.2 per cent off the largest source of household wealth since September. This is one reason why we have not invested in securitised pools of home loans originated after 2015 – assets sourced  before this benefit from the credit enhancement delivered by the big boom and should not be impacted by any correction. (On a relative value basis, though, AAA rated residential mortgage-backed securities are still cheap.) We expect the RBA to lift rates a couple of times next year as it is "surprised" by an unemployment rate that is far lower than its end-2018 forecast of 5.5 per cent (it's already 5.4 per cent and it should comfortably punch through 5 per cent, which is the RBA's "full-employment" estimate, in 2018). As we move into 2019 this should solidify a gradual residential property correction, which while potentially precipitating some hysteria, represents a much-needed and orderly recalibration of valuations. Contrary to silly bank economist claims that house prices can only fall if the unemployment rate climbs, we have for years argued that bids and offers in any market are determined by expectations, which means valuations can shrink while the unemployment rate is declining. That's happening right now. Australia is indeed the lucky country: we get to deflate the mother of all bubbles at a time when the jobless rate has dropped from 6.4 per cent to 5.4 per cent as the economy expands briskly (real GDP printed this week at a healthy 2.8 per cent annual pace). And I put my money where my mouth is: after buying a property in November last year, I sold it this week to lock in the 56 per cent gross capital gain. (It's actually still cheap and the new owner will ultimately make a small fortune redeveloping it.) A key forecast for several years has been that the unemployment rate in the world's largest economy would fall well below the Fed's estimates of full-employment at  about 4.5 per cent. In 2017 the US jobless rate has declined from 4.7 per cent to 4.1 per cent. We projected that it would contract below 4 per cent by the end of 2017 or early 2018, and it is tracking to that goal. While wage and inflation pressures in the US spiked over 2015 and 2016, this year has not met our expectations of a further pick-up. It appears that a handful of random downside surprises coincided to undermine core inflation. This should mean-revert and we remain confident that neither wages growth nor inflation have been killed off by debt or technological disruption, as many claim. Our contrarian case sees core inflation in the US surprising on the high side, punching through the Fed's 2 per cent target and forcing a sharper re-rating of long-term interest rates. We've been sanguine on local and global economic growth, and the world has not disappointed with seemingly never-ending positive data surprises out of the US, the UK and Europe. (The IMF recently upgraded its global growth forecast to 3.8 per cent in 2018.) At the start of 2017 we said that Australian credit spreads, which represent the risk premium above government bond yields that companies pay to borrow money, would gradually grind tighter, which has been the story of the year. While investment-grade corporate spreads in the US are at, or inside, pre-crisis levels, Australian financial and corporate risk premia are much more attractive. RBA data highlights that A rated (BBB rated) corporate spreads are 2.4 times (1.8 times) higher than they were in December 2006. Aussie financial spreads are 5 to 10 times wider relative to pre-crisis troughs." Read the full article at AFR here.
---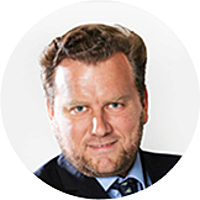 Portfolio Manager & Chief Investment Officer
Coolabah Capital
Chris co-founded Coolabah in 2011, which today runs $7 billion with a team of 33 executives focussed on generating credit alpha from mispricings across fixed-income markets. In 2019, Chris was selected as one of FE fundinfo's Top 10 "Alpha...