BHP, Rio give their blessing to battery metals
---
The mining giants have declared a new-found appetite for battery metals. And the word from on high is good news for leveraged battery juniors like Mincor and Liontown; Plus, Bellevue dangles the resource-upgrade carrot and analysts line up to tip big things for Strandline.
FOMO among major miners BHP and Rio Tinto was on full display in Barcelona this week at the Bank of America Merrill Lynch mining conference.
And it had nothing to do with whether they would be invited by the fun people to the various knees-ups up at the tapas bars up down La Rambla.
Nope, it was all about the major miners declaring they were part of the electric vehicle and renewable energy storage revolution.
Content in the past to say that their copper interests gave them all the exposure they needed, there was a distinct change of attitude at the Barcelona meet-n-greet.
BHP boss Andrew Mackenzie declared that after years of planning an exit from the Nickel West business, it would now be staying in the portfolio, while Rio boss J-S Jacques gave the long-dated Jadar lithium project a special mention.
More than that was the acknowledgement from both that something big was going down in the world's push towards a low-carbon economy and that the metals found in lithium–ion batteries (graphite, lithium, nickel, cobalt and so on) were a big part of it all.
Mackenzie said Nickel West would now be retained in the portfolio because it offers "high return potential as a future growth option linked to the expected expansion in battery markets and the relative scarcity of quality nickel sulphide supply".
"We constantly test our current assets and future options against many divergent scenarios," he said.
"Decarbonisation, the electrification of transport, the future of work and food security are examples of strategic themes that we monitor.''
Jacques said Rio was "looking at options to grow our positions in materials relating to battery technology" as the world shifts to a low-carbon future.
"A good example of this is our lithium project, Jadar, in Serbia (he did not address speculation that if someone was to counterbid Wesfarmers (WES) for Kidman (KDR), it will be Rio.
Rio has of course decarbonised its profile in a big way by quitting the coal business. On Jadar, Jacques said there was still 18-months to go on the development study, which is when Rio will make a decision.
Importantly, it is now more comfortable with the lithium market. "We are becoming more and more comfortable about the market," Jacques said.
Juniors have the leverage
It is doubtful that the BHP and Rio commentary matters much to their valuations. It is of course a different story for juniors with leverage to the lithium-ion battery thematic.
They have the leverage to the revolution unfolding in a big way in the 2020s.
There is a special mention today for Mincor (MCR) given its re-start plan for its Kambalda nickel operations is underpinned by the new offtake arrangement - on "substantially" better terms - it reached with Nickel West back in March.
BHP's recommitment to the nickel business is obviously good news for Mincor's restart plans, which have moved on to securing the required $50-$60m in financing needed to come back as a producer of 12,000-14,000t of nickel-in-concentrate.
As mentioned here previously, that level of output would not be far off what used to support a $1 billion market cap for Mincor in the heady days of 2008 when no one was talking about EVs and the need for nickel supplies to ramp up exponentially in the 2020s.
Mincor last traded at 43c for a market cap of $95m.
As for lithium plays, Liontown (LTR) gets a special mention today on its run from 2.7c at the start of the month to 8.3c on Thursday. It was last mentioned here on January 25 when it was a 2.3c stock.
While there has been chatter that cashed-up lithium producer Galaxy (GXY) has been buying the stock, the more likely reason for the share price rise is the growing confidence that Liontown's Kathleen Valley project near Leinster has is now a serious contender to become a second-generation WA hard-rock lithium producer.
That confidence is based on the existing resource estimate (21.2mt at 1.4% lithium with tantalum credits) and recent drilling results bringing the company's stated "exploration target" for another 19-31mt at 1.2%-1.5% lithium into sharp focus.
As an aside, Galaxy has just pumped $22.5m into Bald Hill lithium mine owner Alliance (A40), making it the biggest shareholder.
Tolga gets his way at Bellevue
Tolga Kumova loves using social media to share his thoughts on his mining investments, among other things.
One of his recurring themes has been urging his 9 per cent-owned Bellevue Gold (BGL) to bring in more drill rigs and go like the clappers at its namesake high-grade gold deposit near Leinster in WA.
He's got his wish, with Bellevue boss Steve Parsons telling the Melbourne Mining Club's Cutting Edge series on Tuesday night that a fifth rig would arrive soon and that a sixth rig could well be ordered up to drill other targets on Bellevue's 3500sqkm land package.
Mind you, Parsons has not needed Tolga's urgings to want to step up drilling.
In late April, he confirmed the appointment of Canaccord Genuity to deal with "any interest expressed by third parties in relation to Bellevue".
The short form of that is that Bellevue is now a takeover "target". There is no surprise in that given in the space of 13 months, drilling at Bellevue has led to numerous resource upgrades, the latest being 4mt grading 11.8g/t gold for 1.53Moz (inferred).
Any bid pitched now by any one of the half a dozen or so gold miners with treatment plants within a 150km radius of Bellevue (11.8g/t trucks a long way) would pivot around this resource.
But as Parsons made clear at Cutting Edge, 1.53Moz should be seen as nothing more than a stepping-stone to a multi-million-ounce proposition.
"We are discovering gold for less than $15 a resource ounce and that's every quarter, quarter on quarter," Parsons said.
"And we expect the resource upgrades to carry on at the same rate of knots and the same sort of size and the same sort of grade as what we have been doing."
As it is, a resource upgrade is expected at the end of the current (June) quarter. It will take in drilling results from the Tribune and very high-grade Viago lodes. Given the past rate of resource additions, it is eagerly awaited.
The arrival of a fifth drilling rig will add to the story. The current and upcoming resource is based on drilling in the first 500m. The fifth rig will punch in the first deeper holes to test if like most of the high-grade Archean gold systems in WA, Bellevue continues at depth.
"We can't wait," Parsons said. Either can Tolga.
Strandline Resources
This space mentioned African-Australian mineral sands developer Strandline (STA) back on April 18 when it was trading at 10c a share.
It has since moved higher to 13.5c a share on the strength of its shovel-ready projects in African and Australia, which are being progressed through the financing stage.
It all comes at a time of broad agreement that the world needs new projects to meet demand, as has been reflected in the strong price recovery for mineral sands products in the past couple of years.
While it is up 35% since April 18, there is a conga line of analysts who reckon the stock has a long to go as both the "starter" Fungoni project in Tanzania and the much larger Coburn project in WA, make their way through financing gateways.
Morgans is the most recent, with a May 15 price target on the stock of 38c. It followed in the footsteps of Hartleys on April 17 with a 22c target and Patersons on April 26 with a 28c price target.
It is a rare thing to see analysts agreeing on upside of that that scale (62%-180%) in a junior of any description. 
---

Never miss an update
Get the latest insights from me in your inbox when they're published.
---
---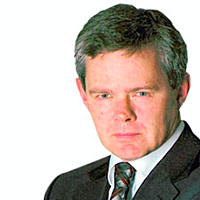 Principal
Independent Journalist
One of Australia's leading business journalists, Barry FitzGerald, highlights the issues, opportunities and challenges for small and mid-cap resources stocks, and most recently penned his column for The Australian newspaper.
Expertise