Bond yields are pushing higher
---
While we are yet to see the likely horrific Q2 growth data from around the world, an increasing array of data, both leading indicator and hard activity data, is transitioning to the 'less bad' stage. This includes the global PMI (which rose to 36.3 from 26.5 in May), the trend in US jobless claims, and better-than-expected May jobs report, as well as China's less negative-than-forecast export growth.
This is not to suggest a linear V-shaped recovery is upon us—much uncertainty remains about how Australia and the global economy will transition to the post-COVID 'new normal' from here. It only suggests that much of what we see unfolding in markets and pricing is often driven by second derivatives—the change in the change which, in this case, is that the data is no longer deteriorating, and instead becoming less bad.
Similarly, inflation is likely to crater over the coming year, driven by lower energy prices and H1 2020 weak demand (and likely below trend demand in H2 2020). Yet, US and Australian 'break-even' inflation rates (the pace of inflation implied in the bond/linkers market) have started to rise. In the US, five-year implied inflation has risen from a low of 0.14% in March to 0.98% currently. In Australia, it's risen from about zero to 1.2%. These are one of the key indicators central banks focus on to assess whether their policy is working…and it seems to be.
Maybe this is why central banks appear to be letting longer-term bond yields drift higher, as shown in our chart today of 10-year yields. All eyes are on Wednesday's US Federal Reserve meeting. Will it add more stimulus (potentially more forceful unconventional quantitative easing policy), or do little, holding the line in the face of signs that the worst in US activity may be in the past? In Australia, the 10 year (which was below its US peer for most of 2019 and is now above it) has risen from a low of 0.61% to 1.05% today. Interestingly, the Reserve Bank of Australia has let this unfold, significantly pulling back from its historic bond-buying program. No one should be contemplating an inflation-led bond yield sell-off…but 'less bad' data may just be flagging a further drift higher in yields (with steeper curves) to nearer their 2019 averages of 1.5% in Australia and 2.0% in the US.
US and Australian 10-year bond yields push higher
Source: Factset.
Be the first to know
We share Crestone Wealth Management views on a range of macro topics that we're watching. Click the 'FOLLOW' button below to be the first to hear from us.
........
General advice notice: Unless otherwise indicated, any financial product advice in this email is general advice and does not take into account your objectives, financial situation or needs. You should consider the appropriateness of the advice in light of these matters, and read the Product Disclosure Statement for each financial product to which the advice relates, before taking any action. © Crestone Wealth Management Limited ABN 50 005 311 937 AFS Licence No. 231127. This email (including attachments) is for the named person's use only and may contain information which is confidential, proprietary or subject to legal or other professional privilege. If you have received this email in error, confidentiality and privilege are not waived and you must not use, disclose, distribute, print or copy any of the information in it. Please immediately delete this email (including attachments) and all copies from your system and notify the sender. We may intercept and monitor all email communications through our networks, where legally permitted
---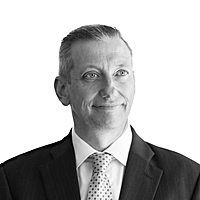 Chief Investment Officer
Crestone
Scott has more than 20 years' experience in global financial markets and investment banking, providing extensive economics research and investment strategy across equity and fixed income markets.
Expertise