Bonds vulnerable to a sell-off
---
"Do not be misled by expert bravado or by an expert's own sense of how he or she is doing. Evidence is a much better guide than an impressive self-presentation." Cass R. Sunstein, Wiser: Getting Beyond Groupthink
Equity indices have continued their march higher over the past couple of days—seemingly the path of least resistance—buoyed by the continued flurry of reopening news across the world economy, further European Union stimulus, modest rebounds in leading indicators (such as purchasing manager indices and restaurant bookings) and little evidence to date of renewed virus outbreaks as citizens of the world re-mingle. Moreover, there has been a clear cyclicals/value rotation as financials and industrials have strongly outperformed their growth/momentum nemeses.
Somewhat in the background for now, so it seems, is the 'still-to-come' horrific Q2 macro data (which optimism-packed markets have managed to so far look beyond), the rising uncontained COVID-19 outbreak across emerging markets, such as Brazil, Russia and India, rising trade war risks between the US and China as the US presidential election comes into view, and increasing tensions in Hong Kong. The optimist (or cynic) might argue that is all 'old news' or, at least, nothing markets haven't seen before!
Yet, despite rising equity markets, the correlation to bond yields appears close to zero. With central banks standing firm in sovereign bond markets to ensure fiscal support is funded and lending rates remain stimulatory, 10-year bond yields have remained firmly pegged below 0.90% in the US and Australia—just above 0% in the UK and firmly in negative territory across all of Europe (except Italy).
As BCA's recent chart of bond valuations shows, "the Treasury market is becoming highly vulnerable, and 'technically' as expensive and as overbought as they were in December 2008, just prior to a 171 basis points pick up in Treasury yields." But as BCA also notes, valuation is one thing, catalysts to bring that valuation to bear are another. What is the catalyst for even a modest rise in bond yields? Well, if the equity market is right, and the recovery is secure, then "a rebound in global industrial activity would likely be the main factor forcing yields higher."
Bond valuations
Source: BCA Research.
Be the first to know
I'll be sharing Crestone Wealth Management's views as new developments unfold. Click the 'FOLLOW' button below to be the first to hear from us.
........
General advice notice: Unless otherwise indicated, any financial product advice in this email is general advice and does not take into account your objectives, financial situation or needs. You should consider the appropriateness of the advice in light of these matters, and read the Product Disclosure Statement for each financial product to which the advice relates, before taking any action. © Crestone Wealth Management Limited ABN 50 005 311 937 AFS Licence No. 231127. This email (including attachments) is for the named person's use only and may contain information which is confidential, proprietary or subject to legal or other professional privilege. If you have received this email in error, confidentiality and privilege are not waived and you must not use, disclose, distribute, print or copy any of the information in it. Please immediately delete this email (including attachments) and all copies from your system and notify the sender. We may intercept and monitor all email communications through our networks, where legally permitted
---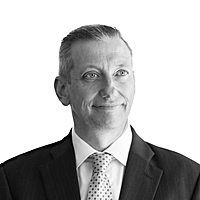 Chief Investment Officer
LGT Crestone
Scott has more than 20 years' experience in global financial markets and investment banking, providing extensive economics research and investment strategy across equity and fixed income markets.
Expertise