Brambles is still not cheap despite the fall
---
Yesterday BXB fell -9.9% after reporting earnings which were basically in-line with recently downgraded guidance but the future looks uncertain, and this is clearly where the market focused. Outgoing Brambles chief executive Tom Gorman said the result was disappointing with most of the problems focused around its US business where the economy is supposed to be strongest. The logistics/pallet company is struggling with the shift in consumer behaviour as on-line shopping, which is creating Goliaths like Amazon, are thriving leading to a surge in small parcels travelling by post, rather than on pallets between shops.
Interestingly only a few years ago, investors thought postal companies were in trouble due to the arrival of email, but now with on-line shopping growing exponentially, they have enjoyed a significant renaissance.
Although BXB has reached our technical buy zone, after correcting ~30% since August, it's hard to imagine investors chasing this stock due to growing uncertainty. BXB is still not cheap and only pays a grossed-up dividend of ~3.4%, so we will be observers, not investors for now.
Livewire readers can receive 14 days' free access to our Platinum level membership by registering here.
Brambles (BXB) Monthly Chart
---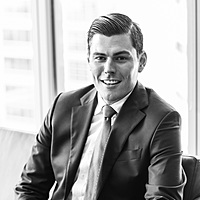 Market Matters is an online investment and share trading advisory service designed for those that want to take their wealth further. We specialise in advice for active share market investors, including those new to the markets or those with a Self...
Expertise
No areas of expertise