Breaking News: Creasy confirms major base metals discovery in WA
---
Exclusive: Prospector Mark Creasy confirms he has made a big base metals find in WA. Creasy's deposit is 25km from Independence's Nova-Bollinger project, fuelling speculation that a deal is around the corner. And exploration is hotting up at PolarX's Alaska Range project, causing this week's raising to be heavily over-subscribed.
Our most successful "prospector", Mark Creasy, has broken cover to confirm that his privately held Great Southern Nickel has indeed made what he thinks could be a substantial nickel-copper-cobalt discovery in Western Australia's Fraser Range.
The discovery is all of 25km north-east of Independence Group's (IGO) Nova-Bollinger metal wonder. Rumours about the discovery were first reported here on June 29 and July 6, with the help of some confirming satellite imagery.
But it is only now that the indefatigable Creasy has broken his silence on the subject, one that has important ramifications for the 16% Creasy-owned IGO and a bunch of listed explorers that have made a living trying to find the next Nova-Bollinger.
Confirmation of the discovery follows the lodgement by Creasy's Great Southern Nickel of an application to turn the 61sqkm exploration licence hosting the find into a mining licence, a move which comes with the obligation of attaching a mineralisation report.
The mining licence application was lodged late last Friday but we the public don't get to see the mineralisation report unless we go down the route of trying to obtain a copy under Freedom of Information laws. And this would almost certainly be fruitless anyway.
Still, Creasy is now open on what he has found, even if he does not need to say anything as the discovery is held by his private interests.
"There are a lot of things that need to be done but I am reasonably optimistic that it will turn out to be a substantial orebody," Creasy said.
As he has kicked more rocks than anyone else in the exploration game in the last 50 years, we're happy here to go with the find being substantial.
"I never count my chickens before they hatch but we've obviously got economic grades," Creasy said.
He reckons the thing now is to find out just how big the discovery is.
"After I've spent maybe $20 million or something of that nature we may have a feel for its size. Anything I say now would be pure speculation. You have got to have a bit of imagination but you don't want it to run riot."
Industry speculation is that the discovery could be at least one-third the size of the 2012 Nova-Bollinger discovery, acquired by IGO in its $1.8 billion acquisition in 2015 of Mark Bennett's Sirius Resources.
Creasy said the discovery had the same style of mineralisation as Nova-Bollinger.
That's good news for IGO, which would dearly love to lengthen the life of Nova-Bollinger from a decade to a multi-decade producer. Such an outcome would boost valuations of the company significantly.
The potential for the valuation boost - and Creasy's 16% IGO stake – is why there has been speculation that IGO will be angling to acquire the discovery.
Creasy had a good belly laugh when asked if the discovery would end up in one of the listed Fraser Range players in which has an interest.
"It is a little early to say anything in that regard," he said.
IGO itself has a massive exploration effort underway elsewhere in the Fraser zone to find another deposit and achieve that multi-decade leverage off the Nova-Bollinger infrastructure it would deliver.
It has budgeted $30 million this financial year on exploring across its 15,800sqkm footprint across a 425km stretch of the Fraser Range. The footprint includes a number of managed joint ventures with juniors.
And it recently added to its Fraser Range footprint in a $21 million shares and cash deal with Creasy on 1,100sqkm of tenements to the west and south-west of Nova-Bollinger, with Creasy retaining a 30% interest.
Apart from his 16% of IGO, Creasy owns 28% of the main junior player in the Fraser Range, Legend Mining (LEG).
Its Rockford project is to the north of Nova-Bollinger and sits comfortably in the prospective Fraser Zone. It has been ticking all the boxes in a methodical exploration program that might just prove to be another discovery when the diamond drill gets to work.
As managing director Mark Wilson has said previously, Legend has found the haystack and is now working its way towards the needle. Most of Legend's 2800sqkm tenement position in the Fraser Zone is a 70% Legend/30% Creasy joint venture.
Creasy also holds 31% of newbie, Galileo Mining (GAL), which apart from a Norseman cobalt/nickel play, also has ground in the Fraser Zone picked up from Creasy. Incidentally, or perhaps not, IGO has a 4.9% Galileo stake.
There were some thoughts that Creasy would leave confirming his new discovery until the fast-approaching Diggers & Dealers bash.
But the truth is he hasn't been to D&D for years.
"Every time in the past when I went there I would get absolutely pissed as a parrot the first night. Then I would spend two days trying to recover and the whole thing would go past in a blur,'' Creasy said.
"As much as I enjoyed the blur, my liver paid for it."
We know where he is coming from there.
His absence leaves the door open for the mighty Rio Tinto to give the industry a lift at D&D by confirming it has made a big copper discovery in the sand dunes of the Paterson Province way up north, another one that jumps out on satellite imagery. Here's hoping anyway.
PolarX
The Alaskan field season is as short as they come, running from July through to early October when the seriously cold weather settles in.
It's why Alaskan-focussed and aptly named PolarX (PXX) has recently got cracking at its Alaska Range project.
There has been some real interest in the program too, as is reflected in the company apparently being swamped by both local and overseas investors for a $3.6m placement at 11c a share, expected to be confirmed today.
By good planning and the demands of the Alaskan field season, there has been a good flow of news in the lead up to the placement from the shallow drilling program into the Zackly magnetite-skarn where PolarX already has a resource (41,000t of copper, 213,000 ozs of gold and 1.5m ozs of silver).
The latest drilling has returned visible copper sulphides 350m to the east of the known resource. Taken with other hits, there is good reason to think that there is going to be a resource upgrade before long.
The Alaska Range project also includes the Caribou Dome deposit (85,500t of copper at a fancy 3.1% copper grade). Add it to the increase coming at Zackly and PolarX can start thinking about becoming a producer.
Having said that, the real reason the company was swamped in the placement probably has more to do with the big-time porphyry potential of its Alaska Range project area.
Funds from the placement mean that the main near-term event the market has been waiting for with PolarX can get going – the drilling of a deeper and much larger buried indicated porphyry to the south-west of Zackly and possibly across at the shallow Mars porphyry target.
Mars is 6km from Zackly along a mineralised structural corridor.
Never before drilled, soil sampling at Mars returned coincident copper, gold, molybdenum and silver anomalism over an area of 2000m by 1500m. Rock-chip sampling turned up 7.4 per cent copper and 1.8g/tonne.
Geophysics have indicated a buried anomaly located 100‐150m below the surface geochemical anomalism. PolarX reckons that was all consistent with a buried, mineralised porphyry copper-gold system.
---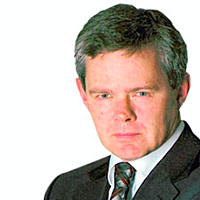 Principal
Independent Journalist
One of Australia's leading business journalists, Barry FitzGerald, highlights the issues, opportunities and challenges for small and mid-cap resources stocks, and most recently penned his column for The Australian newspaper.
Expertise