Brilliant resilience: Why you should forget macro, and just choose quality
---
Uncertainty. Headwinds. Volatility. Every minute of 'now' seems to chafe for investors, or burn outright. With inflation on the rise, the Russia-Ukraine war grinding on, tensions between China and Taiwan intensifying, supply chains congealing - all that - investors around the world are all asking the same question: Can we please have 2021 back again?
Nevertheless, dwelling on all this nasty bubbling macro is not for everyone, certainly not Bob Desmond, portfolio manager at Claremont Global. Indeed he wants to remove macroeconomic volatility from the equation. Keeping that in mind, Desmond finds great confidence in resilient high-quality stocks with predictable earnings. His mantra?
"Buy businesses that are resilient through the cycle"
In this wire, Desmond explains how a small group of high-conviction, quality, and above all resilient companies are at the core of Claremont's strategy. These companies, he says, typically share common characteristics: Low cost-to-value products, high gross margins, recurring revenues and markets with structural growth and tailwinds.
Desmond also unpacks the reasoning behind Claremont's strategy as we explore the question of how to protect our portfolios by picking and sticking with quality.
Key Takeaways:
Bob Desmond explains why Claremont global is a high conviction fund

Resilience and Quality trump value or growth

Macro is irrelevant, with the right quality selection
Edited Transcript
Why is Claremont Global not growth or value-oriented?
Bob Desmond: At the end of the day, we just try and remember what we're trying to do. And it's to get an 8-12% per annum return for our clients. And the easiest way to do that is to buy businesses that have really predictable earnings. 
To have predictable earnings, you have to have a very sustainable competitive advantage. Which means then we have a really clear idea and line of sight of what this business will be earning in three to five years. And what that business will be worth. 
Now, if you buy something that's not quality, if it's cyclical it will depend on the economic cycle, it could depend on interest rates or commodity prices. Or does it lose sustainable competitive advantage, et cetera. Obviously, if you want to swing for the fences you can go for the outliers. We try and stay very much in the middle of the fairway.
To have predictable earnings, you have to have a very sustainable competitive advantage
Should high conviction funds like Claremont be more macro focused?

Bob Desmond: Not really. I think macro is a part of life. As a business owner, you are always going to have cycles, there are going to be recessions. There are going to be wars. There are going to be things that you can't predict. If I think of during my career the things that I've seen that I could never have predicted. We knew the GFC was a bit wobbly, but we never knew it could be that bad. I thought the Euro would break up, it never did. Never predicted Trump would get elected. Never predicted Brexit. Never predicted COVID. 
I think the philosophy we take is, let's not try and predict the macro. Let's buy businesses that whatever happens, we'll be resilient through the cycle. Because if you're going to be a business owner, there are always going to be cycles. And that goes back to quality. If you own quality, you can take the macro out of it because you know that the quality will get you through.
"Macro is a part of life"

What qualities does Claremont look for in a high conviction investment?
Bob Desmond: A key one we look for is low cost to value. If you can have a product that's a very, very small part of the cost stack but a big part of the value chain.Two examples we give in the fund would be Microsoft or Adobe.
Microsoft you're paying $29 a month for an Office 365 licence. Which really most people spend more on coffee in a week. I don't know how much you spend on coffee. I mean, it's extraordinary value when you think about it. You couldn't run your life or your business. You could charge $100 a month and I couldn't turn it off. We really like that type of thing. Adobe is $15 a month for a licence, that type of thing where you're so integral to the process, but you're actually just a small part of the cost. 
That's a crucial thing. Other things, we love high gross margins. If you're a small part of the cost, you can charge a lot and get that high gross margin, and recurring revenues. And obviously, if you can be in a market that has natural structural growth, and tailwinds that'll carry you along. Those are the key things we look for.
How concerned are you about big tech disruption?
Bob Desmond: Everything's disruptable at the end of the day. I mean, it is. 10 years ago I thought Colgate was the most bulletproof company I'd ever seen. I just didn't see that private label, Amazon, the change in marketing, distribution, Facebook would change the whole business model. Everything's disruptable at the end of the day. 
Microsoft, very difficult, I think. So embedded. And the thing with Microsoft, because they're mainly B2B, B2B business, generally companies are pretty conservative and they're slow to change. The consumer can change their mind in a heartbeat. But if you're a company and you have to change hundreds of thousands of licences, it's just really difficult to do. And obviously the cloud businesses is the growth story at the moment. And at the end of the day there's only going to be two or three players there, it's all around scale. 
I would say, of the businesses that we own, one of the least disruptable. Adobe is obviously at the lower end with people like, as you say, Canva. I'm going to lean a little bit on history here, I think generally what I found, looking at these businesses, is that incumbency can be a very, very big advantage in software. People get used to using it a certain way. And with the scale that they have, enormously profitable business. 
Adobe has an 85% gross margin, high 30s EBIT margin. It has net cash. They are very capable of fending off disrupters at the bottom end of the market, and they obviously have their creative cloud express where they bring people in, and then they try and up-sell them. And then they have their huge network effect. We always worry about things that would be slightly more disruptable than Microsoft, I think. But still, I think it's a low probability.
Everything's disruptable at the end of the day
---
High conviction investing
Claremont Global is a high conviction portfolio of value-creating businesses at reasonable prices. Stay up to date with all our latest insights but clicking follow, or visit our website for more information.

Managed Fund
Claremont Global Fund
Global Shares
---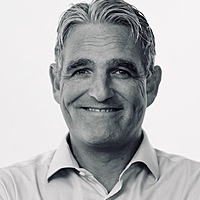 Content Director
Livewire Markets
Matt Buchanan is Head of Content at Livewire Markets. Matt is an avid investor with many years' experience in journalism and product in senior roles at the Sydney Morning Herald, the ABC and Microsoft, before landing his dream job with the...
Expertise