Bumper gold price to spark re-rating in Pilbara's overlooked juniors
---
The big boys of the fashionable Pilbara gold scene are flying high. But their smaller brethren, such as Calidus and Kairos, are set to play catch-up as the higher gold price is factored into their models. Plus, $13m RareX lays foundations for the big time with rare earths in WA and a strong start to its NSW porphyry campaign.
Ignoring the conglomerate gold bubble of a few years ago, there has been some serious gold value creation in recent times in Western Australia's Pilbara.
De Grey (ASX:DEG) and Capricorn Metals (ASX:CMM) have led the way, with their market caps on a combined basis now knocking on the door of $1 billion.
De Grey's charge to a market cap of $456m has been powered by its intrusive-related Hemi discovery with its multi-million ounce potential and the growing recognition of the development potential of its existing 2.2Moz gold resource base in today's $A2,650/oz gold price environment.
The stellar Aussie gold price has also been behind the major re-rating of Capricorn to a $531m company as it sets about becoming a 100,000oz-plus gold producer in the 2021 financial year from its Karlawinda project, with forecast all-in sustaining costs of around $A1,200/oz.
Best wishes to both De Grey and Capricorn. But today's interest is the currently-overlooked Pilbara gold stocks where re-rating events are on the horizon.
Calidus Resources (ASX:CAI) is a standout on that score. It is currently trading at 36c for a market cap of $77m.
It's not as advanced as Capricorn but it is not all that far behind either, with the same strategy to capitalise on bumper Aussie gold prices by getting its Warrawoona gold project in the East Pilbara in to production pronto.
About 30km from than the hotter-than-hot Marble Bar, Warrawoona hosts a resource of 1.24Moz at a grade of 1.83g/t, which is about twice what Capricorn will working with.
A PFS last year pointed to an initial six-year mine life producing just shy of 100,000oz annually at an AISC of $A1,159/oz.
Calidus used a gold price of $A1,800/oz in the PFS at which level the payback on capex of $95m was put at 26 months and post-tax IRR at 33%. At the time, Calidus allowed itself the extravagance of plugging in $A2,000/oz gold.
The payback was pulled back to 19 months and the IRR shot to 47%. There wasn't enough columns, or the predictive gumption, to plug in the current price of $A2,650/oz.
Multiply the additional $A650/oz on the $A2,000/oz upside case in the PFS over 100,000oz and the extra $65m in revenue would again work wonders on the payback and IRR numbers.
As Calidus' market cap suggests, there is a something of disconnect between that upside and its share price.
The share price has come up from 26c a month ago but the gain is hardly reflective of the potential for Warrawoona to post annual EBITDA greater than Calidus' market cap.
The release of a definitive feasibility study in the September quarter could kick-start the re-rate, particularly as an extra column to accommodate a $A2600oz-plus gold scenario will surely be found. It is expected to be preceded by a resource/reserve update.
Construction could start early next year assuming financing is locked up, leading to the first gold pour a year later i.e. early 2022.
Like its peers in the lightly explored (for gold) Pilbara, Calidus controls its own greenstone belt where further exploration is likely to add to its story.
Once all the COVID-19 restrictions are out of the way, Calidus plans to hit nearby and regional exploration targets. Deep drilling at the main Klondyke deposit is also planned to test beyond the current 200m limit.
Blue Ocean Equities was on to the Calidus story early, setting a price target on the stock back in March of 75c when it was trading at 30c.
KAIROS MINERALS:
Kairos (ASX:KAI) is another to have a Pilbara gold resource under its belt which, in light of the bumper gold price, is being worked over in mining studies.
The 873,500oz resource (21.1mt at 1.3g/t) across a number of pits comes with a 1990s mining history when the gold price was literally a fraction of what it is today.
The deposits are next door to the lithium projects of Pilbara Minerals and Altura Mining, some 25km from the Great Northern Highway south of Port Hedland, so there is plenty of infrastructure to leverage off.
But in light of De Grey's success, Kairos is out to test the big-time discovery potential of its tenements which are in the same neck of the woods. It has worked up a bagful of Hemi-style intrusive related targets to chase up.
To that end, it went into a trading halt this week while a $4m placement/rights issue was bedded down. It last traded at 1.7c for a market cap of $17.3m.
RareX:
It is a rare thing to find not one but two hot investment thematics locked up in a junior explorer, particularly one with a 3.7c share price and a $13m market cap.
And it is all the better then when it goes by the name of RareX (ASX:REE).
It has exposure to the rare earths thematic of worries about China's grip on the technology-critical metals at a time of escalating global trade tensions, as well as the renewed investor interest in NSW's big copper/gold potential thanks to Alkane's (ASX:ALK) recent Boda discovery
Rising trade tensions have been good for the biggest rare earths producer outside of China, our own Lynas Corp (ASX:LYC). Its shares are up 17% since the start of the month to Thursday's $2 close.
Canaccord reckons it can go higher too. It has initiated coverage of the stock with a $3.80 price target, which suggests Wesfarmers (ASX:WES) might well have got a bargain had it been able to get away with its spurned $2.25 a share offer last year.
Canaccord talked about supply gaps emerging, and the push by Western world economies, led by the US, to encourage non-Chinese supply.
RareX is a player in all that courtesy of its 100% owned Cummins Range rare earths project, 130km from Halls Creek in WA.
It is where a maiden inferred resource of 13mt grading 1.13% total rare earth oxide has already been outlined in a laterite horizon within a weathered carbonatite – the same as at Lynas's Mt Weld.
Cummins Range remains very much an exploration story with the effort there parked up since 2011.
But a drilling program will soon get underway once COVID-19 restrictions are out of the way with the aim of improving confidence levels in the resource and to make new discoveries on what remains a lightly-explored carbonatite intrusion.
The rare earths thematic is not going away anytime soon. So the drilling program by the lightly-capitalised RareX will be one to watch.
The same goes for its 35% free-carried interest in the Trundle Park copper-gold prospect in NSW's Lachlan Foldbelt.
There was some excitement there earlier this week when the first drill hole by the 65% partner, the Canadian listed Kincora Copper, returned some impressive results at the brownfields project.
Kincora boasts none other than geologist/geophysicist John Holliday as a director and chair of its technical committee.
He knows a bit about NSW porphyries as he is down as principal discoverer of Newcrest's Tier 1 Cadia gold-copper porphyry.
Kincora quoted him in the Canadian release on the first hole which returned several mineralised skarn zones.
"While early days in our ongoing drilling program, and awaiting assay results, multiple noteworthy positive developments have been achieved in the first hole at Trundle Park," he said.
"The mineral zonation in the well-developed and quite intense skarns supports, and may provide vectors to, a primary porphyry orebody target with the porphyry intrusion system,'' Holliday said.
It was a good start.      
Get investment ideas from industry insiders
Liked this wire? Hit the follow button below to get notified every time I post a wire. Not a Livewire Member? Sign up for free today to get inside access to investment ideas and strategies from Australia's leading investors.
---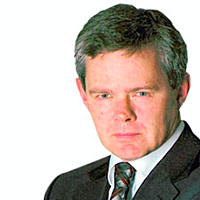 Principal
Independent Journalist
One of Australia's leading business journalists, Barry FitzGerald, highlights the issues, opportunities and challenges for small and mid-cap resources stocks, and most recently penned his column for The Australian newspaper.
Expertise