Buy Hold Sell: 5 stocks with resilient cash flows
---
In a world of cheap debt, where money seems to continue to be thrown at the next big thing (like these "Bored Ape" NFTs, for example), it's easy to forget about the importance of resilient cash flows. 
Cash flows provide crucial information about a company, demonstrating the movement of money in and out of your favourite stock - and helping you to analyse whether a company is actually financially healthy or could face some trouble in the months (and years) ahead. 
In the current inflationary environment, where rates are expected to rise by 2023 (or 2022, according to some economists), we thought it would be worthwhile to take a look at some of the ASX's best companies with resilient cash flows. These stocks, with quality assets, are likely to withstand any change in the market environment, unlike stocks that still haven't turned a profit and yet trade at sky-high valuations.  
In this episode, Livewire's Ally Selby is joined by Rhett Kessler from Pengana and Stuart Welch from Alphinity to discuss three of these quality stocks. Plus, they also name two stocks that they believe can continue to deliver earnings upgrades in an inflationary environment.
Note: This episode was filmed on Wednesday, 10 November 2021. You can watch, listen or read an edited transcript below.

Edited Transcript 
Ally Selby: Hello, how are you doing, and welcome to Livewire's Buy Hold Sell. I'm Ally Selby, and today we're discussing five quality companies with resilient cash flows and further earnings upside on the horizon, and to do that, we're joined by, Rhett Kessler from Pengana and Stuart Welch from Alphinity.
First up, we have national treasure Telstra, which has seen its share price rise around 27% over the past 12 months. Rhett, I might start on you. Is it a buy, hold or sell?
Telstra (ASX: TLS)
Rhett Kessler (BUY): It's a buy for us. It's one of our largest holdings in the portfolio. We like the fact that the two main assets are the mobile phone network, and let's face it, mobile data is the new oxygen. I have four kids. Try and take it away from them. So that's a very good business, and they're obviously good engineers, because they've got the best network, and they're very good marketers because they managed to get a 15-20% premium for the same data that their competitors sell. The other bit we really like is the fact that it's got an inflation-protected arrangement with the NBN, where it rents the infrastructure on a CPI contract. So my view is inflation's coming and that gives a really nice kicker to earnings if it does turn up.
Ally Selby: Also, a kicker for earnings is Telstra's just announced two new partnerships with the Aussie government. Stuart, over to you. Is Telstra a buy, hold or sell?
Stuart Welch (SELL): It's a sell for us. So I think the share prices got quite excited and trended up after they did a deal to sell some of their mobile phone towers. They're pretty lofty prices, and we may hear more about asset sales at their investor day. That's not too far away, but for us, now that the NBN existential threat is behind it, it's back to being predominantly a mobile-phone operator. And although they are the best network in the country with the widest reach and the most spectrum, it's a pretty mature space. And so from our perspective, we see better opportunities elsewhere.
Aristocrat Leisure (ASX: ALL)
Ally Selby: Next up, we have Aristocrat Leisure, which just made a bid to acquire a UK gambling developer company called Playtech. Is it a buy, hold or sell?
Stuart Welch (BUY): So we think Aristocrat is a buy. So it's a very well managed business that is executing very well with a strong balance sheet, and if you just look at the actual activity levels in gaming, they're strong and improving, and also in social online as well, and I think that bodes well in terms of casinos making decisions to buy new machines. And in that space they're taking market share with better content, and I think that's likely to continue as they continue to invest in their product. So they've made a bid for Playtech, and that may or may not come to fruition because there are other bidders in the offering for that, and that could present some upside. But I think irrespective of that, the business looks quite good and is a buy here.
Ally Selby: Its share price has performed very well over the past 12 months. It's up 47%. Rhett, over to you. Is it a buy, hold or sell?
Rhett Kessler (BUY): We still think it's a buy. We're really attracted by the fact that its core business is really a global oligopoly. They have 230 jurisdictions where getting licences to operate in that environment is extremely rigorous, and there's only a few companies that have that scale and the history to collect that. And then secondly, the digital business is extremely exciting. If they get Playtech, that'll give them another kick along, and we are not sure whether they will or not. It's always been one that's traded on a very, very attractive after-tax cash earnings yield, and so we really like it.
James Hardie (ASX: JHX)
Ally Selby: Next up, we have James Hardie, which has also performed well over the past 12 months. Its share price is up 49%. Is it a buy, hold or sell?
Rhett Kessler (HOLD): Can I talk retrospectively? Actually, I wish I'd bought this one. We have owned it before. I think it's a hold at the moment. Great business, but valuation is the issue. The new CEO, well, he's not so new anymore, has done an incredible job on costs and innovation. It's on the edge of hold and buy.
Ally Selby: So Rhett's not a shareholder, but for those who are, it recently announced a dividend of 54 cents per share. Stuart over to you. Is it a buy, hold or sell?
Stuart Welch (BUY): I think James Hardie is a buy. It's a very well run business that's capitalising on a great opportunity at the moment. So it's benefiting from structural growth, but also really strong cyclical momentum and some industry-specific dynamics. So from the structural side, they're taking market share from the incumbent there, with a better product and great execution, and then the cycle is just so strong. So the benefit of low-interest rates and high home prices is seeing a real boom in housing activity, in particular in repair and remodel, which they're most exposed to. And at a time, in terms of those industry dynamics, where some competitors are capacity-constrained, they don't have new capacity coming on and they're benefiting from that as well. And yes, as Rhett said, they're doing things in terms of new products to try and expand their addressable market also. So the share price has run-up, they recently reported, and there are more earnings upgrades to come, we think. So we still think it's a buy, irrespective of the fact that the market has run.
Fundies' picks
Ally Selby: In our thematic episode that we released earlier this week, we talked about the importance of quality assets in an inflationary environment. We've asked you to both bring along one today. Stuart, what have you brought for us and why?
ResMed (ASX: RMD)
Stuart Welch (BUY): So the company I've brought is ResMed, and ordinarily, you probably wouldn't talk about that in an inflationary environment, because it is a high P/E, high growth name, and if you are investing in those kinds of companies in this environment, you need to be very confident about the earnings outlook, but ResMed is a company where we do feel that way. 
So the industry was impacted by COVID, but we're starting to see that come back, and so actually, the patient diagnosis and flow is improving. But the key opportunity here is that their major competitor, Philips, has had a product recall. They're recalling three to 4 million devices, which means that they're going to be effectively out of the market for probably 12 months trying to repair and fix that scenario. And that means that the opportunity is really open to ResMed, and ResMed are very well prepared for it, because they were just about to launch a new product, so they'd invested in new manufacturing lines and various other things. 
They're well-prepped to be able to scale up production to meet the opportunity. And then on top of that, the new product that they're actually fulfilling that opportunity with is a superior product. So it's going to save distributors money and actually make them more revenue as well at the same time. And so there's been potential for them to hold on to some of that market share when their competitor comes back as well. So for that reason, we like ResMed.
Ally Selby: Rhett, can you beat ResMed? What's a large-cap stock that has an impressive asset, in your view?
Amcor (ASX: AMC)
Rhett Kessler (BUY): So I brought Amcor, and what I like about it is it's one of these boring, manufacturing industrial-type businesses that's been overlooked. It's a quite reasonable valuation, in fact, it's quite cheap. Excellent management team, they have global diversification, and really they're the best flexible packaging business or manufacturer, I think, in the world, and have done a really good job in making themselves the innovation hub.
So solving the recycling issues associated with packaging for their FMCG customers. Nice steady grower. If we get inflation again, it's a real beneficiary of that. It's got a really nice balance sheet and good management.
Ally Selby: Well, that's all we have time for today. We hope you enjoyed this episode of Buy Hold Sell. If you did, why not give it a like? And remember to subscribe to our YouTube channel. We're adding new content every week.
If you are reading this, you probably like stocks. Check out these articles below...
Equities
The 7 best stocks to buy and hold forever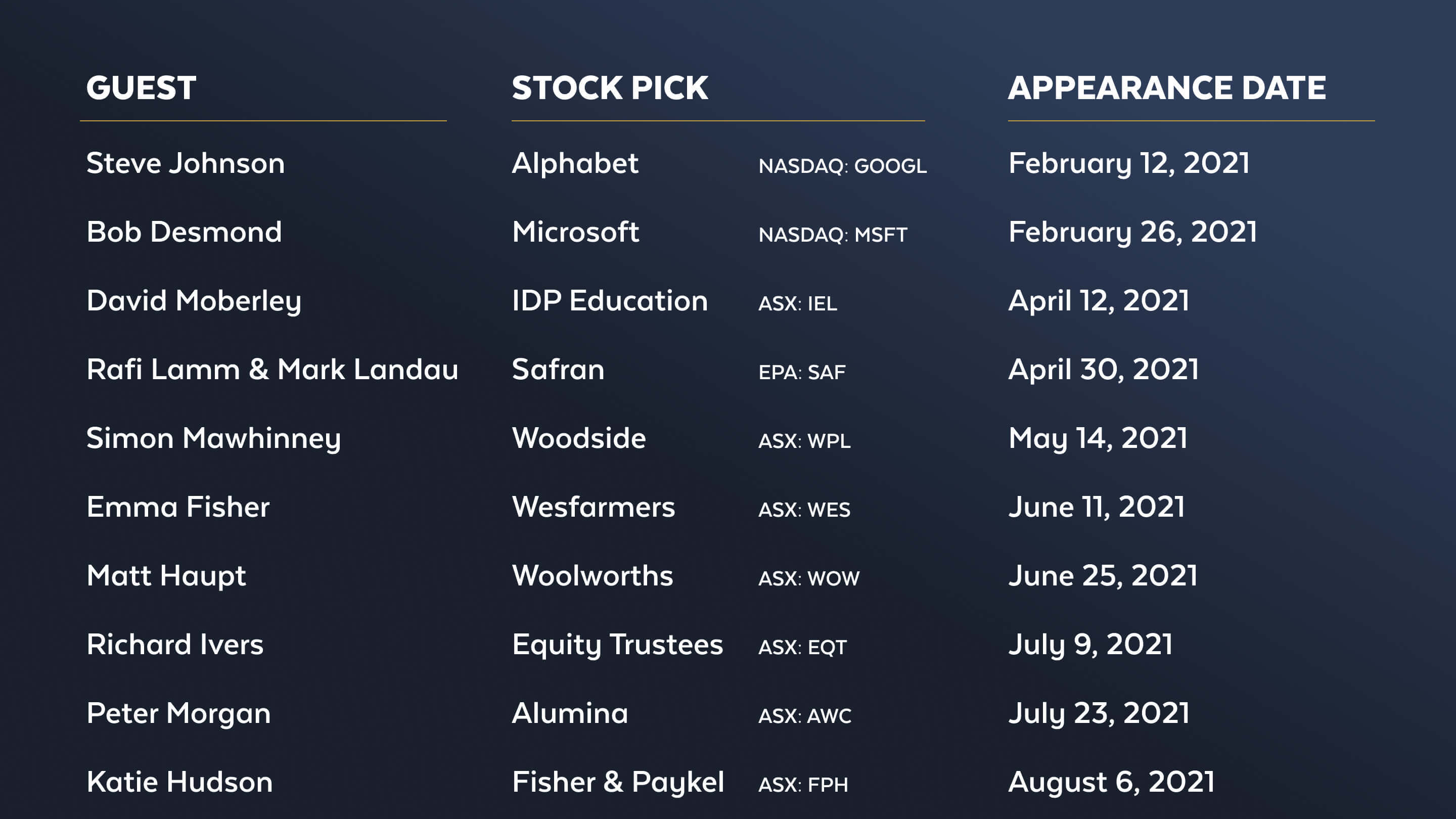 Equities
13 stock picks to own for the next five years
Can't get enough of Buy Hold Sell?
Give this wire a like if you've enjoyed the discussion and hit follow to be notified when new episodes are released.
If you're not an existing Livewire subscriber you can sign up to get free access to investment ideas and strategies from Australia's leading investors.
........
Livewire gives readers access to information and educational content provided by financial services professionals and companies ("Livewire Contributors"). Livewire does not operate under an Australian financial services licence and relies on the exemption available under section 911A(2)(eb) of the Corporations Act 2001 (Cth) in respect of any advice given. Any advice on this site is general in nature and does not take into consideration your objectives, financial situation or needs. Before making a decision please consider these and any relevant Product Disclosure Statement. Livewire has commercial relationships with some Livewire Contributors.