Can the euro's strength continue?
---
One of the strongest currencies over the past month (other than the Australian dollar) has been the euro (versus the US dollar). From a low of USD 1.078 mid-May, the euro has rallied over 5% to almost USD 1.14, before easing to USD 1.126. The three-month move is shown in the chart below from UBS FX Strategy.
As the chart also shows, the macro matters. Well, at least it has in the past, with a strong correlation between the extent to which European data has surprised US data being a key driver over the past couple of years. More recently, US data has continued to surprise, arguing for a lower euro. Instead, the recent euro rally appears driven more by easing lockdown restrictions and optimism around the EU's latest, more coordinated and somewhat belated union-wide fiscal stimulus. The US's recent COVID-19 woes may also have contributed.
Given the now significant breakdown in the chart's relationship, it seems likely from here that to hold the recent euro rally, the European data is going to have to start surprising versus US data. This week's first look at June purchasing manager indices for both Europe and the US (tonight) will be a key part of this narrative and will likely impact the euro's near-term outlook. For end-2020, both UBS and CBA forecast the euro to rally further to USD 1.15. Based on this chart at least, this suggests Europe's macro data will need to positively surprise the US over the rest of this year.
Will EU data start to surprise—or will the euro correct its recent rally?
Source: Bloomberg, UBS.
Follow our daily updates
We share Crestone Wealth Management views on a range of macro topics that we're watching. Click the 'FOLLOW' button below to be the first to hear from us.
........
General advice notice: Unless otherwise indicated, any financial product advice in this email is general advice and does not take into account your objectives, financial situation or needs. You should consider the appropriateness of the advice in light of these matters, and read the Product Disclosure Statement for each financial product to which the advice relates, before taking any action. © Crestone Wealth Management Limited ABN 50 005 311 937 AFS Licence No. 231127. This email (including attachments) is for the named person's use only and may contain information which is confidential, proprietary or subject to legal or other professional privilege. If you have received this email in error, confidentiality and privilege are not waived and you must not use, disclose, distribute, print or copy any of the information in it. Please immediately delete this email (including attachments) and all copies from your system and notify the sender. We may intercept and monitor all email communications through our networks, where legally permitted
---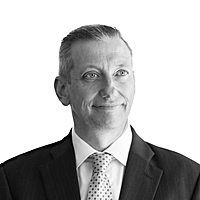 Chief Investment Officer
Crestone
Scott has more than 20 years' experience in global financial markets and investment banking, providing extensive economics research and investment strategy across equity and fixed income markets.
Expertise