Chart of the day: A look at the US equities reporting season
---
With a little over half of the companies in the US S&P 500 index having reported Q1 earnings to date, there are plenty of ways to slice and dice the results. An interesting one by Factset Earnings Insight is to compare analysts' revisions during the first month of the quarter (i.e. each reporting season) for the following quarter's earnings. According to Factset, as shown in our chart today, Q2 bottom-up median earnings per share (EPS) have declined by 28.4%, their worst in a very long time. In fact, the average decline in the first month of a quarter over the past 20 years is 1.4% (and this is the largest since the data began tracking monthly since 2002. The previous worst was -20.6% in Q1 2009). Ten of the eleven sectors recorded first month earnings declines larger than their five-year averages, while seven of the eleven recorded their highest since 2002.
Reporting continues this week…but it is hard to compare results so far and derive entirely positive metrics. If we blend the 55% of companies that have reported with estimates with those that haven't, earnings are on track to decline 13.7%, according to Factset. This is an improvement from -16.1% last week…but it would still be the largest year-on-year decline since Q3 2009
(-15.7%), and the fourth time in the past five quarters that earnings have declined. Those sectors leading annual growth in earnings are healthcare and consumer staples, while the worst performers are consumer discretionary, financials, industrials, materials and energy.
The forward 12-month price to earnings (P/E) ratio is estimated to be 20.3X (using the blended earnings estimates and current index pricing), above the five-year average of 16.7X (the last time the P/E was above 20 was April 2002). While 65% have beaten estimates, this is below the five-year average of 73% for beats. Consumer staples are the winner by this metric, with worst performers being communications and consumer discretionary.
We are comfortable with our modest overweight to equities but cautious about moving more overweight given valuation headwinds, such as those discussed for the US, some recessionary macro data ahead over coming weeks, as well as better insights on the shape of the economic recovery. This is, of course, balanced by many of our market risk signals having turned positive over the past month. We continue to see the US as a tactically neutral equity market but have recently initiated an overweight to Aussie equities relative to Europe, while also favouring the UK and emerging market equities on both relative valuation and earnings recovery potential over the coming year.
Change in S&P 500 quarterly earnings per share—first month of quarter
Source: Factset.
Be the first to know
I'll be sharing Crestone Wealth Management's views as new developments unfold. Click the 'FOLLOW' button below to be the first to hear from us.
........
General advice notice: Unless otherwise indicated, any financial product advice in this email is general advice and does not take into account your objectives, financial situation or needs. You should consider the appropriateness of the advice in light of these matters, and read the Product Disclosure Statement for each financial product to which the advice relates, before taking any action. © Crestone Wealth Management Limited ABN 50 005 311 937 AFS Licence No. 231127. This email (including attachments) is for the named person's use only and may contain information which is confidential, proprietary or subject to legal or other professional privilege. If you have received this email in error, confidentiality and privilege are not waived and you must not use, disclose, distribute, print or copy any of the information in it. Please immediately delete this email (including attachments) and all copies from your system and notify the sender. We may intercept and monitor all email communications through our networks, where legally permitted
---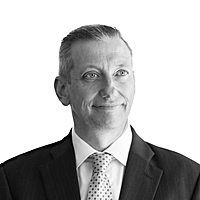 Chief Investment Officer
LGT Crestone
Scott has more than 20 years' experience in global financial markets and investment banking, providing extensive economics research and investment strategy across equity and fixed income markets.
Expertise