Chart of the day: Can easing financial conditions drive surprise reversal?
---
The US economic surprise index (by Citigroup) has plunged over the past month as forecasters and investors have struggled to get their heads around just how bad the economic data was going to be, as normal human activity was curtailed to contain the COVID-19 pandemic. As shown in the top panel of today's chart, the Surprise index has collapsed to GFC lows. But according to BCA Research, as also shown in its chart today, US financial conditions have swung from three standard deviations tight when the 2020 crisis began to one standard deviation easy now.
The argument is that the plunge in the US data surprise index won't last – and may reverse through Q3 – because of the rapid monetary and fiscal response that helped to ease financial conditions. Moreover, now that everyone is getting the idea of just how bad this is in Q2, the hurdle to be surprised on the data over the coming few months is relatively low. Of course, financial conditions indexes typically have equities as a sub-component, so part of the rebound in financial conditions indexes likely partly reflects the recent rebound in equities. BCA Research's Financial Conditions index may well also be vulnerable to some reversal here too.
Either way, if there are successful (which translates to 'not premature') phased ends to lockdowns globally and in Australia through next month, even if the recovery in activity is gradual, it is likely that the data, consistent with supply-led downturns, will start surprising positively in Q3 (even if staying relatively weak). Interestingly, this may have the potential to damage government bond returns more than equity returns. Equities have already rallied to price in improving growth in H2 2020. However, government bond yields have rallied to reflect historically weak data and ongoing central bank buying. While central banks will continue to support government fiscal financing for the next year at least, if data starts to surprise positively, some rise in yields will likely be accommodated. A rise in US 10-year yields from 0.5% to 1.0% is a loss of almost 5% to holders, and it is unlikely central banks would consider that a problematic rate for financing.
US economic surprise index
Source: Citigroup Global Markets. Shown inverted based on BCA calculations.
Be the first to know
I'll be sharing Crestone Wealth Management's views as new developments unfold. Click the 'FOLLOW' button below to be the first to hear from us
........
General advice notice: Unless otherwise indicated, any financial product advice in this email is general advice and does not take into account your objectives, financial situation or needs. You should consider the appropriateness of the advice in light of these matters, and read the Product Disclosure Statement for each financial product to which the advice relates, before taking any action. © Crestone Wealth Management Limited ABN 50 005 311 937 AFS Licence No. 231127. This email (including attachments) is for the named person's use only and may contain information which is confidential, proprietary or subject to legal or other professional privilege. If you have received this email in error, confidentiality and privilege are not waived and you must not use, disclose, distribute, print or copy any of the information in it. Please immediately delete this email (including attachments) and all copies from your system and notify the sender. We may intercept and monitor all email communications through our networks, where legally permitted
---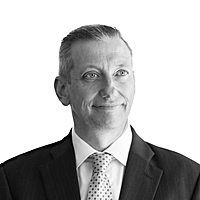 Chief Investment Officer
Crestone
Scott has more than 20 years' experience in global financial markets and investment banking, providing extensive economics research and investment strategy across equity and fixed income markets.
Expertise