Chart of the day: Can global PMIs bounce this week?
---
It's interesting how quickly we adapt or accept—isolation and lockdown; complete upheaval of the way we live and work. An economic data flow that is so bad that, in struggling to explain it, we search thesauruses to find synonyms for the word 'unprecedented' (which apparently the style police have said we can't use any more). Last week continued that recent trend, as the predicted horrific Q2 data continued to flow. After 22 million US employees lost their job the week before, last week we saw an unprecedented 594,000 Australians (approximately 5%) lose their jobs (and unemployment jump from 5.2% to 6.2%), while on Friday night, US retail sales fell an unprecedented 16.4% in April…worst fall ever! UBS revised its US Q2 growth forecast to a fall of 8% from 7%.
Latest forecasts for global growth from UBS show calendar average growth falling 3.1% in 2020 (after +3.0% in 2019) before a stunning rebound to 5.1% in 2021. In comparison, the International Monetary Fund in its April update forecasts -3.0% in 2020 before +5.8% in 2021. The more volatile quarterly profile is shown in our chart today (with forecasts courtesy of UBS). Here, we can see growth in Q2 (year-over-year), likely the weakest point of the cycle due to lockdowns, collapsing from +3.0% end-2019 to -6.8% in Q2 before rebounding to +9.0% one year later in Q2 2021. The extent of the fall has been led by one of our favourite leading indicators, the JPMorgan Global Purchasing Managers Index (PMI), which fell to a 'worst ever' 26.5 in April from 39.4 (remembering 50 is par).
This brings us to the key data out this week. PMIs for US, UK, Europe, Japan and Australia are due, and markets will be watching keenly to see whether the gradual partial easing of lockdown restrictions will start to show in the first half of May, via 'less bad' business confidence, new orders, production and employment. Most of this data is due toward the end of this week. Australia's May composite PMI is due Thursday (with April at a record low 21.7) as is Japan's (seen worsening from 25.8). Thursday night's US PMI is seen edging higher from April's 27.0 (with the UK's doubling from 13.8), while Friday night's European PMI is expected to lift from 13.6 to 24.0. Given the way these surveys are calculated, there's a risk they bounce harder (but overstate true change).
Elsewhere, Japan's Q1 growth (today) is expected to put the economy in recession (consensus is -4.6% annual, previously -7.1%). US housing starts are seen down 22% again in April (Tuesday), the US Federal Reserve minutes are due Wednesday, while Thursday's US jobless claims are seen easing to 2.45 million (still a big number) from 2.98 million the prior week. China's National People's Congress on Friday announces new economic targets with clues to extra stimulus. Friday UK April retail sales are forecast off 15%. In Australia, little new is expected from the Reserve Bank of Australia minutes (Tuesday) or Governor Lowe's Thursday panel appearance. Preliminary retail data for May (Thursday) is seen collapsing more than 10% (after April's 8.5% jump) while new payrolls data (Tuesday) will show job losses to 2 May.
Will global PMIs rebound from record lows this week?
Source: UBS, JPMorgan, Crestone.
Be the first to know
I'll be sharing Crestone Wealth Management's views as new developments unfold. Click the 'FOLLOW' button below to be the first to hear from us.
........
General advice notice: Unless otherwise indicated, any financial product advice in this email is general advice and does not take into account your objectives, financial situation or needs. You should consider the appropriateness of the advice in light of these matters, and read the Product Disclosure Statement for each financial product to which the advice relates, before taking any action. © Crestone Wealth Management Limited ABN 50 005 311 937 AFS Licence No. 231127. This email (including attachments) is for the named person's use only and may contain information which is confidential, proprietary or subject to legal or other professional privilege. If you have received this email in error, confidentiality and privilege are not waived and you must not use, disclose, distribute, print or copy any of the information in it. Please immediately delete this email (including attachments) and all copies from your system and notify the sender. We may intercept and monitor all email communications through our networks, where legally permitted
---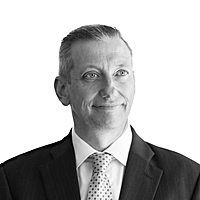 Chief Investment Officer
LGT Crestone
Scott has more than 20 years' experience in global financial markets and investment banking, providing extensive economics research and investment strategy across equity and fixed income markets.
Expertise