Chart of the day: China credit growth flags higher bond yields in 2021
---
"Over the years, I have learned that if each country could understand the other's history, culture, and viewpoint, and accept that there are some issues that the two countries will "agree to disagree", there would be tremendous progress. I have come to really like the wise Chinese proverb "yi zhong qiu tong," which means seeking common ground while accepting differences. This is precisely the mindset that both countries need."                                               Kai-Fu Lee, My Journey into AI.
On Monday, China's April credit data showed a further acceleration, beating consensus expectations. The rise was driven by stronger RMB loans and corporate bonds, while a limited issuance of special local government bonds in April (aimed at boosting infrastructure) also lifted growth. According to UBS, total credit growth accelerated from 11.7% to 12.2% in April, almost reaching UBS's end-year target of 12.5% before mid-year.
This recent policy support, with more to come, is expected to underpin a rebound in China's Q2 GDP, albeit annual growth is likely to remain negative (with UBS forecasting a rebound from -6.8% in Q1 to -0.7% in Q2). Recent indicators suggest activity is returning to normal through Q2, even as the pick-up in consumer spending remains gradual. The likely Q2 recovery also faces other headwinds, including a G3 recession (and weak emerging market activity) weighing on export demand, lingering local unemployment and potential global supply chain disruptions.
Still, as our chart today from BCA Research shows (top panel), "the pick-up in Chinese credit flows is already consistent with a recovery in global industrial activity". Moreover, assuming that unfolds into 2021, the bottom panel highlights a decent relationship between China's credit growth and global 10-year bond yields. Based on this chart, 10-year bond yields in the G-10, currently averaging circa 50 basis points, could rise to circa 150 basis points by early 2021.
China credit growth
Be the first to know
I'll be sharing Crestone Wealth Management's views as new developments unfold. Click the 'FOLLOW' button below to be the first to hear from us.
........
General advice notice: Unless otherwise indicated, any financial product advice in this email is general advice and does not take into account your objectives, financial situation or needs. You should consider the appropriateness of the advice in light of these matters, and read the Product Disclosure Statement for each financial product to which the advice relates, before taking any action. © Crestone Wealth Management Limited ABN 50 005 311 937 AFS Licence No. 231127. This email (including attachments) is for the named person's use only and may contain information which is confidential, proprietary or subject to legal or other professional privilege. If you have received this email in error, confidentiality and privilege are not waived and you must not use, disclose, distribute, print or copy any of the information in it. Please immediately delete this email (including attachments) and all copies from your system and notify the sender. We may intercept and monitor all email communications through our networks, where legally permitted
---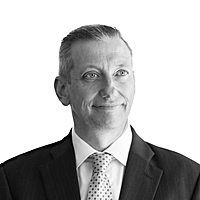 Chief Investment Officer
LGT Crestone
Scott has more than 20 years' experience in global financial markets and investment banking, providing extensive economics research and investment strategy across equity and fixed income markets.
Expertise