Chart of the day: COVID-19 deaths per capita - Europe vs. Asia/Australia
---
"Lockdown, which has resulted in a halt to economic activity, is not sustainable – it is damaging to society, to people's aspiration and to the economy...we need to open up in a way that allows society to continue to function, while providing protection for the fragile and susceptible in our society"                      Sir Michael Hintze, today in London.
Today, the milestone of COVID-19 confirmed cases passing 3 million has been reached (according to Johns Hopkins University), and the death count has edged over 210,000. Despite this unhappy news, the pace of new case growth in many of the key 'hot spots' continues to slow (amid a quickening testing regime). Even as the US likely tops 1 million cases by tomorrow, by far the world's largest outbreak, growth in its new daily cases has slowed (though it has not started to fall), with a similar scenario in the UK. In contrast, the pace of new daily cases is now slowing relatively speedily across Europe (the previous epicentre of the virus' spread) most notably in Spain, Italy, France and Germany.
Markets have again been buoyed overnight by increasing news of countries easing lockdown restrictions. In the US, Alaska, Georgia, South Carolina, Tennessee and Texas are beginning to allow restaurants and other establishments to serve customers. Europe for weeks has been announcing the tentative unwinding of restrictions across France, Austria, the Czech Republic and Slovakia—and more recently in Italy and Spain. Of course, while authorities will closely monitor developments, and social distancing and face coverings are likely to persist, the risk of renewed outbreaks remains. However, governments are increasingly under pressure to restart economies as the economic costs of the lockdowns mount. The same is true for Australia where daily virus cases are tracking less than 20.
But beyond the cost of the shutdowns during the pandemic (some of which will be temporary and others longer-lived, such as youth unemployment), there is also the social and psychological impacts on society that can potentially hamper the pace at which life returns to normal, the confidence with which consumers embrace a return to social interaction and public spending. Today's chart from MST Marque highlights data on COVID-19 deaths per million population and the much more significant negative impact of the virus in Europe compared with Asia, including Australia. For Spain, Italy and France, the average deaths per million is 428 people, compared with 2.5 people on average for Taiwan, Japan, South Korea and Singapore. Australia compares favourably at 3 people. Whether or not this materially impacts the pace of recovery ahead for these regions, time will tell. I think it will.
COVID-19 deaths per capita high in Europe, low in Asia/Australia
Source: MST Marque.
Be the first to know
I'll be sharing Crestone Wealth Management's views as new developments unfold. Click the 'FOLLOW' button below to be the first to hear from us
........
General advice notice: Unless otherwise indicated, any financial product advice in this email is general advice and does not take into account your objectives, financial situation or needs. You should consider the appropriateness of the advice in light of these matters, and read the Product Disclosure Statement for each financial product to which the advice relates, before taking any action. © Crestone Wealth Management Limited ABN 50 005 311 937 AFS Licence No. 231127. This email (including attachments) is for the named person's use only and may contain information which is confidential, proprietary or subject to legal or other professional privilege. If you have received this email in error, confidentiality and privilege are not waived and you must not use, disclose, distribute, print or copy any of the information in it. Please immediately delete this email (including attachments) and all copies from your system and notify the sender. We may intercept and monitor all email communications through our networks, where legally permitted
---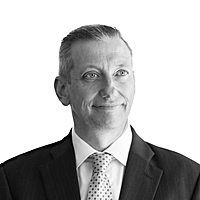 Chief Investment Officer
LGT Crestone
Scott has more than 20 years' experience in global financial markets and investment banking, providing extensive economics research and investment strategy across equity and fixed income markets.
Expertise