Chart of the day: Is peak disease forming?
---
Global equity markets have surged higher over the past 24 hours on the back of positive developments in the containment of COVID-19. Sunday saw a significant pull-back in new cases in Spain and Italy, while cases in the US (and New York) pulled back too. Indeed, the five countries with the largest confirmed cases (US, Spain, Italy, Germany and France)—collectively 62% of the world's cases—all showed a significant pull-back on Sunday. Australia delivered its lowest new case count since 23 March, around two weeks ago.
The chart shows the data up to Sunday from the John Hopkins University. New cases on Sunday retraced to levels of about a week ago, suggesting tentatively that social distancing may be starting to have an effect, notwithstanding the chaos (and tragedy) that is unfolding within some countries' medical systems under the weight of existing cases. Of course, we've had 'false peaks' earlier as marked by the circles. However, data for Monday (not shown), which is not yet finalised, is also showing improving trends, which is also likely to be focusing the equity market on the potential for 'peak disease'.
As we've highlighted regularly, we believe there are six key signals for equity markets to find a sustained trough. We are not there yet, put progress has been accelerating. One signal is done (significant monetary and fiscal stimulus), three more have made significant progress (the re-tightening of credit spreads, an approach to prior points of valuation support and some visibility around just how weak Q2 growth globally is going to be).
The two remaining signals are two of the most significant (as the catalysts to this crisis), being 'peak disease' and a new OPEC and Russian oil deal. We may have signs of both by Easter. That would be a far more optimistic playbook than most have or would, still today, be prepared to believe. Ahead lies massive global unemployment, weaker growth than the GFC (at least in Q2), while there is still the realisation that if peak disease is unfolding, it's doing so amid massive curtailment of activity, limited herd immunity (and the risks of a second wave) and a minimum 12 month time line to a vaccine. Still, peak disease may lead to partial or limited returns to work globally through late Q2. A number of countries have announced phased ends to lock-downs through April and May, including Germany, Austria, and Iran. If this broadens, it likely reduces the risk of an 'L'-shaped recovery (20%) and increases the odds of a 'U'-shaped pick-up (50%), that sees activity rebounding strongly through H2 2020 and equity markets higher by end-year.
Worldwide cases daily
Source: John Hopkins University.
Be the first to know
I'll be sharing Crestone Wealth Management's views as new developments unfold. Click the 'FOLLOW' button below to be the first to hear from us.
........
General advice notice: Unless otherwise indicated, any financial product advice in this email is general advice and does not take into account your objectives, financial situation or needs. You should consider the appropriateness of the advice in light of these matters, and read the Product Disclosure Statement for each financial product to which the advice relates, before taking any action. © Crestone Wealth Management Limited ABN 50 005 311 937 AFS Licence No. 231127. This email (including attachments) is for the named person's use only and may contain information which is confidential, proprietary or subject to legal or other professional privilege. If you have received this email in error, confidentiality and privilege are not waived and you must not use, disclose, distribute, print or copy any of the information in it. Please immediately delete this email (including attachments) and all copies from your system and notify the sender. We may intercept and monitor all email communications through our networks, where legally permitted
---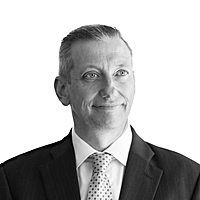 Chief Investment Officer
Crestone
Scott has more than 20 years' experience in global financial markets and investment banking, providing extensive economics research and investment strategy across equity and fixed income markets.
Expertise