Chart of the day: S&P negative watch has little impact on currency
---
Australia, like the rest of the world, has faced several severe shocks this year. First bushfires, then the coronavirus outbreak in China, and now an unfolding global and likely domestic recession. The fact that S&P put Australia's sovereign credit rating on negative outlook yesterday is not another shock for the economy! Indeed, as our chart shows, not even the Australian dollar was concerned, rising overnight from under USD 0.61 to USD 0.62, having been as low as USD 0.60 at the start of the week. Nor did it have much impact on bond markets, with UBS noting that "the timing of yield changes [for Aussie 10-year bonds around the announcement] shows that the market is very focused on the RBA's QE program and not so much on the credit rating". UBS estimates the move to AAA/negative might be worth 20bps to our bond yield relative to other markets.
S&P did reaffirm Australia's AAA/A-1+ long- and short-term local and foreign currency ratings. And putting Australia on negative watch has been almost been a fetish for S&P over recent years. Down to AAA/negative outlook in July 2016 and up to stable in September 2018), and now down again to AAA/negative in April 2020. Previous points in history have also shown little trend change in the currency on the back of an S&P outlook change. The move also comes after US credit rating agency Fitch downgraded Australia's big four banks to A+ from AA- on Tuesday, noting that the move reflected its expectations of a significant economic shock in H1 2020 due to the spread of COVID-19.
But we need to remember ratings are very much a relative game. All government budgets in the world are deteriorating significantly, so it's hard to imagine this change will add much, if any, to the cost of Australia's borrowing. Australia's government debt position had a better starting point relative to most other countries and will likely have a better finishing point when this is all over. Further, while a recession (and sharp fall in Q2 growth) is almost inevitable, the recent progress on containing COVID-19 domestically, and the improving prospects of a phased return to work in a number of months, suggests the full cost of the Government's relief packages may not be borne. Moreover, the design of the Government's stimulus, as Prime Minister Morrison has emphasised, is focused on 'one-off' (cyclical) expenditure, not a structural deterioration to the budget. While an almost certain spike in unemployment to 10% will take a number of years to correct weighing on the fiscal position, spending decisions have not structurally deteriorated the budget per se.
Of course, the Government had another choice with fiscal policy. It could have stuck to its surplus targets, not supported the economy and overseen a far more significant rise in unemployment, and a deeper and longer recession, which would without doubt have delivered a much worse budget position in coming years (relative to the 'one-off' fiscal stimulus that can be reversed relatively quickly when appropriate). Still, it's great to have S&P ratings to help us focus on the big issues.
Australian dollar versus US dollar
Source: Reserve Bank of Australia, Crestone.
Be the first to know
I'll be sharing Crestone Wealth Management's views as new developments unfold. Click the 'FOLLOW' button below to be the first to hear from us.
........
General advice notice: Unless otherwise indicated, any financial product advice in this email is general advice and does not take into account your objectives, financial situation or needs. You should consider the appropriateness of the advice in light of these matters, and read the Product Disclosure Statement for each financial product to which the advice relates, before taking any action. © Crestone Wealth Management Limited ABN 50 005 311 937 AFS Licence No. 231127. This email (including attachments) is for the named person's use only and may contain information which is confidential, proprietary or subject to legal or other professional privilege. If you have received this email in error, confidentiality and privilege are not waived and you must not use, disclose, distribute, print or copy any of the information in it. Please immediately delete this email (including attachments) and all copies from your system and notify the sender. We may intercept and monitor all email communications through our networks, where legally permitted
---

Follow Scott Haslem's wires
---
---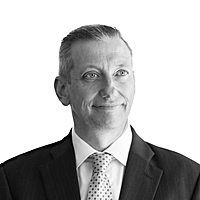 Chief Investment Officer
LGT Crestone
Scott has more than 20 years' experience in global financial markets and investment banking, providing extensive economics research and investment strategy across equity and fixed income markets.
Expertise