Chart of the day: Trade surplus surprises
---
The data highlight this week comes tonight post our market's close. US non-farm payrolls for April are expected to drop a record 22 million (the previous worst was a 2 million loss in the 1940s). The unemployment rate is expected to soar over 10 percentage points (a record) to 16% (from 4.4%). How will the market respond…has it truly grasped the cataclysmic nature of the Q2 data? This is one of the key signals yet to be 'checked off' our list before we gain comfort equity markets have found a sustained trough. Of course, based on consensus, the equity market already knows the data is coming. It continued to trend higher last night and US equity futures are positive. Go figure! Adding interest is the fact that the declining trend in last night's US weekly unemployment claims (still absolutely recessionary at 3.2 million) also signals the next payrolls report will be less bad than however bad tonight's is! Markets appear to love 'less bad' data more than deteriorating earnings trends.
More positively, yesterday's Aussie trade data surprised (see our chart of the day), delivering a record $10.6 billion trade surplus (better than our previous best of $7.8 billion in July 2019). Not surprisingly, imports were weaker falling back 3.6% (helped by lower oil price and a weaker trend in consumer spending). However, while exports were expected to rise on a rebound in resource exports, the 15.1% jump was far in excess of expectations. Iron ore jumped 32% in March, likely reflecting the 'return to work' in China and a rebound in exports from Western Australia after February's Cyclone Damien. Coal rose 6% and LNG 10%. Rural exports were also strong, up 7%, led by wheat and grains (9%) and wool (28%). This all worked to offset the troubles in services exports where tourism-related exports fell 15% in March (and when we get the data on education exports they are likely to have collapsed as well).
Exciting stuff, but what does it mean? Firstly, while there are pros and cons of Australia's high economic exposure to China's economy—at least at the moment. The trade data highlights one of the advantages with China getting back to work post COVID-19 faster than other economies (even their trade data surprised positively yesterday too). This is one of the reasons we have initiated an overweight to Aussie equities relative to Europe. Secondly, like the better-than-expected March jobs number (8.5% surge in March retail sales), yesterday's trade data, according to CBA, suggests the trade position will add 0.3 percentage points to Q1 GDP. While Q1 GDP may still print negative, it's likely to be a lot less negative than many forecasters initially expected. And there remains some chance (as I have said before) that we eke out a marginal positive print (something unlikely in Europe for several quarters ahead after Q1's near 4% collapse). Finally, the structural improvement in Australia's trade accounts is a clear positive for the Aussie dollar where we continue to look for it to trend higher by end-year.
Australia monthly trade balance ($ millions)
Be the first to know
I'll be sharing Crestone Wealth Management's views as new developments unfold. Click the 'FOLLOW' button below to be the first to hear from us.
........
General advice notice: Unless otherwise indicated, any financial product advice in this email is general advice and does not take into account your objectives, financial situation or needs. You should consider the appropriateness of the advice in light of these matters, and read the Product Disclosure Statement for each financial product to which the advice relates, before taking any action. © Crestone Wealth Management Limited ABN 50 005 311 937 AFS Licence No. 231127. This email (including attachments) is for the named person's use only and may contain information which is confidential, proprietary or subject to legal or other professional privilege. If you have received this email in error, confidentiality and privilege are not waived and you must not use, disclose, distribute, print or copy any of the information in it. Please immediately delete this email (including attachments) and all copies from your system and notify the sender. We may intercept and monitor all email communications through our networks, where legally permitted
---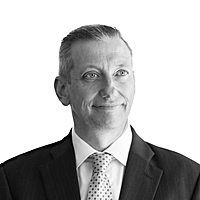 Chief Investment Officer
LGT Crestone
Scott has more than 20 years' experience in global financial markets and investment banking, providing extensive economics research and investment strategy across equity and fixed income markets.
Expertise