Chart of the day: We're beginning to socialise…gradually
---
We continue to monitor nine key risks signals to guide our assessment that there is a sustained trough in risk appetite, and the risk of a re-test of 23 March risk aversion and equity market correction has largely passed. While many of those have been 'checked off' our list (including significant monetary and fiscal stimulus, a new oil deal, peak disease and the duration of lockdowns), a number haven't (such as valuation support in equity markets).
Over the last few days, two of our signals, while 'checked' so to speak, have received additional support. We had already been receiving greater clarity on the duration of the global lockdowns. However, we are now starting to see more clearly the easing of restrictions (Monday saw Italy and Spain, two of the worst impacted countries, further ease restrictions) and their first tentative signs of increased human activity on the data.
Today's OpenTable restaurants chart (courtesy of CBA) is showing a clear turn-up over the past weekend across Germany, the US, the UK and Australia. Of course, the improvement is from virtually -100% to around -75%. It is nonetheless a clear turn. The other recent development overnight, which blends across a number of our signals, is optimism around progress on a COVID-19 vaccine. Yesterday, Moderna announced positive interim phase 1 clinical data for its vaccine candidate, which both produced the necessary antibodies and was well tolerated by trial participants (…its stock rose 20%).
Progress around a vaccine both provides insights on the shape of the recovery (another of our signals), reducing the risk of a punishing second wave of outbreaks and lock downs (which are still a risk), while also strengthening the likelihood we've achieved peak disease. Of course, humans are a fickle bunch, particularly when it comes to the risk of death. Questions will remain just how rapidly consumers will embrace their return to freedom, which by most accounts is going to be very gradual anyway. As we saw in the Chinese data on Friday, where 'getting back to normal' is much further advanced. While industrial production in April recovered to 4% (near its 5-7% pace through 2019), retail sales have only recovered to be 7.5% below levels a year ago (from -20%)…consumers are so far, at least in China, only gradually regaining their spending mojo.
Restaurant reservations
Source: OpenTable.
Be the first to know
I'll be sharing Crestone Wealth Management's views as new developments unfold. Click the 'FOLLOW' button below to be the first to hear from us.
........
General advice notice: Unless otherwise indicated, any financial product advice in this email is general advice and does not take into account your objectives, financial situation or needs. You should consider the appropriateness of the advice in light of these matters, and read the Product Disclosure Statement for each financial product to which the advice relates, before taking any action. © Crestone Wealth Management Limited ABN 50 005 311 937 AFS Licence No. 231127. This email (including attachments) is for the named person's use only and may contain information which is confidential, proprietary or subject to legal or other professional privilege. If you have received this email in error, confidentiality and privilege are not waived and you must not use, disclose, distribute, print or copy any of the information in it. Please immediately delete this email (including attachments) and all copies from your system and notify the sender. We may intercept and monitor all email communications through our networks, where legally permitted
---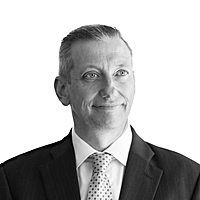 Chief Investment Officer
LGT Crestone
Scott has more than 20 years' experience in global financial markets and investment banking, providing extensive economics research and investment strategy across equity and fixed income markets.
Expertise