China leading the innovation push
---
"The big money isn't in the buying and selling…it's in the waiting."            Charlie Munger, Berkshire Hathaway
While markets continue to focus on the recent re-acceleration of virus cases in the US (and lack of containment in some key emerging markets), another risk continues to bubble away in the background, namely the elevated tensions between the US and China. Over the weekend just gone, the Wall Street Journal reported that the US was "targeting China's largest maker of security screening equipment", according to Factset, as a 'threat' to western security and businesses. According to Bloomberg, tech, energy and air travel are all targets.
It's tempting to attribute all the recent rise in tensions as a reflection of President Trump's troubles in the polls (significantly related to his handling of the pandemic), with renewed skirmishes between the US and China an attempt by the president to distract with a trade war and lift his polling, as it has done in the past. But as our chart, from BCA Research shows this is a much deeper and bi-partisan issue, birthed out of the rising innovation that seemingly dominates China's industrial push over the past decade.
BCA chart illustrates how China has become a major global innovation centre, overtaking the US as the new leader last year in terms of patent applications. Dated claims China is a mere a 'copier' of other's technology appears an increasingly naïve assessment. China's applications are up 128% over the past five years, much faster than the other top filers (US, Japan, Germany and Korea). US applications have fallen 7%. According to BCA, "China's growing expenditures in R&D, its large pool of postgraduate students, and its supportive government policies have been instrumental". China is leading in digital communication, computer tech, audio-visual tech, and telecoms. In contrast, the US still dominates the innovation gap in the areas of medical technology, pharmaceuticals, and biotechnology.
There are two key observations here. Firstly, a potential Biden victory in November is unlikely to shift the US's focus on attempting to contain the rise of China, albeit the path may be more predictable and potentially less abrasive for markets. Secondly, while volatility is often higher in emerging markets, China and other fast-growing, high-population economies will continue to be significant and increasing sources of global growth (and corporate earnings) over the coming decades, and worthy of inclusion in well diversified investment portfolios.…it's in the waiting.
China—the new world leader in patents
Source: World Intellectual Property Organization.
Follow our updates
We share Crestone Wealth Management views on a range of macro topics that we're watching. Click the 'FOLLOW' button below to be the first to hear from us
........
General advice notice: Unless otherwise indicated, any financial product advice in this email is general advice and does not take into account your objectives, financial situation or needs. You should consider the appropriateness of the advice in light of these matters, and read the Product Disclosure Statement for each financial product to which the advice relates, before taking any action. © Crestone Wealth Management Limited ABN 50 005 311 937 AFS Licence No. 231127. This email (including attachments) is for the named person's use only and may contain information which is confidential, proprietary or subject to legal or other professional privilege. If you have received this email in error, confidentiality and privilege are not waived and you must not use, disclose, distribute, print or copy any of the information in it. Please immediately delete this email (including attachments) and all copies from your system and notify the sender. We may intercept and monitor all email communications through our networks, where legally permitted
---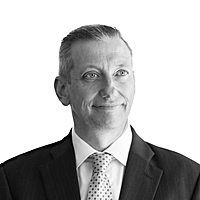 Chief Investment Officer
Crestone
Scott has more than 20 years' experience in global financial markets and investment banking, providing extensive economics research and investment strategy across equity and fixed income markets.
Expertise