China's credit growth pick-up signals a strong growth focus
---
Equity markets were sharply weaker overnight, with a 5-6% drop in the US marking the first three-day decline since March. European markets were also 3-5% weaker. Despite an improving macro outlook as may countries see rising activity on the back of easing lockdown restrictions, a 'risk-off' mood has been building over recent days on the back of concern that equity markets had run too fast since the 23 March trough, stretching valuations. Adding to this has been recent spikes in new COVID-19 cases in some US states, dampening re-opening momentum and raising the risk of a second wave. Elsewhere, the US Federal Reserve's decision not to add more stimulus this week may also have weighed on those looking for more support.
Away from this, China's economic recovery continues to progress. Somewhat the canary in the coal mine (with its COVID-19 experience several months ahead of the rest of the world) China is revealing a number of the post-COVID-19 recovery characteristics that we are likely to see increasingly exhibited here in Australia and around the world through H2 2020. Most notably, the divergence between the pace of industrial recovery (a distinctive V-shape) and the return of the consumer to more normal pre-COVID-19 social activity (much more cautious and U-shaped).
However, China's authorities' determination to re-accelerate growth after its Q1 slump remains firm. While the May 22 National People's Congress refrained from announcing a growth target for the first time in three decades, as BCA Research highlights, "no growth target doesn't mean no growth [and the] target for job growth implicitly provides a target for the economy as a whole". Consistent with that, this week's further pick-up in China's credit data clearly shows China's policy makers have their foot on the growth pedal.
As shown in our chart today from UBS, China credit growth is accelerating, with the broad measure of total social financing up sharply over recent months to 12.7%, its fastest in over two years with the 'credit impulse' now nearing similar levels to 2013 and 2016. As UBS notes, China's authorities have indicated explicit support for faster infrastructure investment. This is likely to underpin a further pick-up in China's credit and economic growth in H2 2020 (despite weak external demand from a Q2 global recession). For Australia, this should be reflected in ongoing demand for commodities. As BCA notes, "Chinese monetary policy trends remain supportive of higher commodity prices and [bond] yields on a nine to 12-month basis. They will also hurt the counter-cyclical US dollar." By extension, they are likely to be supportive of a higher Australian dollar, with CBA forecasting USD 0.76 in mid-2021.
China's credit pick-up shows strong support for growth from Beijing
Source: CEIC, UBS estimates.
Be the first to know
We share Crestone Wealth Management views on a range of macro topics that we're watching. Click the 'FOLLOW' button below to be the first to hear from us.
........
General advice notice: Unless otherwise indicated, any financial product advice in this email is general advice and does not take into account your objectives, financial situation or needs. You should consider the appropriateness of the advice in light of these matters, and read the Product Disclosure Statement for each financial product to which the advice relates, before taking any action. © Crestone Wealth Management Limited ABN 50 005 311 937 AFS Licence No. 231127. This email (including attachments) is for the named person's use only and may contain information which is confidential, proprietary or subject to legal or other professional privilege. If you have received this email in error, confidentiality and privilege are not waived and you must not use, disclose, distribute, print or copy any of the information in it. Please immediately delete this email (including attachments) and all copies from your system and notify the sender. We may intercept and monitor all email communications through our networks, where legally permitted
---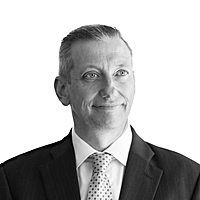 Chief Investment Officer
Crestone
Scott has more than 20 years' experience in global financial markets and investment banking, providing extensive economics research and investment strategy across equity and fixed income markets.
Expertise