China's re-opening: a macroeconomic perspective
---
After three years of lockdowns, China has officially signaled its intention to join the rest of the world in living with COVID.
While it was always a matter of when (not if) China would reopen, the abrupt change in stance has reaffirmed and brought forward multiple domestic and global investment opportunities, and could also support a global economy that was rapidly weakening.
In this article, we summarise key policy changes, the improving macro outlook, and what the reopening of the world's second biggest economy means for global listed infrastructure investors.
COVID-zero policy
On December 26, 2022, China's National Health Commission (NHC) announced that its COVID prevention and control management would be downgraded from class A (covering bubonic plague and cholera) to class B (SARS, AIDS, anthrax), effective from January 8, 2023. Class B relinquishes the power of local authorities to quarantine patients and close contacts, and lock down regions.
Since dismantling its zero-COVID policy, China has been grappling with what's shaping-up to be the biggest COVID outbreak ever seen. By mid-January, many local authorities had indicated that daily cases had passed the peak. However, we anticipate an uptick in cases following the Lunar New Year holiday, particularly in country and rural areas. It remains unclear just how severe and widespread the outbreak is, given the government stopped universal testing and changed how it defines COVID mortality.
Additionally, the abrupt policy change caught many domestic operators off guard, preventing immediate normalisation of business activity to pre-COVID activity levels. These impediments include labour disruptions (either through infection or re-training requirements), capacity and/or services shortages, entry restrictions imposed by other countries, and passport renewals/visa applications. While this may weigh on sentiment and economic activity in the near term, we expect pent-up demand, willingness to spend and policy support measures to continue to reduce bottlenecks and drive a consumption-led rebound in economic activity relatively quickly.
The Chinese roadmap to reopening post-congress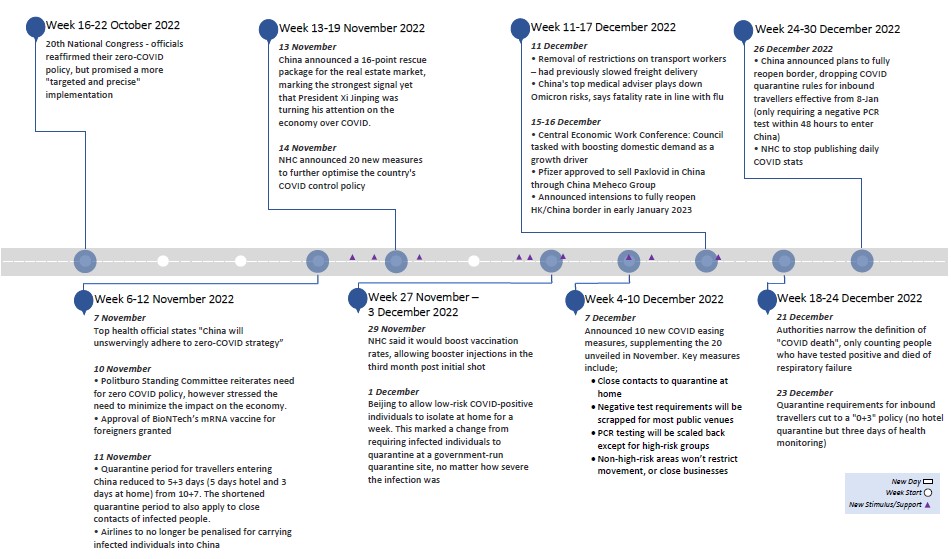 Improving macro outlook
China held its annual Central Economic Conference in late December 2022. Emerging from the conference, policymakers set sights on growth in 2023. Officials called for targeted and forceful monetary policy and strengthened fiscal policy. The aim is to expand domestic demand, with priority given to employment, and boosting consumption.
Despite no official nationwide economic growth target being set, most provinces, municipalities and autonomous regions have unveiled their GDP growth targets for 2023, with rates ranging from 4.0-9.5% and an average of 5.95%. Consumption, investment, stimuli and policy are core pillars of the rebound. Most targets remain above the forecasts by foreign institutions and agencies, which range between 4.5-5.5%, although we have recently seen upward revisions to these following the re-opening. (Notably, IMF increased its growth forecast to 5.2% in late January 2023 from 4.6% earlier projected in November 2022).
At 4D, we look for the underlying data and other proxies that support the headline growth numbers. Specific to infrastructure, these include expressway traffic, railway patronage, airline passengers, gas & electricity consumption, port throughput data and plant utilisation rates. Outside of infrastructure, data includes retail sales, new car sales, new property development and sales. We accumulate and amalgamate this data as a thermometer to gauge economic activity.
The re-opening of China could also benefit a world anticipating its own domestic slowdown. For example:
Stimulus will increase demand for global products such as iron ore and steel;
We're expecting a second wave of global travel in 2023, as 140 million people (10% of the Chinese population with passports) who have been largely locked down for three years are allowed to travel.
Infrastructure sector
Investment in infrastructure has been a key pillar of China's stimulus plan for decades, supporting and boosting economic growth in times of need, such as post the GFC and, more recently, throughout the pandemic. Fixed asset investment increased 5.1% to CNY57.2 trillion in 2022, up from 4.9% in 2021 and 2.9% in 2020.
The table below summarises the opportunities across the key infrastructure sub-sectors from re-opening and related policy/stimuli at both a domestic and international level.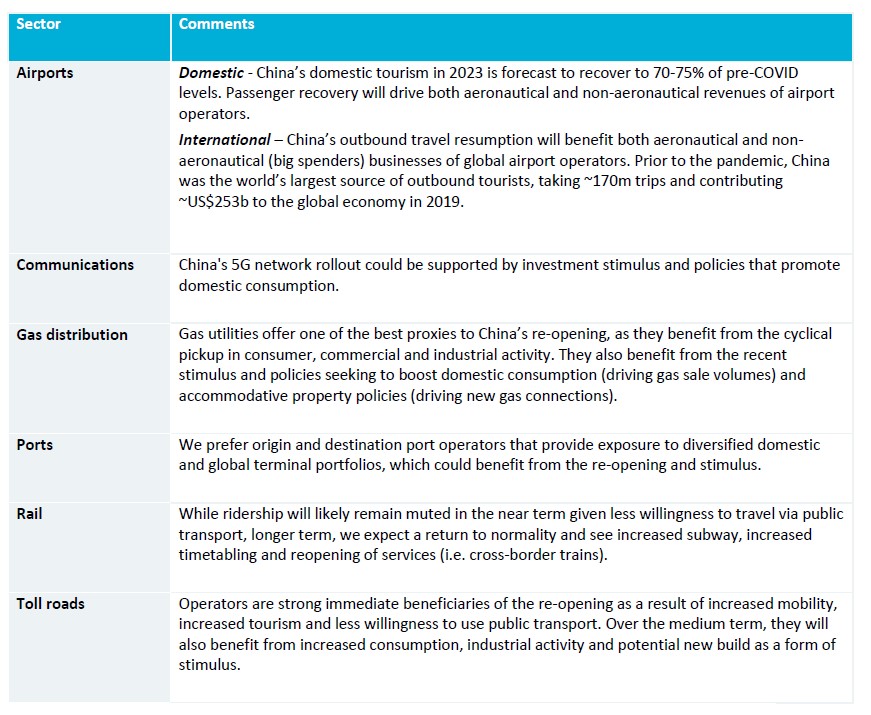 WHAT REOPENING MEANS FOR VALUATIONS
On forward earnings estimates, despite the recent market rally, we highlight that Chinese listed infrastructure names remain undervalued, trading well below pre-pandemic levels and 5-year averages. Undemanding valuations and strong tailwinds in 2023 set the stage for a strong re-rating.

Conclusion
Infrastructure will be both a key driver and a beneficiary of China's reopening, and the central government's focus on increasing domestic consumption and economic recovery. We anticipate more stimulus and policies promoting growth over the coming months, particularly post the plenary National People's Congress in March. This will bring forward the infrastructure investment needed to support the emerging middle class, continued urbanisation, decarbonisation goals and wealth equality.
The reopening has a wide-reaching impact, fostering multiple tailwinds not just within China but across our larger global listed infrastructure universe. At 4D we are capitalising on this via direct investment in China (toll roads, gas operators and ports) as well as at a global level (second wave for airports, midstream in the US and commodity transportation in Brazil, North America).
Never miss an update
Enjoy this wire? Hit the 'like' button to let us know. Stay up to date with my current content by
following me
below and you'll be notified every time I post a wire
Welcome to Livewire, Australia's most trusted source of investment insights and analysis.
---
To continue reading this wire and get unlimited access to Livewire, join for free now and become a more informed and confident investor.
Sarah has almost 30 years of experience across financial services, including 20 years focused on global listed infrastructure. She is an experienced portfolio manager, having successfully launched and managed several listed infrastructure funds including being involved in the build-out of two start-up listed infrastructure capabilities.
........
The content contained in this wire represents the opinions of the authors. The authors may hold either long or short positions in securities of various companies discussed in the article. This commentary in no way constitutes a solicitation of business or investment advice. It is intended solely as an avenue for the authors to express their personal views on investing and for the entertainment of the reader. This information is issued by Bennelong Funds Management Ltd (ABN 39 111 214 085, AFSL 296806) (BFML) in relation to the 4D Global Infrastructure Fund (AUD Hedged), the 4D Global Infrastructure Fund (Unhedged) and the 4D Emerging Markets Infrastructure Fund. The Funds are managed by 4D Infrastructure, a Bennelong boutique. This is general information only, and does not constitute financial, tax or legal advice or an offer or solicitation to subscribe for units in any fund of which BFML is the Trustee or Responsible Entity (Bennelong Fund). This information has been prepared without taking account of your objectives, financial situation or needs. Before acting on the information or deciding whether to acquire or hold a product, you should consider the appropriateness of the information based on your own objectives, financial situation or needs or consult a professional adviser. You should also consider the relevant Information Memorandum (IM) and or Product Disclosure Statement (PDS) which is available on the BFML website, bennelongfunds.com, or by phoning 1800 895 388 (AU) or 0800 442 304 (NZ). Information about the Target Market Determinations (TMDs) for the Bennelong Funds is available on the BFML website. BFML may receive management and or performance fees from the Bennelong Funds, details of which are also set out in the current IM and or PDS. BFML and the Bennelong Funds, their affiliates and associates accept no liability for any inaccurate, incomplete or omitted information of any kind or any losses caused by using this information. All investments carry risks. There can be no assurance that any Bennelong Fund will achieve its targeted rate of return and no guarantee against loss resulting from an investment in any Bennelong Fund. Past fund performance is not indicative of future performance. Information is current as at the date of this article. 4D Infrastructure Pty Ltd (ABN 26 604 979 259) is a Corporate Authorised Representative of BFML.
---

Never miss an update
Get the latest insights from me in your inbox when they're published.
---
---
---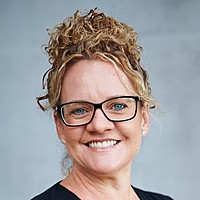 Global Portfolio Manager and Chief Investment Officer
4D Infrastructure
Sarah has almost 30 years of experience across financial services, including 20 years focused on global listed infrastructure. She is an experienced portfolio manager, having successfully launched and managed several listed infrastructure funds...
Expertise