China's rising steel output driving commodity demand
---
There have been a range of new developments unfolding in commodity markets over the past week or so. Most particularly, the past weekend's agreement by OPEC+ producers "to extend deep crude oil production cuts for an extra month to July will underpin crude oil prices" as CBA notes. Under this new agreement, oil production cuts remain at 9.7% of global supply (instead of easing to 7.7%) as planned.

Elsewhere, weekly shipments of iron ore from the key markets of Australia, Brazil and South Africa (as tracked by UBS Evidence Lab) have been rising, up by +11% in the week to 4 June—the highest level of 2020. Demand for iron ore appears to be being driven by falling, steel inventories in China. According to UBS, China's mill inventories are now back to more normal levels (having been at record highs mid-March).
Positively, as our chart shows, Australia's iron ore shipments are strong (above 2018 and 2019 levels), with ongoing supply constraints in Brazil (regulation, weather and COVID-19) seeing its shipments only trending higher from moderate levels, while exports from South Africa are weak. All of this is supporting the iron ore price higher, which has risen about 25% from USD 80 per ton early May to over USD 100 now.
Balancing this, while China's port inventories have been trending lower, elevated vessel volumes at anchor could cause a spike up in inventories. However, UBS still expects fundamentals to support iron ore prices in the near term and CBA highlights China's recent increased "focus on infrastructure investment" a key driver of steel demand. To state the obvious, this is all positive news for Australia's commodity prices (iron ore and oil prices), our resources companies, our trade position and fiscal accounts. It has also underpinned the Australian dollar's recent rally to above USD 0.70 (with CBA last week raising its mid-2021 Australian dollar forecast to USD 0.76, another 8.3% from current levels).
Australia's weekly iron ore shipments to 4 June
Source: UBS Evidence Lab, Thompson Reuters, Brazil MDIC, South Africa SARS, Marine Traffic, UBS.
Be the first to know
We share Crestone Wealth Management views on a range of macro topics that we're watching. Click the 'FOLLOW' button below to be the first to hear from us.
........
General advice notice: Unless otherwise indicated, any financial product advice in this email is general advice and does not take into account your objectives, financial situation or needs. You should consider the appropriateness of the advice in light of these matters, and read the Product Disclosure Statement for each financial product to which the advice relates, before taking any action. © Crestone Wealth Management Limited ABN 50 005 311 937 AFS Licence No. 231127. This email (including attachments) is for the named person's use only and may contain information which is confidential, proprietary or subject to legal or other professional privilege. If you have received this email in error, confidentiality and privilege are not waived and you must not use, disclose, distribute, print or copy any of the information in it. Please immediately delete this email (including attachments) and all copies from your system and notify the sender. We may intercept and monitor all email communications through our networks, where legally permitted
---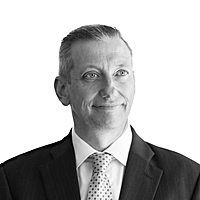 Chief Investment Officer
Crestone
Scott has more than 20 years' experience in global financial markets and investment banking, providing extensive economics research and investment strategy across equity and fixed income markets.
Expertise