Chris Joye on Coronavirus, property & debt
---
Chris joins David in this special episode to discuss the Coronavirus, housing markets, private debt and LIC stamping fees.
Chris is of the view that the increased market volatility presents opportunities for investors, however they must be cautious. He highlights the implications on financial markets posed by Coronavirus and speculates that whilst the Chinese may surprise with an early vaccine we should conservatively assume that it will be 12+ months away.
Given this and current market expectations, Chris believes that the RBA will likely cut the cash rate by 25bp in April and will begin QE in a matter of time... and as it's almost Un-Australian to discuss cash rates without a mention of property, Chris is expecting Australian property prices to rise anywhere from 20% to 30% throughout the cycle (trough to peak, including the 10%+ we have already seen) but believes that an inflationary cycle could see them rapidly rerate down by up to 40%.
More podcasts

If you're enjoying Inside the Rope and don't want to miss a future episode, subscribe now to get notified when a new episode is released.
........
This research note has been prepared without consideration of any client's investment objectives, financial situation or needs. Before acting on any advice in this document, Koda Capital Pty Ltd recommends that you consider whether this is appropriate for your circumstances. While this document is based on the information from sources which are considered reliable, Koda Capital Pty Ltd, its directors, employees and consultants do not represent, warrant or guarantee, expressly or impliedly, that the information contained in this document is complete or accurate. Koda does not accept any responsibility to inform you of any matter that subsequently comes to its notice, which may affect any of the information contained in this document. © Copyright Koda Capital 2019 | AFSL: 452 581 | ABN: 65 166 491 961 | www.kodacapital.com
---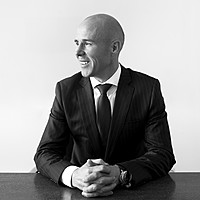 Adviser & Partner
Koda Capital
David Clark is an Adviser & Partner at Koda Capital. In his podcast 'Inside the Rope', David interviews some of the leading minds in wealth management.
Expertise