CIA changes its view on China
---
It's worth further reflecting on some of the bigger macro risks that loom ahead. Let's start with the recent remarks of the CIA Director, William J. Burns, on China and Taiwan, which seem to represent something of a shift in the CIA's historically sanguine assessments.
Those who claim to have knowledge of the CIA's thinking on the subject were asserting last year that the intelligence agency imputed a very low probability to prospect of China trying to take Taiwan by force, and this then triggering a kinetic conflict between the two superpowers.
By way of contrast, senior China strategists in the US military's Indo-Pacific command put a much higher, circa 70 per cent likelihood on major power conflict erupting over Taiwan in the next seven or so years.
In a fireside chat with the Aspen Security Forum, CIA chief Burns seemed to have hawked-up on Taiwan, stating that he "wouldn't underestimate President Xi's determination to assert China's control… over Taiwan".
"I think he's determined to ensure that his military has the capability to undertake such an action should he move in that direction," Burns continued. "I think the risks of that become higher, it seems to us, the further into this decade that you get."
He added that the key lesson President Xi has drawn from the Russia-Ukraine war is that "you don't achieve quick, decisive victories with underwhelming force". "You've got to amass overwhelming force if you're going to contemplate that in the future."
The core signal here is that the CIA has shifted its position, and is converging towards a much more hawkish perspective on China conflict risks, which was inevitable given President Xi's choices in recent times.
Our own statistical modelling based on 160 years of conflict, economic, political, social and other data, which we recently updated to 2021, suggests there is a circa 3-in-4 likelihood of a serious military conflict between China and Taiwan over the next decade. The probability is 1-in-2 over the next 5 years. This comports with the US military's judgement, but is more hawkish than the CIA.
Our modelling further implies that there is a 1-in-2 chance of a kinetic conflict between the US and China in the next 10 years, which declines to just over a 1-in-3 prospect in the next 5 years.
In contrast to the views of the CIA, the US military, and our own quant models, our subjective assessment is that conflict probabilities are tilted towards the short-term, and particularly the period while Biden (or any Democrat successor) remains in power, rather than later in the decade.
The military technology gap between the US and China is rapidly growing again after shrinking for the last 30 years, and the more assertive Republican reaction function raises the likelihood of US resistance. Crucially, President Xi knows this. 
........
Investment Disclaimer Past performance does not assure future returns. All investments carry risks, including that the value of investments may vary, future returns may differ from past returns, and that your capital is not guaranteed. This information has been prepared by Coolabah Capital Investments Pty Ltd (ACN 153 327 872). It is general information only and is not intended to provide you with financial advice. You should not rely on any information herein in making any investment decisions. To the extent permitted by law, no liability is accepted for any loss or damage as a result of any reliance on this information. The Product Disclosure Statement (PDS) for the funds should be considered before deciding whether to acquire or hold units in it. A PDS for these products can be obtained by visiting www.coolabahcapital.com. Neither Coolabah Capital Investments Pty Ltd, EQT Responsible Entity Services Ltd (ACN 101 103 011), Equity Trustees Ltd (ACN 004 031 298) nor their respective shareholders, directors and associated businesses assume any liability to investors in connection with any investment in the funds, or guarantees the performance of any obligations to investors, the performance of the funds or any particular rate of return. The repayment of capital is not guaranteed. Investments in the funds are not deposits or liabilities of any of the above-mentioned parties, nor of any Authorised Deposit-taking Institution. The funds are subject to investment risks, which could include delays in repayment and/or loss of income and capital invested. Past performance is not an indicator of nor assures any future returns or risks. Coolabah Capital Institutional Investments Pty Ltd holds Australian Financial Services Licence No. 482238 and is an authorised representative #001277030 of EQT Responsible Entity Services Ltd that holds Australian Financial Services Licence No. 223271. Equity Trustees Ltd that holds Australian Financial Services Licence No. 240975. Forward-Looking Disclaimer This presentation contains some forward-looking information. These statements are not guarantees of future performance and undue reliance should not be placed on them. Such forward-looking statements necessarily involve known and unknown risks and uncertainties, which may cause actual performance and financial results in future periods to differ materially from any projections of future performance or result expressed or implied by such forward-looking statements. Although forward-looking statements contained in this presentation are based upon what Coolabah Capital Investments Pty Ltd believes are reasonable assumptions, there can be no assurance that forward-looking statements will prove to be accurate, as actual results and future events could differ materially from those anticipated in such statements. Coolabah Capital Investments Pty Ltd undertakes no obligation to update forward-looking statements if circumstances or management's estimates or opinions should change except as required by applicable securities laws. The reader is cautioned not to place undue reliance on forward-looking statements.
---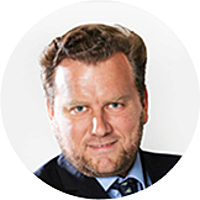 Portfolio Manager & Chief Investment Officer
Coolabah Capital
Chris co-founded Coolabah in 2011, which today runs $7 billion with a team of 33 executives focussed on generating credit alpha from mispricings across fixed-income markets. In 2019, Chris was selected as one of FE fundinfo's Top 10 "Alpha...