Could a rebound in cyclicals temper a valuation-led equity correction?
---
Overnight, US equity markets continued to recover from last week's losses, with the S&P 500 index reaching its highest level since 6 March. Notwithstanding ongoing negative trends in earnings revisions, valuations remain elevated, with the price-to-earnings (P/E) ratio 20.3X one-year forward against a five-year average of 16.7X (and above its pre-COVID-19 level). However, underneath this the UBS Equity Strategy team in the US argues that expectations for economic activity have "rarely been this depressed". They highlight one of our key market indicators—the ISM new orders—which is at a 70-year low. US Q2 growth looks on track for -40% annualised. UBS also notes that the breadth of 'positive' earnings revisions "have never been this weak".
Interestingly, the UBS Equity Strategy team argues "signs of rotation are likely in the making", and the chart below (yes, it's one chart as the right-hand side is a 'blow-up' of the longer-run left hand-side chart) compares ISM new orders to positive revisions in cyclical parts of the equity market. We note that much of the alpha in the market over the past month has come from beta as well as tech stocks with strong long-term thematics. UBS adds that, over recent weeks, financials have been outperforming utilities, materials have been outperforming staples and commodity prices are also off their lows.
What's our take? Forward earnings in the cyclical part of the US equity market have continued to track lower in line with indicators such as ISM new orders, and any rotation in the market would need those earnings revisions to find a clear bottom. As UBS' chart shows, this could emerge over coming months as we transition Q2, which likely holds the worst of the economic data. As highlighted previously in this space, the nature of PMIs and ISMs is they tend to recover from extreme lows relatively quickly by nature of their calculation (and regardless of the shape of the recovery).
We continue to believe the equity market remains vulnerable to a 5-10% pullback given valuations and its recent strength. However, even if the stocks with the most stretched valuations were to correct, a rotation into cyclical parts of the market on the back of signs the worst of the economic cycle has passed could mitigate the extent of the index's correction. Such a development would support our view that the market seems unlikely to retest its 23 March lows without additional significant (and likely multiple) negative catalysts, and there's a risk it may trade sideways in a range for some time.
Expectations for cyclicals reflect lingering pessimism in the most economically sensitive segments
Source: FactSet, UBS.
Be the first to know
I'll be sharing Crestone Wealth Management's views as new developments unfold. Click the 'FOLLOW' button below to be the first to hear from us.
........
General advice notice: Unless otherwise indicated, any financial product advice in this email is general advice and does not take into account your objectives, financial situation or needs. You should consider the appropriateness of the advice in light of these matters, and read the Product Disclosure Statement for each financial product to which the advice relates, before taking any action. © Crestone Wealth Management Limited ABN 50 005 311 937 AFS Licence No. 231127. This email (including attachments) is for the named person's use only and may contain information which is confidential, proprietary or subject to legal or other professional privilege. If you have received this email in error, confidentiality and privilege are not waived and you must not use, disclose, distribute, print or copy any of the information in it. Please immediately delete this email (including attachments) and all copies from your system and notify the sender. We may intercept and monitor all email communications through our networks, where legally permitted
---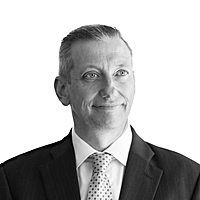 Chief Investment Officer
LGT Crestone
Scott has more than 20 years' experience in global financial markets and investment banking, providing extensive economics research and investment strategy across equity and fixed income markets.
Expertise