COVID-19 in the US—the policy/data aphrodisiac
---
Equity markets weakened noticeably last week, with the US S&P pulling back from over 3,200 (less than 5% below pre-COVID-19 highs) to a little over 3,000 by the end of last week. Renewed new case growth concerns across emerging markets and some key US states, concerns about equity index valuations and rising US racial tensions all contributed to the weakness. Early signs of a move higher in global bond yields last week was largely reversed (with the US 10-years retracing 20bps from a high yield of 0.91% to 0.71% on Tuesday). In contrast, credit spreads have continued to drift tighter.
Our chart from MST Marquee (using Johns Hopkins data) draws out the three troubled states of California, Texas and Florida—particularly when compared with New York, New Jersey and Massachusetts. The NY Times noted that, while increased testing was playing a role, 'the percentage of positive tests and an uptick in hospitalisations reflect a worsening outlook', as noted by Factset. Former FDA Commissioner Scott Gotlieb highlighted that reopening had certainly been a factor in the uptick. However, state governors have been firm in their assessments that a return to lockdown was "a last resort".
Together with the COVID-19 outbreak in Beijing at the weekend, equity markets on Monday night looked set to continue their retracement lower, with US futures down a sharp 3% at one stage prior to the markets open. Monday's batch of China data also printed a little weaker than expected, providing a weak lead, with industrial production improving to 4.4% (against consensus of 5.0%) and retail sales improving to -2.8% (against consensus of -2.3%). Again, we note the more cautious consumer recovery in play. While markets opened lower, they ground higher to show a 0.8% gain for the day.
A range of factors are likely to have helped the market recover intra-day. Trump's economic adviser, Kudlow, commented that a V-shaped recovery was a good chance, while Politico reported that Secretary of State Pompeo was planning to meet with Chinese officials to dampen tensions. Likely more important, the US Federal Reserve announced it will start buying a range of individual corporate bonds (not just ETFs) and the NY Fed PMI (Empire state) leapt from -48.5 to -0.20, doubling consensus of a move to -20. Policy support, and a transition to 'less bad' US data (with US retail sales seen rebounding tonight) are for now providing a powerful aphrodisiac to keeping bond yields low, credit spreads tightening and equities supported.
Number of new cases in US states, seven-day moving average
Source: MST Marquee, Johns Hopkins University.
Be the first to know
We share Crestone Wealth Management views on a range of macro topics that we're watching. Click the 'FOLLOW' button below to be the first to hear from us.
........
General advice notice: Unless otherwise indicated, any financial product advice in this email is general advice and does not take into account your objectives, financial situation or needs. You should consider the appropriateness of the advice in light of these matters, and read the Product Disclosure Statement for each financial product to which the advice relates, before taking any action. © Crestone Wealth Management Limited ABN 50 005 311 937 AFS Licence No. 231127. This email (including attachments) is for the named person's use only and may contain information which is confidential, proprietary or subject to legal or other professional privilege. If you have received this email in error, confidentiality and privilege are not waived and you must not use, disclose, distribute, print or copy any of the information in it. Please immediately delete this email (including attachments) and all copies from your system and notify the sender. We may intercept and monitor all email communications through our networks, where legally permitted
---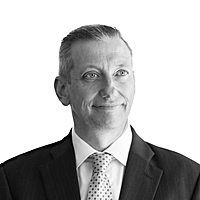 Chief Investment Officer
Crestone
Scott has more than 20 years' experience in global financial markets and investment banking, providing extensive economics research and investment strategy across equity and fixed income markets.
Expertise