COVID-19's spread continues to accelerate
---
"There are decades where nothing happens, and there are weeks where decades happen." — Vladimir Lenin
As highlighted on Friday, governments have stepped up around the world to inject unprecedented stimulus into domestic economies to support growth and at least attempt to make as shallow as possible the absolute loss of activity increasingly inevitable in the quarters ahead. While latest estimates are around 2% of GDP, this does not include the $1-$2 trillion package in front of the US Congress at the moment (and potentially passed Monday in the US), additional spending in Germany also speculated to be announced on Monday, as well as recent fiscal announcements in Brazil and other parts of the emerging markets.
Yesterday in Australia, the Morrison-led government announced its second major fiscal stimulus package, a material $66 billion, to help the economy transition through the period where activity is going to be significantly stressed and unemployment rise. The package focuses on support for households (casuals, sole traders, retirees and those on income support), as well as businesses. Together with the initial package ($18 billion), support from the Australian Office of Financial Management ($15 billion), state spending and the Reserve Bank of Australia's term lending facility ($90 billion), CBA sum the total economy-wide stimulus packages to be $189 billion, roughly 10% of GDP.
Increasingly, however, the amount of stimulus that will be required remains linked inseparably to the length of the activity shutdowns across economies as societies attempt to 'flatten the curve' to minimise the virus's impact until its progress can be curtailed. Unfortunately, data over recent days continues to show that COVID-19's spread across the world continues to accelerate, which is regrettably shown in today's chart of the day. Of interest is how China's outbreak—initially seen as explosive—now pales in comparison to the rest of the world. Globally, confirmed cases stand at 329,299 and deaths at 14,376 (source John Hopkins). In Italy, there have been 1,420 deaths over the past two days, according to worldometers.com. On a more positive note, World Health Organization officials say at least 20 COVID-19 vaccines are in development in the global race for a cure. "The acceleration of this process is really truly dramatic in terms of what we're able to do, building on work that started with SARS, that started with MERS and now is being used for COVID-19."
Worldwide cases daily
Be the first to know
I'll be sharing Crestone Wealth Management's views as new developments unfold. Click the 'FOLLOW' button below to be the first to hear from us.
........
General advice notice: Unless otherwise indicated, any financial product advice in this email is general advice and does not take into account your objectives, financial situation or needs. You should consider the appropriateness of the advice in light of these matters, and read the Product Disclosure Statement for each financial product to which the advice relates, before taking any action. © Crestone Wealth Management Limited ABN 50 005 311 937 AFS Licence No. 231127. This email (including attachments) is for the named person's use only and may contain information which is confidential, proprietary or subject to legal or other professional privilege. If you have received this email in error, confidentiality and privilege are not waived and you must not use, disclose, distribute, print or copy any of the information in it. Please immediately delete this email (including attachments) and all copies from your system and notify the sender. We may intercept and monitor all email communications through our networks, where legally permitted
---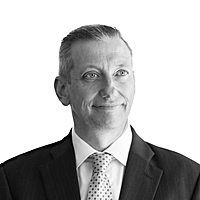 Chief Investment Officer
Crestone
Scott has more than 20 years' experience in global financial markets and investment banking, providing extensive economics research and investment strategy across equity and fixed income markets.
Expertise