Crestone's chart of the day
---
"If you don't have a god to believe in, I would get one very rapidly"
Australian comedian and TV presenter Kate Langbroek explained last night on Channel 10's The Project, after 16 days of being locked up in Italy with her children.
There is certainly no shortage of grim news to focus on as a global dash for cash by investors negatively impacts a vast array of assets worldwide (from gold to US Treasuries) and equity markets continue to be both volatile and trend lower. As we highlighted recently, this is one of the sharpest global equity sell-offs in history. Today, there are few signs that the acceleration in COVID-19 cases around the globe is peaking, with Italy overnight now exceeding the number of deaths in China (with roughly half the cases). Most medical papers argue the disease's peak, optimistically, remains a couple of months in the future—while estimates of the extent of economic disruption globally being inflicted by the virus (and governments' attempts to forestall its spread) are growing. US jobless claims rose sharply overnight and doubled in Washington. Forecasts for global growth continue to be revised lower, with UBS a couple of days ago lowering its 2020 global growth forecast to 1.5% from 2.4% (now clearly in recessionary territory).
Still, even in historically dark days, such as this, it's important to not lose sight of the positives…
Firstly, as we've discussed before, the global and Australian economies entered 2020 with accelerating momentum. Latest estimates for Q1 US GDP (mostly pre-COVID-19) suggest healthy growth of 2-3%, while yesterday's Australian jobs data for February beat estimates and saw unemployment fall from 5.3% to 5.1%.
Secondly, pandemics are typically one-off in nature (or we wouldn't be here post the Spanish flu of 1918) and, while there is a significant earnings hit to companies and economies, this shouldn't be capitalised into share prices or economic growth into perpetuity.
And finally, which brings us to today's chart, it is becoming increasingly difficult to keep up with the daily announcements by governments and central banks of increasing monetary and fiscal firepower being launched at the global economy. Yesterday in Australia, the Reserve Bank of Australia historically embraced quantitative easing and offered lending support via the banks to Australia's SMEs. The chart below shows UBS's latest estimates of the global fiscal stimulus for 2020 which, at 2% of world output, is set to exceed the stimulus during the GFC. When the pandemic is under control this will provide (along with the recent aggressive monetary policy easing) a powerful tailwind to economic growth through H2 2020 and 2021.
Be the first to know
I'll be sharing Crestone Wealth Management's views as new developments unfold. Click the 'FOLLOW' button below to be the first to hear from us.

........
General advice notice: Unless otherwise indicated, any financial product advice in this email is general advice and does not take into account your objectives, financial situation or needs. You should consider the appropriateness of the advice in light of these matters, and read the Product Disclosure Statement for each financial product to which the advice relates, before taking any action. © Crestone Wealth Management Limited ABN 50 005 311 937 AFS Licence No. 231127. This email (including attachments) is for the named person's use only and may contain information which is confidential, proprietary or subject to legal or other professional privilege. If you have received this email in error, confidentiality and privilege are not waived and you must not use, disclose, distribute, print or copy any of the information in it. Please immediately delete this email (including attachments) and all copies from your system and notify the sender. We may intercept and monitor all email communications through our networks, where legally permitted
---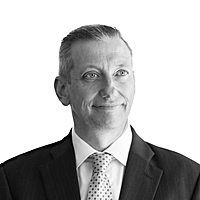 Chief Investment Officer
Crestone
Scott has more than 20 years' experience in global financial markets and investment banking, providing extensive economics research and investment strategy across equity and fixed income markets.
Expertise