Crunching the numbers on global dividends in 2022 (so far)
---
2022 has begun with very encouraging signs for global income investors. Plato's latest quarterly global dividend report shows that during the first three months of the year, 4.4 companies increased or initiated dividends for every one company that reduced or completely cut dividends, versus Q1 2021.

This strengthening came despite increased geopolitical and economic uncertainty in Europe and the United States.
When comparing Q1 2022 with Q1 2021, our data shows the majority of countries increased their payout as you can see in the chart below.
In North America, payouts increased 19%, with 51% of US companies paying a dividend in Q1. Well over half of these actually increased their payout (including those that initiated dividends) when compared to Q1 2021.
Across Europe, there was some considerable variations. Payouts in Italy dropped 55%, while Sweden posted a rise of 64% and Denmark performed even better with payouts increasing 107%.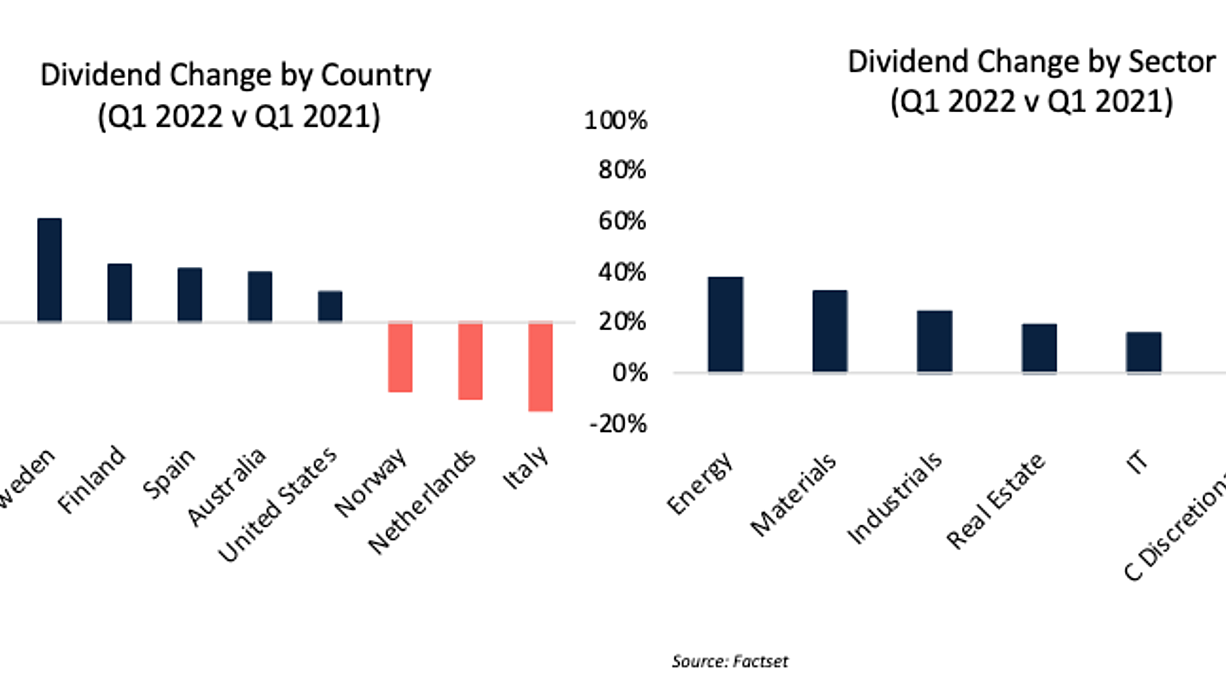 Sectors: The good and the bad for global dividends
The three strongest performing sectors in Q1 2022 were Energy with a 38% dividend increase versus Q1 2021, Materials +32 % and Industrials +24%.
Booming commodity prices continue to help strengthen balance sheets for Materials companies and resulted in another substantial increase in dividends. Examples of global companies, in this sector, that had large dollar increases were Anglo American and Nippon Steel corp. The largest changes in dollar terms came from Australian materials companies, BHP Group and Rio Tinto.
At the other end of the spectrum, Consumer Staples saw a 16% decline on Q1 2021.
Despite strong increases from some Consumer Staples companies, including Procter & Gamble, Coca Cola and Diageo, it was the only sector to decrease its payout versus Q1 last year, demonstrated in the chart above. 
The biggest decrease was from Tesco PLC, who didn't pay a dividend in Q1 2022. However, this was not unexpected, given that the 2021 dividend was a special due to the divestment of its Asian operations. Without the impact of this single special dividend, Consumer Staples would have also seen an increase in the Q1 2022 payout.

While we continue to monitor the impacts of the war in Ukraine and the COVID-19 situation in China over the coming months, it was pleasing to see the majority of sectors were positive this quarter as the impact of COVID-19 across much of the world recedes. 
Furthermore, Plato's proprietary dividend cut model is predicting a low chance (7%) of future dividends being cut. This is well below the model's long term average of 12%, suggesting a positive outlook for income investors.
For an investor wanting to build a strong income-generating portfolio, diversity is critical. Our data points continue to prove that looking abroad can produce greater outcomes than many expect.
Read Plato's full quarterly global dividend income report here, or visit the Plato website to discover more about dividend income. 
---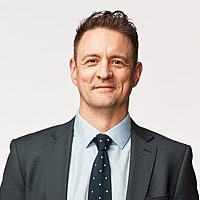 Senior Portfolio Manager
Plato Investment Management
Daniel is lead manager for the Plato Global Shares Income Fund and Global Low Carbon Fund. Daniel is the chair of the Plato ESG Committee. Prior to joining Plato he was a Portfolio Manager at Realindex Investments, responsible for global equity...