Don't focus on trying to time the market
---
The recent easing bias of central banks around the world has left many investors scratching their heads as they contemplate the direction of global yields. Will they trend lower or could we see an increase on current levels? How should investors be positioning their portfolios in this environment and what are some of the biggest risks on the horizon?  

Is exhaustion creeping into markets?
Given the size of the rally, and what the market has already priced in, it is reasonable to ask if we are due some form of retracement. In recent weeks the bond market has been trading in a period of consolidation, with some signs of exhaustion beginning to emerge. However, we would caution investors against tactical trading or trying to time the market in response to these signs. As the old adage says, don't miss the forest for the trees.
When we look across the global macro backdrop, we're still not seeing any evidence of stabilisation let alone improvement in the global data. 
We are not seeing any significant reversal in economic conditions that would suggest an increase in yields. The latest round of Purchasing Managers' Indices (PMI's), for example, continue to signal further weakness in the months ahead, and forward-looking indicators such as future orders and employment sub-indices, are all still falling. Recently we saw the US ISM Manufacturing index fall to outright contractionary levels.
Global manufacturing fell into recession
Source: Haver, PIMCO. As at August 2019
Global economic policy uncertainty index

Source: Bloomberg, Baker, Blooms & Davis, PIMCO. As as September 2019
Positioning portfolios to generate income and preserve capital
With the data continuing to deteriorate and geopolitical risks escalating, we think investors should be very defensively positioned. The median path for yields is still lower yet.
At PIMCO, we are positioning our portfolios to reflect our outlook. We know clients invest in our portfolios for their defensive, diversifying characteristics and for income. The global bond market is a US $100 trillion market , offering plenty of opportunities for us to build portfolios with the goal of enhancing yield for our clients.
Structurally we're a little bit longer duration, particularly in markets with positive yield environments such as the US and Australia. (Duration is a measure of a bond or portfolio's sensitivity to a change in interest rates). Given that, there is still scope for central banks to cut interest rates further and we also have a bias for yield curve steepness in the US, which would work if the Fed were to become slightly more aggressive in cutting interest rates.
We are cautious on credit, and have been reducing credit risk overall and diversifying our spread-related risk across different sectors with smaller investments across a wider range of spread instruments, like securitised credit, RMBS, very high grade spread products in Australia like SSAs (sovereign, supranational and agency bonds) and semi-government bonds. These help to maintain carry in the portfolios (a statistic used to measure the annualized expected return for a security or portfolio), at a time where we can reduce overall credit risk. We also continue to see opportunities in foreign exchange markets.
Stay protected in times of volatility
We seek to provide all the benefits investors have come to expect from a core bond holding, including consistent income and low volatility, which can help stabilise portfolio returns. Find out more by click 'contact' below, or hit 'follow' to stay up to date with our latest Livewire insights.  
---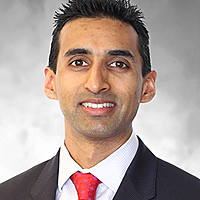 Aaditya is a senior vice president and portfolio manager focusing on Australian dollar and global portfolios. He has 13 years of investment experience and holds a master's degree in commerce (finance) from the UNSW. He is also a CFA charterholder.
Expertise