Economic impact of virus underestimated
---
The lengths to which authorities around the world are going to contain the novel coronavirus, the liquidity that is being pumped into the financial system by central banks, and the potential for fiscal policy around the world to aid the eventual recovery seem to have helped calm global markets.
The fact that the US stock market rebounded to record highs on Thursday and that US 10 year Treasury yields have risen about 15 basis points from Friday's lows suggests that contagion in financial markets has been avoided.
We wish we shared the same level of optimism. While trying to forecast the economic impact of the novel coronavirus is fraught with issues, we have slashed our growth forecast for China this year to 5.3% from 5.9%, with downside risks. East Asia will be hit hard, with growth revised down to 3.3% from 3.7%.
Commodity-focused economies will also suffer material damage. Bloomberg has been flagging signs of slowing demand, reporting that "China's oil demand is said to have plunged by 20%"; that "China's big state-owned LNG importers are considering force majeure declarations" and that a group of Chinese steel mills will cut production by 30%.
It seems just a matter of time before we see an abrupt fall in commodity demand from China. Hiring rates for bulk ships have already dropped to record lows.
This is a difficult environment for the Aussie dollar. Yet RBA Governor Lowe didn't sound especially worried this week. The RBA Board held the cash rate steady at 0.75% on Tuesday as expected but surprised us and others by retaining its upbeat Australian growth forecast of 2.75% this year and 3% in 2021.
In contrast, in response to the bushfires and coronavirus – particularly the damage to education and tourism revenues from the China travel restrictions – Westpac has revised down its Q1 GDP forecast to zero and its 2020 growth from 2.1% to 1.9%, a long way from the RBA outlook.
While the Aussie dollar was fairly stable around 67 cents this week, interest rate markets responded both to the RBA meeting and Lowe's speech to the National Press Club on Wednesday. The key point from Lowe's speech was that the RBA currently expects the impact to be temporary, and that growth will recover into year-end on stimulus efforts.
Lowe also noted the negative aspects of very low rates, such as damage to the confidence of savers and danger of speculation in housing and other assets. Markets continue to price in another RBA rate cut, but not until October. A rate cut by May is now priced at only a 40% chance.
In the week ahead, the market focus will of course remain on the coronavirus and countries' response in terms of travel restrictions and damage to manufacturing supply chains. Central bank commentary will continue with Fed Chair Powell testifying to Congress and the Reserve Bank of New Zealand reviewing its 1% cash rate. 
---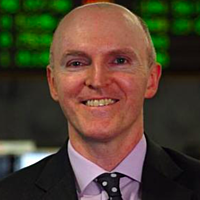 Senior Currency Strategist
Westpac Bank
Sean Callow is Westpac Bank's Senior Currency Strategist, based in Sydney. Sean focuses on the Australian dollar and other G10 and Asian currencies. He has worked in strategy and economics roles in New York, London, Singapore and Melbourne.
Expertise