Economic updates for Australia look positive
---
Equities had a poor run this week, and Australian equities underperformed the Asian region, but nonetheless, the AUD moved towards 3 months highs as we saw an important week of economic updates for the domestic economy, which all in all were upbeat. The Aussie dollar was also helped by more positive headlines on US-China trade relations
Locally, the week started with updates on Business and Consumer sentiment. Business conditions and confidence both eased slightly in October, with NSW and consumer-related businesses losing some momentum, perhaps related to the cooling housing market. However, overall conditions are still at elevated levels and consistent with solid expansion.
Westpac Consumer sentiment posted a solid lift of 2.8% and notably this was the twelfth successive month were optimists have outnumbered pessimists. The wider consumer mood is more buoyant but some of the detail showed attitudes towards spending are more downbeat, and a special question regarding Christmas spending plans also point to a challenging retailing season.
However, the key domestic focus for the week was the labour market. Here again we received positive news. Firstly on wages, the data came in line with expectations of a 0.6% rise for the quarter. And while wages growth remains soft by pre-GFC standards, in annual terms wages growth at 2.3% is at a 3 year high. That said, the detail in the data still showed a lack of wages pressure
The labour market remained in focus, with October labour force data revealing a solid 33 thousand rise in employment, holding the unemployment rate steady at 5%. The mix was positive, with gains in full-time employment and a rising participation rate.
This left the AUD/USD near 73c and within striking distance of 3 month highs. Commodity prices have eased, but still remain high. If the more conciliatory tone of US-China trade relations is maintained, then Aussie should be able to capitalise.
Globally – news has been dominated by Brexit and the situation remains fluid, with several cabinet resignations severely challenging PM May's plans. The pound had bounced earlier in the week when cabinet agreed to a deal, but this has been reversed as the proposal now looks likely to fail. Understandably, the Pound has been the worst performing G10 currency this week and this uncertainty will keep a lid on sterling.
In the US, Veterans Day shortened the week, but the main headlines came from Fed Chair Powell who reiterated his familiar upbeat view on US economy.  He made clear that he and his colleagues at the federal reserve are not concerned about recent equity market weakness and that won't interrupt their tightening plans. Over the medium term, this yield backdrop should continue to support the USD.
After a busy run, Australia's data calendar goes quiet for the next week or so. We see the RBA minutes on Tuesday but expect offshore events to dominate. There will be a clear focus on Brexit and Europe, with Italy also not far from the headlines, but more importantly for local markets will be ongoing US-China trade negations ahead of the G20 later this month.
We'll be back to talk to you next week.


---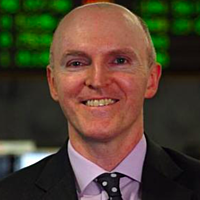 Senior Currency Strategist
Westpac Bank
Sean Callow is Westpac Bank's Senior Currency Strategist, based in Sydney. Sean focuses on the Australian dollar and other G10 and Asian currencies. He has worked in strategy and economics roles in New York, London, Singapore and Melbourne.
Expertise