Emerging market short-term risks grow…but long-term thesis intact
---
Longer term, we continue to see the emerging markets commanding an increasing share of the global growth pie, led by younger populations, rapidly rising middle-class incomes and relatively fast capex (including technology). Indeed, according to an International Monetary Fund study in 2018, the emerging markets will explain two thirds of annual global growth by 2023, spread broadly evenly between China (30%) and other emerging countries (33% such as Brazil, India and the rest of Asia).
Reflecting this, Crestone's recent annual review of our five to seven-year strategic asset allocation portfolio weights led to an increase in the share we recommend dedicated to emerging market equities (mostly at the expense of Europe and Australia). This was not only a reflection of the rising relative return expectation for emerging market equities longer term, but also captured the trend decline in the correlation between emerging market equities and developed equity markets, which adds diversification attributes via emerging market equities to diversified portfolios.
However, shorter term and more tactically (over a s six to 12-month outlook), we have trimmed our prior overweight to emerging markets to reflect a number of factors. Firstly, emerging market equity valuations are no longer as relatively attractive as they were when we moved overweight early December 2019. More recently, emerging market equities have been underperforming as risks of a renewed US-China trade war grow. Finally, May has shown that increasingly large parts of the emerging market complex (excluding China) have not got the virus under control. As MST Marque's chart today shows, the epicentre of the virus is now Brazil, while Russia and India are also facing material humanitarian challenges.
Over time, we expect emerging market equities (led by China) to deliver rising risk-adjusted returns. Near-term risks around a renewed trade war and a pandemic outbreak must be balanced against the likelihood that the emerging market economies will benefit significantly from any strong synchronised recovery in the global economy through 2021. So, while we have trimmed our active positioning in emerging market equities to neutral, we still believe, strategically, that top quartile active managers will deliver strong risk-adjusted returns in emerging market equities in the years ahead.
Brazil is now the epicentre of the virus
Source: MST Marque.
Be the first to know
We share Crestone Wealth Management views on a range of macro topics that we're watching. Click the 'FOLLOW' button below to be the first to hear from us.
........
General advice notice: Unless otherwise indicated, any financial product advice in this email is general advice and does not take into account your objectives, financial situation or needs. You should consider the appropriateness of the advice in light of these matters, and read the Product Disclosure Statement for each financial product to which the advice relates, before taking any action. © Crestone Wealth Management Limited ABN 50 005 311 937 AFS Licence No. 231127. This email (including attachments) is for the named person's use only and may contain information which is confidential, proprietary or subject to legal or other professional privilege. If you have received this email in error, confidentiality and privilege are not waived and you must not use, disclose, distribute, print or copy any of the information in it. Please immediately delete this email (including attachments) and all copies from your system and notify the sender. We may intercept and monitor all email communications through our networks, where legally permitted
---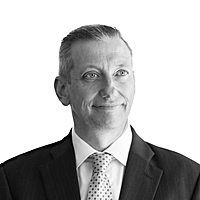 Chief Investment Officer
Crestone
Scott has more than 20 years' experience in global financial markets and investment banking, providing extensive economics research and investment strategy across equity and fixed income markets.
Expertise