EU leaders jump—but is it positive for equities?
---
"Every day, you have to prove yourself and convince - move forward and challenge yourself. And doubt all the time."
Christine Lagarde, ECB President (and former IMF head).
This week's June ZEW leading indicator for Europe (…it's actually for Germany but does a great job of leading the broader European purchasing manager indices), showed another strong rebound, particularly the 'expectations' component. As shown in our chart today from BCA Research (top panel), the ZEW Survey provides a terrific lead on actual economic activity—in this case, industrial production.
As shown in the bottom panel of the chart, when we look global, we get a similar message. That is, that growth expectations are recovering rapidly across the world. At the very least, this is very good for industrial activity (as the top panel suggests), which in turn suggests a positive backdrop for commodities, the Australian dollar and the Australian economy.
However, while it may be comforting to extend this to risk assets and equity markets, there is a note of caution. Many of these leading indicators of activity, including other financial conditions indices, already embody the recent sharp recovery in equity markets, either via actual equity indices or are a reflection of financial analysts' (already buoyed) expectations.
So, the likely rebound in activity in the months ahead does not guarantee further moves higher for equities, which have as much chance of range-trading for months, as earnings revisions catch up to actual index levels. Of course, monetary and fiscal stimulus still favours risk assets (and bond yields may rise as activity rebounds). Moreover, as BCA notes, weak expectations for cyclical areas of the market, such as financials, autos and materials, could also see value outperform even if the market churns sideways.
ZEW rebound positive for activity, less clear for equities
Source: BCA Research.
Follow our daily updates
We share Crestone Wealth Management views on a range of macro topics that we're watching. Click the 'FOLLOW' button below to be the first to hear from us.
........
General advice notice: Unless otherwise indicated, any financial product advice in this email is general advice and does not take into account your objectives, financial situation or needs. You should consider the appropriateness of the advice in light of these matters, and read the Product Disclosure Statement for each financial product to which the advice relates, before taking any action. © Crestone Wealth Management Limited ABN 50 005 311 937 AFS Licence No. 231127. This email (including attachments) is for the named person's use only and may contain information which is confidential, proprietary or subject to legal or other professional privilege. If you have received this email in error, confidentiality and privilege are not waived and you must not use, disclose, distribute, print or copy any of the information in it. Please immediately delete this email (including attachments) and all copies from your system and notify the sender. We may intercept and monitor all email communications through our networks, where legally permitted
---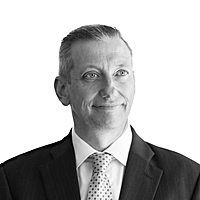 Chief Investment Officer
Crestone
Scott has more than 20 years' experience in global financial markets and investment banking, providing extensive economics research and investment strategy across equity and fixed income markets.
Expertise