Finding value in technology
---
Technology investments have seen extraordinary growth over the past decade fuelled by trends such as virtual connectivity and e-commerce. With many technology company valuations at highs, investors may wonder whether this sector still represents opportunity and value in the coming year.

I recently spoke to Brian Colello, Director of Technology, Equity Research for Morningstar Research Services on the outlook for technology and how Morningstar identifies value in technology companies. Morningstar is the index provider for the ETFS Morningstar Global Technology ETF (ASX Code: TECH).
What classifies as a technology company?
For many investors, companies like Amazon or Facebook are often front of mind when they consider technology. While these companies have a heavy technology association to their products and services, they are not strictly classified as technology companies.
Morningstar defines the technology sector as companies which generate their revenue primarily from hardware, software and IT services. Some examples of this include Microsoft, with a product base spanning computer software, electronics, personal computers and related services such as cloud and databases, or semi-conductor company Intel Corporation, with a product base covering technology accelerators, boards and systems, connectivity devices, processors, memory and storage.
Trends in technology
The COVID-19 pandemic accelerated activity in the technology sector. While the vaccine news created some recent volatility, the prospects for this sector exist far beyond the pandemic.
The outlook for technology is driven by a range of key trends.
Mr Colello says, "The biggest one is still cloud computing, so renting out IT capacity in the cloud rather than building it out yourself by buying routers and servers and storage equipment. That's been the big driver behind Microsoft with Azure."
Other areas offering ongoing growth include big data and analytics, subscription-based software services, artificial intelligence, the internet of things and 5G.
In addition to this, "cybersecurity continues to be a focus, especially as people work more remotely and can access networks and software from different devices and in different ways," he says.
Identifying and valuing technology
While technology is typically viewed as a growth sector, there's no question that different parts of the industry may hold different roles in a portfolio.
Mr Colello says, "tech might be all things to all investors. In some spots, we think its safety, so names like Microsoft, Adobe, wide-moat software names have been relatively less volatile in COVID than spaces like airlines. In other spots, there's growth from the COVID trend so names like Zoom, Docusign, following the remote working, work from anywhere trend. In other areas, there's fundamental growth that's still growing and will happen whether there's COVID growth or not. Those are names like Snowflake, Coupa Software, some of the cybersecurity names."
In identifying technology investments, Morningstar are conscious of company valuations and longer-term prospects, with a propriety methodology called the Economic Moat Rating as part of their research process.
An Economic Moat refers to the sustainable competitive advantages a company might possess and comes from multiple areas.
Mr Colello says, "there's typically three sources that we identify. The first is switching costs, the stickiness of a business where it is unlikely that customers will switch away from a product or piece of software towards something else. We see this in software all the time. There's time, effort and financial costs to switch from one software provider to another. There's always downtime when you switch. There's a risk of losing or disrupting mission critical data and there's a learning curve for all the users and anyone who has used the software."
He provides the examples of Salesforce and ServiceNow as companies which have high switching costs and 'sticky' customer base.
"The second is network effects, where the addition of another member makes the service more valuable for both existing and prospective members," he says.
You may typically see network effects in marketplaces and social media. An example of the network effect in practice is the Google search bar where more queries result in algorithm improvements and in turn, better future results which encourage people to return.
"The third is intangible assets. It could be patents or brands, but more often in technology, there's workarounds so it's really design expertise and reputation for quality and reliability. We see this a lot in semi-conductor businesses," says Mr Colello.
Price valuations are mixed in technology. Mr Colello views some companies as being overvalued, in some cases by up to 14%. Some examples of companies which he believes may see some pullback are Zoom or Docusign. However, there are also several mature companies which are simply trading at fair value, such as Microsoft.
Morningstar's view on price valuations is informed by its estimate of a company's future revenue stream compared to its present market pricing. This is used as a screen in many of their indices to include or exclude companies. TECH, for example, selects those companies identified as trading close to fair value or below.
Using technology in a portfolio
Investors can use technology in a range of ways within their portfolios. Typically, many investors will already have technology to an extent within their investments as a standard sector exposure offering diversification. It is worthwhile considering global technology though as the Australian technology sector is very concentrated and investors may be missing the variation available internationally.
Technology can also be used as a thematic investment for exposure to trends driving our world, or to express views (long and short-term) on the direction of the sector.
Learn more
For more information on investing in technology and the ETFS Morningstar Global Technology ETF (ASX Code: TECH) please use the contact form. 
........
This document is communicated by ETFS. This document may not be reproduced, distributed or published by any recipient for any purpose. Under no circumstances is this document to be used or considered as an offer to sell, or a solicitation of an offer to buy, any securities, investments or other financial instruments and any investments should only be made on the basis of the relevant product disclosure statement which should be considered by any potential investor including any risks identified therein. This document does not take into account your personal needs and financial circumstances. You should seek independent financial, legal, tax and other relevant advice having regard to your particular circumstances. Although we use reasonable efforts to obtain reliable, comprehensive information, we make no representation and give no warranty that it is accurate or complete. Investments in any product issued by ETFS are subject to investment risk, including possible delays in repayment and loss of income and principal invested. Neither ETFS, ETFS Capital Limited nor any other member of the ETFS Capital Group guarantees the performance of any products issued by ETFS or the repayment of capital or any particular rate of return therefrom. The value or return of an investment will fluctuate and investor may lose some or all of their investment. Past performance is not an indication of future performance. Information is current as at date of publishing.
---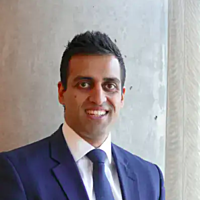 ETF Specialist & Head of Distribution
ETF Securities
Kanish Chugh is responsible for distribution covering sales and marketing strategy for institutional, intermediary and retail clients. He joined ETF Securities in 2015 and has previous experience with Fidelity International, BlackRock and...
Expertise