Fixed-income products becoming global macro hedge funds...
---
In my monthly column for the Smart Investor magazine I consider the rise of so-called "unconstrained" bond funds, the exemplar of which is co-portfolio managers Bill Gross and Kumar Palghat's Janus product which punts outright bonds, high yield (ie, sub-investment grade debt), listed equities, global currencies and likes to sell derivatives relating to these asset-classes. I argue that the performance of global macro hedge funds, which is what these unconstrained fixed-income products look like, suggests that it is very difficult to be a consistent master of so many different investment topics. In this context, there is much to be said for specialisation: Free (VIEW LINK)
---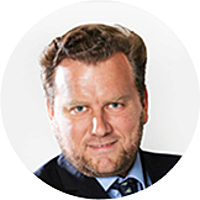 Portfolio Manager & Chief Investment Officer
Coolabah Capital
Chris co-founded Coolabah in 2011, which today runs $7 billion with a team of 33 executives focussed on generating credit alpha from mispricings across fixed-income markets. In 2019, Chris was selected as one of FE fundinfo's Top 10 "Alpha...