Forecasting Victoria's infection peak: 13 July to 26 July
---
One question we have been regularly asked is when will Victoria's second COVID-19 wave actually peak. We can use our existing COVID-19 forecasting systems to address this question very quickly. Recall these systems allow us to flexibly condition in real-time any target government's lockdown policy on the efficacy of countries that have gone before them. We can further hair-cut the forecast country's lockdown intensity as some discount (eg, say 75%) to that observed in other jurisdictions. (These changes are simply a matter of selecting countries and hair-cuts via our graphical user interface---I have enclosed two screen-shots that gives a sense of what it looks like.)
In the context of a second Victorian wave, we also want to be able to develop forecasts applying lockdown intensities documented in the country in question (ie, Australia). There is, however, an argument that Victoria is the first Australian example of widespread community transmission of COVID-19, which means that prior Australian infection paths that were primarily driven by imported infections may be of limited utility. 
This is why we do both. That is, the system allows us to condition forecasts off both the prior Australian lockdown experience and using trajectories observed elsewhere. For this exercise I have selected a wide sample of conditioning countries, including South Korea, China, Italy, Germany, France and the UK. 
The forecast results are summarised in the two images below, which are screen-shots from Coolabah's COVID-19 tracking and forecasting system (click on the images to see a better version). If we condition on the prior Australian lockdown experience, Victorian infections should peak by 15 July. If, on the other hand, we use South Korea (or Italy) as the benchmark, the peak should be by 22 July (or 26 July). Throwing in France, Germany, and/or the UK into the mix similarly implies a peak around 22 to 26 July. You can see the conditioning country on the far right-hand-side of the box in the image.
Since the Victorian government appears to have been (belatedly) thorough and aggressive in responding to its past containment errors, which propagated this second local wave, one would assume that the peak will be somewhat earlier than the European trajectories imply (say prior to 20 July).
A second Australian wave has not been our central case. We have always hypothesised that we would get future outbreaks, but a second national wave was not our expectation. In Australia we have had seven states and territories that have done a brilliant job of effectively eliminating COVID-19. One state, Victoria, has failed miserably through what is clearly a combination of policy errors. As a country, we should, however, learn from Victoria's mistakes such that the national COVID-19 policy reaction function is stronger than ever.
Get investment insights from industry leaders
Liked this wire? Hit the follow button below to get notified every time I post a wire. Not a Livewire Member? Sign up for free today to get inside access to investment ideas and strategies from Australia's leading investors. 
........
General Disclaimer: Past performance does not assure future returns. All investments carry risks, including that the value of investments may vary, future returns may differ from past returns, and that your capital is not guaranteed. This information has been prepared by Coolabah Capital Investments Pty Ltd (ACN 153 327 872). It is general information only and is not intended to provide you with financial advice. You should not rely on any information herein in making any investment decisions. To the extent permitted by law, no liability is accepted for any loss or damage as a result of any reliance on this information. The Product Disclosure Statement (PDS) for the funds should be considered before deciding whether to acquire or hold units in it. A PDS for these products can be obtained by visiting www.coolabahcapital.com. Neither Coolabah Capital Investments Pty Ltd, EQT Responsible Entity Services Ltd (ACN 101 103 011), Equity Trustees Ltd (ACN 004 031 298) nor their respective shareholders, directors and associated businesses assume any liability to investors in connection with any investment in the funds, or guarantees the performance of any obligations to investors, the performance of the funds or any particular rate of return. The repayment of capital is not guaranteed. Investments in the funds are not deposits or liabilities of any of the above-mentioned parties, nor of any Authorised Deposit-taking Institution. The funds are subject to investment risks, which could include delays in repayment and/or loss of income and capital invested. Past performance is not an indicator of nor assures any future returns or risks. Coolabah Capital Institutional Investments Pty Ltd holds Australian Financial Services Licence No. 482238 and is an authorised representative #001277030 of EQT Responsible Entity Services Ltd that holds Australian Financial Services Licence No. 223271. Equity Trustees Ltd that holds Australian Financial Services Licence No. 240975. Forward-Looking Disclaimer: This information may contain some forward-looking statements. These statements are not guarantees of future performance and undue reliance should not be placed on them. Such forward-looking statements necessarily involve known and unknown risks and uncertainties, which may cause actual performance and financial results in future periods to differ materially from any projections of future performance or result expressed or implied by such forward-looking statements. Coolabah Capital Investments Pty Ltd undertakes no obligation to update forward-looking statements if circumstances or management's estimates or opinions should change except as required by applicable securities laws. The reader is cautioned not to rely on forward-looking statements.
---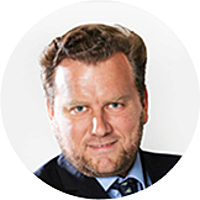 Portfolio Manager & Chief Investment Officer
Coolabah Capital
Chris co-founded Coolabah in 2011, which today runs over $8 billion with a team of 26 executives focussed on generating credit alpha from mispricings across fixed-income markets. In 2019, Chris was selected as one of FE fundinfo's Top 10 "Alpha...